Alaska 13 Day Yukon + Triple Denali
.
from

$3,598.00

pp
Various Dates | Departs Vancouver | Arrives Anchorage | Zuiderdam
White-capped peaks, artic-blue glaciers, and wildlife galore are must-sees on every Alaska cruise.  Holland America Line is renowned for its experience with this region and will ensure your Alaskan adventure fulfils all your expectations.
Immerse yourself in magnificent Denali with a three-night stay.
Enjoy an included Tundra Wilderness Tour.
Relive Klondike Gold Rush history in Yukon's Dawson City.
---
Inclusions
Accomodation
Cruise
Select Beverages
Sightseeing
Some Breakfasts
Some Dinners
Some Lunches
Taxes
---
Itinerary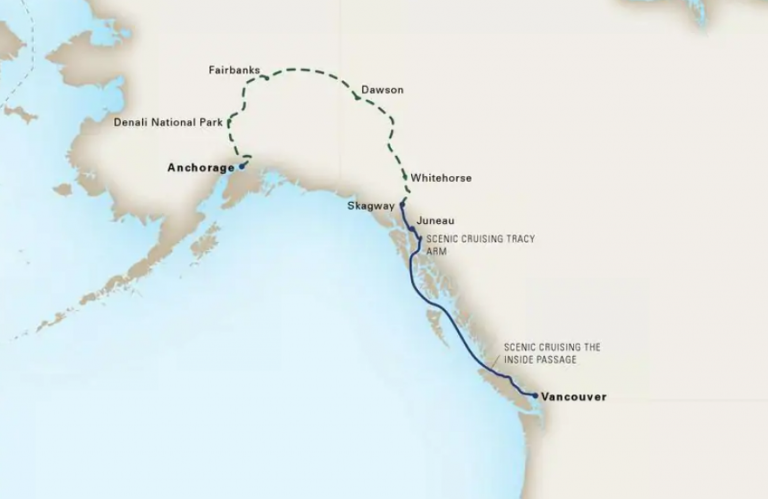 DAY 1 Vancouver, B.C., CA AUG 6, 2022
Sail from Vancouver, glide under the Lion's Gate Bridge and enter the scenic wonders of the Inside Passage.
Once a trading post and a rough-and-tumble sawmilling settlement, today modern Vancouver, Canada is many things. Cruise to Vancouver and visit this bustling seaport. This city is a hub for outdoor enthusiasts looking for active things to do in Vancouver an ethnically diverse metropolis, and Hollywood of the North. Hemmed in by mountains and sea, Vancouver seduces visitors with its combination of urban sophistication and laid-back attitude against a backdrop of glass towers and modern sights and plentiful green spaces.
Enjoy local attractions, fun-filled outdoor activities, and an innovative culinary scene on a Vancouver cruise excursion. Vancouver's culinary and cocktail scene is on the rise—and its excellent restaurants and hopping bars have a distinctively local stamp on them. If you are looking for where to go in Vancouver for music, theatre and the arts, they are thriving in the city's many museums, galleries and performance venues. Beyond the downtown attractions in Vancouver, days of exploration and sightseeing await among the colourful suburbs, unspoiled islands and the vast, rugged wilderness.
DAY 2 Scenic Cruising The Inside Passage AUG 7, 2022
Relax and enjoy a full day of scenic Inside Passage cruising and immerse yourself in Holland America Line elegance.
Alaska's Inside Passage is a protected network of waterways that wind through glacier-cut fjords and lush temperate rain forests along the rugged coast of Southeast Alaska. Arguably one of the greatest cruising routes in the world, the Inside Passage stretches through stunning landscapes, from Misty Fjords National Monument to famed Glacier Bay National Park & Preserve. Sailing the Inside Passage offers opportunities to spot some of Alaska's most iconic wildlife, with humpback whales and orca plying the bountiful waters alongside the ships, bald eagles soaring overhead and brown bears lumbering on the shoreline. Numerous ports along the way recount Alaska's colourful history. In Sitka, an onion-domed church marks Russia's onetime foothold in the Americas; Ketchikan provides a glimpse of the Native Alaskan experience, with historic totem poles and native-arts galleries; and the legendary town centre of Skagway bustles as it did at the turn of the 19th century when it served as the rowdy Wild West gateway to the Klondike Gold Rush.
DAY 3 Juneau, Alaska, US AUG 8, 2022
Enjoy the afternoon exploring Alaska's capital. Choose from exciting shore excursions and still have time to shop.
Cruise to Juneau, Alaska and visit the most remote, most beautiful and strangest state capital in the United States. Surrounded by water, forest and mountain sights, visitors seeking things to do in Juneau indoors and outdoors can hike a glacier, eat fresh-caught fish on a seaside patio and tour a grand capital building all in one day. Juneau is known for its outdoor recreation, fresh seafood and fine dining. The city itself is pleasant, but the real highlight of a visit to Juneau is tracking down some wildlife. You can hike up Mount Roberts to chance upon wild deer and bald eagles. Most sightseeing and whale-watching tours head north to Auke Bay—bring a good pair of binoculars to get the best view of these majestic and surprisingly graceful creatures. If you prefer land mammals, catch a floatplane to a nearby wildlife reserve such as Chichagof or Admiralty Island to spy some bears lolling around on an Alaska cruise excursion.
The sleepy, misty city of around 32,000—mostly fishermen and small-business owners—has a frontier town vibe, but welcomes more than a million visitors each summer to its natural attractions, cementing Juneau as Alaska's number-one tourist destination. Experience this breathtaking city on an Alaska cruise.
DAY 3 Tracy Arm Inlet AUG 8, 2022
This morning you have the chance to explore the stunning beauty of Tracy Arm and the Sawyer Glaciers on an optional excursion.
Steep cliffs and glacier-covered mountains flank this fjord, fringed by the largest intact coastal temperate rain forest in the United States. Old-growth trees colonized Tracy Arm's mouth long ago as the Ice Age retreated. But further up the sinuous 48-kilometre (30-mile) waterway, its icy grip lingers a little. There, the twin Sawyer Glaciers flow from the peaks down to the sea, sloughing off stories-high chunks of water frozen decades or even centuries before. Even more glorious than nearby Glacier Bay, Tracy Arm is part of the 5.7 million acres (or around 23,000 square kilometres) of pure wilderness sheltered by the Tongass National Forest (America's biggest). Visitors often see bears, whales and mountain goats roaming across various corners of this pristine area—not to mention chubby baby seals resting on the ice floes. Summer temperatures average 35 to 60 degrees Fahrenheit (0 to 16 degrees Celsius), so pack warm clothing. And don't forget the waterproof gear, even when travelling by cruise ship: More than a meter and a half of rain falls here each year! We also recommend a water bottle, thermos or reusable coffee cup: On scenic cruising days, cruise ships ban paper and disposable plastic products that could litter this unsullied environment.
DAY 4-5 Skagway, Alaska, US AUG 9, 2022 - AUG 10, 2022
Day 4: Meet your Journey Host to learn about your upcoming adventure, then enjoy a short historical tour en route to your Skagway hotel. This evening will be a group event given by your Journey Host.
Day 5: Explore on your own or take optional excursions with an entire free day in Skagway. Don't miss the chance to visit Klondike Gold Rush National Historical Park and immerse yourself in colourful history.
At the height of the Klondike Gold Rush, the port town of Skagway served as the primary gateway to the legendary goldfields and quickly grew into Alaska's largest settlement. It was then a raucous frontier hub packed with trading posts, saloons and guesthouses. As the gold rush faded into the 1900s, so did Skagway—but today it has been reinvigorated as a gateway for a new kind of visitor: those looking to explore Alaska's colourful history, pristine wildlife and unrivalled natural beauty.
Set sail on an Alaska Cruise and take an adventure in Skagway. At every turn, you'll find yourself immersed in gold rush lore, from the infamous Red Onion Saloon that still keeps a pistol that Wyatt Earp left behind en route to the Klondike, to the White Pass & Yukon Route Railroad, a classic narrow-gauge railway that traverses rugged mountains and passes cascading waterfalls and towering glaciers as it connects Skagway to Whitehorse deep in the Yukon. Known as the "Garden City of Alaska," Skagway is filled with beauty and nature. Explore the town on a Skagway excursion. Much of the town has been preserved as part of the Klondike Gold Rush National Historical Park, where rangers offer free walking tours around the historic district. Take an Alaska Cruise to Skagway and you'll also find a vibrant local community, home to a rich collection of local galleries, curio shops and restaurants serving seafood plucked fresh from nearby waters.
DAY 6 Whitehorse, Yukon AUG 11, 2022
Depart Skagway aboard the historic White Pass train to Fraser, then on to Whitehorse - the capital of the Yukon.
Northern Canada's largest city sprang from frontier roots. During the Klondike Gold Rush, prospectors washed up here, past two major river obstacles: Miles Canyon and the Whitehorse Rapids (named for whitecapped waves that resembled stallions' manes). To prevent mass starvation, the government required every Stampeder to haul along a year's supply of goods. The recommended list included 10 pounds of coffee, 150 pounds of bacon and 400 pounds of flour—part of a total of 1,095 pounds of grub. Sundries like picks, ropes and a dozen heavy wool socks quickly brought the load up to a ton. Whitehorse, the northern terminus of the railway from Skagway, Alaska, boomed because it was as far north as would-be miners and their freight could travel by train; from here, sternwheelers did the rest, 740 kilometres (460 miles) down the upper Yukon River to the mining town of Dawson City.  Now the territory's capital, Whitehorse stands at Historic Mile 918 of the Alaska Highway and has the world's lowest level of metropolitan air pollution, according to Guinness World Records 2013. It remains a popular tourist stop for attractions like the Yukon Wildlife Preserve and the natural and cultural insights at the MacBride Museum.
DAY 7-8 Dawson, Yukon AUG 12, 2022 - AUG 13, 2022
Day 7: Follow the route of Klondike gold stampeders in style to Dawson City, with an included lunch stop.
Day 8: Today the morning is free for optional excursions, then in the afternoon enjoy a nostalgic Yukon River paddle-wheeler cruise aboard the Klondike Spirit.
Once the pulsing heart of the Klondike Gold Rush, Dawson City today is a cluster of wooden sidewalks and charming frontier-era shops on the banks of the Yukon River. There are plenty of reasons to take cruise tours to Dawson City, Yukon. Though gold rush lore is the main draw, it has a rich history well before the discovery of gold and subsequent stampede in 1896. The Tr'ondëk Hwëch'in or "people of the river" have frequented the area for thousands of years and there's much heritage to learn and appreciate. The town was also a muse for literary legends, Robert Service and Jack London.  Present-day Dawson still has active gold mining and a thriving tourism and arts scene. Many adventurers stop in Dawson to stock up on supplies before heading to the rugged peaks of the Yukon's Tombstone Territorial Park. Not only can you step into the shoes of a prospector and pan for gold, Dawson City is likely the only place in the world where you can drink a cocktail with a real human toe plunked into it. Explore Dawson City, Yukon on Land and Sea Journey cruise tours.
DAY 9 Fairbanks, Alaska AUG 14, 2022
Your journey continues as you board a short flight bound for Fairbanks, Alaska's Golden Heart City.
Bearing the nickname the Golden Heart, Alaska's second-largest city was born of gold rush fever, thanks to Italian immigrant Felix Pedro who found the precious metal in 1902 near where Captain E.T. Barnette decided to build a trading post on the banks of the Chena River. Explore Fairbanks on an Alaska cruise today. Fairbanks is an amalgam of modern shops and malls, its history is celebrated at the 18-hectare (44-acre) Pioneer Park, which includes a Gold Rush Town with 35 restored buildings. Fairbanks also preserved its City Hall, which now houses the Fairbanks Community Museum. The city's location in Alaska's interior makes it a gateway to the arctic, and in summer tourist boats run cruises along the Chena and Tanana rivers. Fairbanks is a city of festivals, from July's Golden Days commemorating its past to Ice Alaska in February and March, when residents make the best of its brutal winters by playing host to a slew of international ice sculptors who descend on the city for the World Ice Art Championships. The city is one of the best places in the world to see the aurora borealis, which appears on average 243 nights of the year. Book an Alaska cruise excursion to view the Aurora Borealis. See the beautiful and colourful patterns in the sky as you gaze upon the Northern Lights. For more insight into Fairbanks and to learn about the history of Alaska visit the Morris Thompson Cultural & Visitors Center.
DAY 10-12 Denali National Park, Alaska AUG 15, 2022 - AUG 17, 2022
Day 10: After a step back in time to pan for gold at the historic Gold Dredge 8, it's off to Denali for a leisurely three-night stay at this magnificent national treasure.
Day 11: Today features the unforgettable Tundra Wilderness Tour. This 6-8 hour fully narrated sightseeing excursion is a deep dive into Denali National Park - the very best chance of seeing both the mountain and Denali's iconic wildlife (snack included).
Day 12: Explore on your own or take optional excursions with an entire free day in Denali. Don't miss the chance to visit Denali Square and immerse yourself in the Denali experience.
Denali is the number one reason to book Alaska cruise tours into the state's rugged wilderness and it's easy to understand why. At an impressive 20,310 feet above sea level, Denali isn't just any mountain; it's the centrepiece of Alaska's interior, a shining jewel rising above pristine Alaska wilderness. Good news if you want more than just a glimpse of "the Great One." When you book a Land and Sea Journeys cruise tour, you can settle in for up to three nights and get a true sense of North America's tallest mountain.
Holland America Line's Alaska Land and Sea Journeys Cruise Tours offer full immersion in Denali. Each of our land and sea cruises includes up to three nights at our beautiful 60-acre riverside resort.
Denali Square at the McKinley Chalet Resort is the ultimate base camp. Spend your day's sightseeing at Denali and the evenings winding down in creature comfort. Enjoy stunning views across the Nenana River into Denali National Park from virtually anywhere on the grounds, as well as upscale dining, quality entertainment, and local shopping.
Holland America Line is also the only cruise line to include the Tundra Wilderness Tour into Denali National Park on all two- and three-night Denali Land and Sea Alaska itineraries. On this expertly guided six- to eight-hour adventure, you'll likely spot some combination of Alaska's big five: grizzly bears, caribou, moose, Dall sheep, and wolves. In addition, there are countless bucket list opportunities—such as river rafting, flightseeing (including the chance to land with a ski plane on Denali itself), or meeting an Iditarod dog musher and getting a sloppy kiss from a sled dog.
When looking into Alaska cruise tours, consider including Denali National Park. The wildlife is abundant and easily viewable. There are six million acres of untouched land to explore, some of the most breathtaking scenery in the world. Towering above is Denali, a mountain that will linger in your memory forever. With all of that and more, Holland America Line's Alaska land and sea cruises are a dream for those who want true immersion into Denali.
DAY 13-14 Anchorage, Alaska, US AUG 18, 2022 - AUG 19, 2022
Day 13: This morning, board the luxurious domed rail cars of the McKinley Explorer bound for Anchorage where you will bid farewell to your Journey Host.
Day 14: Your Land + Sea Journey concludes this morning in Anchorage
From ice-blue glaciers to beluga whales and the famous bore tide, a single cruise to Anchorage, Alaska will considerably shorten any nature-lover's bucket list. Nestled between mountains and the Cook Inlet terminus, near many national and state parks, this hospitable haven is one of the best places to see Alaska wildlife. A city moose roaming the streets (there are about 1,500) is a regular sight and views of whales, puffins, otters, and Dall porpoises going about their days is just a short excursion away. Cruises to Anchorage are a must for those that want some of the most incredible bear viewing in the country.
Although the wildlife is reason alone to cruise to Anchorage Alaska, the culture of the city itself is worth exploring. Almost half of the state's residents live in Anchorage, a population that largely comprises military members, Alaska Natives, adventurous transplants from the "lower 48," and oil industry workers. Coffee and espresso huts dot every corner and fresh halibut, smoked salmon and reindeer dogs are among the local eats.
Anchorage is a year-round town. On some clear, dark nights during winter, the Northern Lights dance above. In spring, thousands of flowers planted by the city bloom to celebrate the season's anticipated arrival. Summer brings the Midnight Sun where days can stretch to 19 hours. Take an Alaska cruise to Anchorage to discover national parks, scenic glaciers, unique landscapes and wildlife.
Outdoor activities abound in Anchorage. Adventurous locals (there are a lot of them in Alaska) enjoy skijoring, a sport where a person is pulled on skis by dogs or sometimes horses. The Tony Knowles Coastal Trail and Flattop Mountain Trail inside Chugach State Park offer hiking, biking, and wildlife sighting opportunities. Book an Anchorage cruise shore excursion and explore top destinations.
---
Gallery
---
Terms
*Terms & Conditions Apply.
Offer is limited, subject to availability and change without notice. Promotion is correct and valid at the time of publication. Full booking and supplier terms and conditions apply.
Valid for new bookings only and not combinable with any other offer (unless stated). All prices are in Australian Dollars based on twin share unless otherwise stated.
Hotels may charge resort fees or a security bond not included or mentioned in this package, payable direct upon check in.
Travel in style with $1,000 towards your next vacay.
Subscribe to our newsletter for the chance to win $1,000 towards your next cruise, package tour or package holiday.
Be first in line to hear about new and exclusive deals, exciting itineraries and promotions.
*Terms and Conditions apply. The competition shall run from midnight on 22 December 2021 to midnight on 30 June 2022 and will be a game of chance. The winner will be drawn at random at 4pm on 30 June 2022 and advised by telephone and email using the contact information provided at the time of entry. The prize must be claimed by sending a reply email to Travelfix within 14 days of the winner being announced. The $1000 prize will be issued in the form of a travel credit and held on a company account, valid for bookings made within 6-months of the date of issue. Travel credit may be redeemed through Travelfix, operated by The Travel Squad Pty Ltd only, by calling our office, and can be used towards any new cruise, package tour, or package holiday booking for a duration of 5 nights or more.  Travel credit cannot be used towards payment for existing bookings or as a deposit for a new booking. Travel credit cannot be transferred or redeemed for cash.