Amsterdam & Brussels Bound
.
from

$4,199.00

pp
Depart Amsterdam | Arrive Brussels |The A Ship
We've fallen in love with this dynamic cruise through The Netherlands and Belgium, you will too. Get around town like a local with a variety of bike tours.
Experience Amsterdam's famously gezellig cityscape—a Dutch quality that roughly translates as "cosy."
Discover futuristic architecture in Rotterdam, walk along Middelburg's majestic harbour and sightsee with local students in Ghent. Brussels delivers a historic, yet hip vibe, and of course, the best chocolate.
U cruises are designed for those with a passion for exploring, a taste for authentic adventures and a penchant for having fun.
If you're looking for a unique and immersive travel experience, enjoy socializing with fellow travellers, would rather walk and bike on excursions than take a coach bus and prefer a casual atmosphere, you'll love U.
When your waterfront hotel is also your taxi, bar, favourite restaurant, nightclub and yoga studio, travel becomes a bit more relaxed and a lot more hassle-free.
FOOD & DRINKS
Your chefs bring a taste of your destinations onboard for a creative dining experience, using only the freshest, locally sourced ingredients.
Three included meals served in Dine restaurant every day, based on the daily schedule.
Vegan, vegetarian and gluten-free options
Local wine and beer with meals
Unlimited coffee, tea and water
---
Inclusions
Breakfast
Cruise
Dine & Drinks Package
Dinner
Full Day Tour
Lunch
---
Itinerary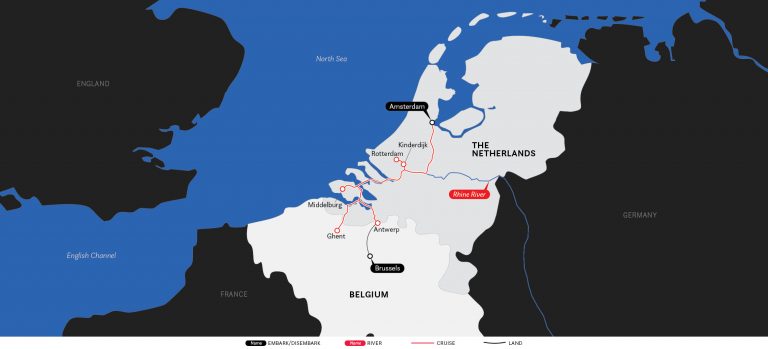 Day 1: Amsterdam
In and around Amsterdam.  Embark. Your adventure begins today.
Day 2: Amsterdam
Amsterdam Canals Known as the Venice of the North, you haven't done Amsterdam until you've truly explored the canals. Mimosa in hand, we'll take the canals by boat. Sure, we won't see all 165 of them, but we'll get close. Amsterdam Old and New There's something for everyone in Amsterdam – and this is your chance to find it. We'll explore the city by bike, see the sights and talk about Amsterdam's fascinating history. Amstagram Tour MAKE TRAVEL MATTER® Experience: Plastic Fishing Help make Amsterdam's waterways cleaner on a fun and sustainable outing with PlasticWhale, the first plastic fishing company in the world. Jump on board, grab a net and get ready to fish for some plastic and learn more about the organization's mission. The plastic collected is recycled into furniture and more boats—the same kind of boat we'll use on our outing.
Day 3: Rotterdam
Jogging through Rotterdam With 1,900 running paths in the city, there's no way we'd skip this. We'll take a run by the water and see some of the sights. Rotterdam by Design. Experience the best of Rotterdam's architecture on this tour through the city's coolest buildings. See the Cube Houses of Piet Blom that were built in the 1930s, the contemporary Market Hall that houses the masterpiece that many call "the Sistine Chapel of Rotterdam," and of course, the iconic Erasmus Bridge that's made its appearance in fashion spreads, movies and as a backdrop to musical events. Rotterdam at Night As one of the trendiest cities in the Netherlands, Rotterdam at night is full of contrasts. Whether you're a craft cocktail person or dive bar lover, your U host will give you a recommendation on where to go. Best of Rotterdam This is a best of architecture and best of food tour. We'll see the famous Market Hall, where we're making you look up because the ceiling is a true work of art. You'll get a taste of Dutch cheese and stroopwafels. We'll also pass by the famous Cube Houses. The Windmills of Kinderdijk Kinderdijk is a beautiful landscape of empty marshes, waterways, and 19 historic windmills (some brick, some timber) that ornament the area. The mills are kept in operating condition and some still even function as residences. Explore the scenery of tall reeds, lily pads, and gorgeous birds by bike, and stop at a local farm for a cheese-tasting. It's an amazing – and quintessentially Dutch – landscape to wander through.
Day 4: Middelburg
In and around Middelburg.  Intro to Middelburg One of the most beautiful towns in the Netherlands, you'll get a feel for this charming city. From its old winding streets to spacious parks and bunkers leftover from WWII, there's no shortage of sights. Domburg Beach by bike With wide beaches, long boardwalks and sandy dunes, Domburg Beach is a perfect place for a bike ride. We'll pedal around the coastline and make a few stops. Dutch engineering Did you know that 20% of the Netherlands is below sea level, and only half is 3 feet above sea level? Considered one of the "Seven Wonders of the Modern World," the storm surge barriers are a true engineering marvel.
Day 5: Ghent
In and around Ghent.  Intro to Ghent Once the second largest city in Europe, a lot has changed in this city since WWII, but it's still one of our favourites. You'll get a taste of its history and see plenty of its famed squares and marketplaces. Sightsee with Local Students We'd like to introduce you to Ghent's local students who are privy to all things hip and cool. Join them for brunch onboard and then into town. Tours are completely customizable based on the groups' interests and will take place either via bike, walking, taxi or all three! Bruges in Depth All aboard! We're going to Bruges and we're getting there by train. Take in the sights and scenes with your local guide before going to the Fries Museum. And yes, it is a museum dedicated to all things fried potato. Enjoy a tasting and end the excursion with a complimentary wine tasting. Kayaking in Ghent is Easily the coolest way to see the city. We'll take you to the canals and get a different view of Ghent.
Day 6: Antwerp
Choice of "Intro to Antwerp" or "Culture & Food Tour by Bike" Today you have your choice of one of these fun excursions in Antwerp: 1) INTRO TO ANTWERP: Get to know Antwerp by foot on this tour through the city famous for vibrant fashion, architecture and cultural contrasts. Stop for a complimentary tasting of native foods and wines as you soak up the local colour; OR 2) CULTURE & FOOD TOUR BY BIKE: Come hungry, because you're in for a real treat. We'll bike through some of Antwerp's famous neighbourhoods and taste everything from Moroccan mint tea to Turkish delights to Jewish pastries. Antwerp Beer Tour With the highest number of pubs per capita, you simply have to join in on this tour. Would you go to Italy and not eat pizza? We didn't think so. We should also mention there's no legal closing time in this city.
Day 7: Brussels
In and around Brussels.  Intro to Brussels The best way to get a feel for this cosmopolitan city, we'll wander through a few neighbourhoods and see some sights. You might just find something you'd love to see again. Bike Tour around the Atomium A landmark building built for the 1958 World Expo, the Atomium is a must-see. We'll also bike through some of Brussels' best parks and trails. Best of Brussels For those of you who want to see the famous attractions of Brussels, this is for you. And of course, the city is famous for chocolate...you might just get a taste on the way.
Day 8: Brussels
Disembark and head off to your next adventure.
**This itinerary can be completed in Reverse
---
Gallery
---
Terms
*Terms & Conditions Apply.
Offer is limited, subject to availability and change without notice.
Promotion is correct and valid at the time of publication. Full booking and supplier terms and conditions apply.
Valid for new bookings only and not combinable with any other offer (unless stated).
All prices are in Australian Dollars based on twin share occupancy unless otherwise stated.
Travel in style with $1,000 towards your next vacay.
Subscribe to our newsletter for the chance to win $1,000 towards your next cruise, package tour or package holiday.
Be first in line to hear about new and exclusive deals, exciting itineraries and promotions.
*Terms and Conditions apply. The competition shall run from midnight on 22 December 2021 to midnight on 30 June 2022 and will be a game of chance. The winner will be drawn at random at 4pm on 30 June 2022 and advised by telephone and email using the contact information provided at the time of entry. The prize must be claimed by sending a reply email to Travelfix within 14 days of the winner being announced. The $1000 prize will be issued in the form of a travel credit and held on a company account, valid for bookings made within 6-months of the date of issue. Travel credit may be redeemed through Travelfix, operated by The Travel Squad Pty Ltd only, by calling our office, and can be used towards any new cruise, package tour, or package holiday booking for a duration of 5 nights or more.  Travel credit cannot be used towards payment for existing bookings or as a deposit for a new booking. Travel credit cannot be transferred or redeemed for cash.