Australian Panorama
.
from

$11,060.00

pp
Sydney Roundtrip | Oceania Regatta
Feast your eyes on an astonishing kaleidoscope of visual treats as you circumnavigate Australia for over a month, with highlights including the Great Barrier Reef, the coastal towns of the mesmerising outback and pristine Tasmania.
Sleek and elegantly charming, Regatta is the flagship of the Oceania Cruises fleet. Her decks are resplendent in the finest teak, custom stone and tile work, and her lounges, suites and staterooms boast luxurious, neo-classical furnishings. Regatta offers every luxury you may expect on board one of our stylish ships.
She features four unique, open-seating restaurants, the Aquamar Spa + Vitality Center, eight lounges and bars, a casino and 342 lavish suites and luxurious staterooms, nearly 70% of which feature private verandas. With just 684 guests to pamper, our 400 professionally trained European staff ensure you will wait for nothing.
Rediscover your passion for exploration with the new Oceania 2024 Collection featuring Free Pre-Paid Gratuities plus one FREE OLife Choice amenity: FREE - 16 Shore Excursions FREE - Beverage Package FREE - US$1,600 Shipboard Credit Amenities are per stateroom
---
Inclusions
All Day Dining
Beverage Package
Cruise
Shore Excursions
Tipping & Taxes
---
Itinerary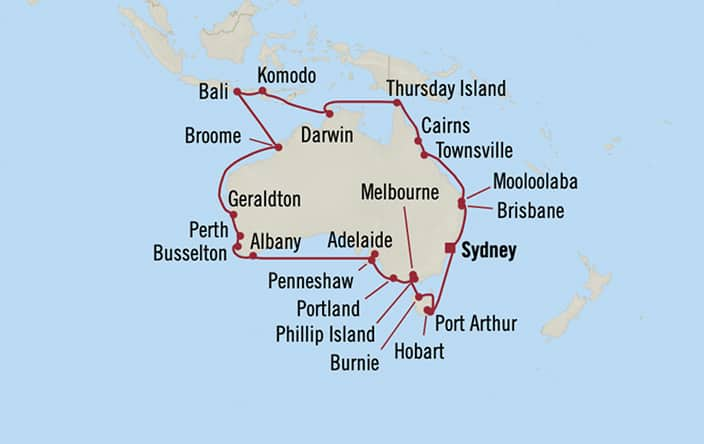 Sydney, Australia
Day 1: Thursday, 21 December 2023
Visit the famous Opera House, stroll along the harbor or cruise around it. Climb the Harbor Bridge, take a walk through the Rocks where Sydney began, or enjoy celebratedBondi Beach. Head into the beautiful Blue Mountains for a taste of the country; visit a wildlife park and enjoy Australia's fabulously unique creatures.
At Sea, International Waters
Day 2: Friday, 22 December 2023
Brisbane, Australia
Day 3 & 4: Saturday, 23 December 2023 - Sunday, 24 December 2023
Venture into the lush mountains backing the city and enjoy breathtaking views, stunning forests and fields, farms, wineries, gallery and craft areas, and picturesque gardens. Watch for unusual birds as you stroll. Explore the city's museums, waterfront, riverwalk and beaches. The capital of Queensland, Brisbane is Australia's 3rd largest city and the most cosmopolitan of the ports in the state. Take an hour drive inland to visit the famous Australian Zoo, home of the Crocodile Hunter.
At Sea, International Waters
Day 5: Monday, 25 December 2023
Townsville, Australia
Day 6: Tuesday, 26 December 2023
Discover the local beaches and enjoy the tropical scenery, the seafront promenade, galleries and shops. Venture out to stunning Magnetic Island with its national park, miles of walking trails, wildlife and magnificent coral reefs.
Cairns, Australia
Day 7: Wednesday, 27 December 2023
This is the place to see the magnificent rainforest from the Kuranda Railway and visit local wildlife like koalas and emus in a rainforest habitat. Or learn about Aboriginal tradition at the culture park. Explore the town, its charming homes and the lovely botanical garden.
At Sea, International Waters
Day 8: Thursday, 28 December 2023
Thursday Island, Australia
Day 9: Friday, 29 December 2023
Discover the distinct culture of this remote island and its people, who follow a traditional lifestyle. Enjoy the spectacular scenery and expansive views over the Torres Strait. Visit the impressive fortress, the pearl divers' monument and the historic buildings. Or journey across the strait to Cape York and its wilderness.
At Sea, International Waters
Day 10: Saturday, 30 December 2023
Darwin, Australia
Day 11: Sunday, 31 December 2023
Discover Aboriginal culture and art at the Fine Arts Museum, see the city and its wonderful gardens, or venture into the outback to fabulous Territory Wildlife Park and its many wonders. Or head for the incredible waterfalls at Litchfield National Park. Watch crocodiles at a research station, or take a cruise along the Adelaide River and watch the saltwater crocs leap from the water to catch their prey.
At Sea, International Waters
Day 12: Monday, 1 January 2024
Komodo, Indonesia
Day 13: Tuesday, 2 January 2024
Komodo is one of the 17,508 islands of Indonesia and one of three major islands making up Komodo National Park, a UNESCO World Heritage Site. In addition to being a popular destination for diving, it is the only natural habitat of the Komodo dragon. The island of Komodo includes approximately 60 square miles of craggy mountains, deep canyons, savannas and monsoon rainforests.
Bali (Benoa), Indonesia
Day 14: Wednesday, 3 January 2024
Experience this exquisite island and its gentle people as you explore the lush countryside of terraced rice fields and mountains dotted with temples. Visit a royal palace, watch an entrancing dance performance, or see carvers at work. Enjoy villages filled with beautiful arts and crafts and the daily festivals with villagers parading in their finery to local temples.
Bali (Benoa), Indonesia
Day 15: Thursday, 4 January 2024
Experience this exquisite island and its gentle people as you explore the lush countryside of terraced rice fields and mountains dotted with temples. Visit a royal palace, watch an entrancing dance performance, or see carvers at work. Enjoy villages filled with beautiful arts and crafts and the daily festivals with villagers parading in their finery to local temples.
At Sea, International Waters
Day 16: Friday, 5 January 2024
Broome, Australia
Day 17: Saturday, 6 January 2024
A fascinating pearling town celebrated for its Indian Ocean sunsets and rugged beauty, Broome also serves as the gateway to grand wilderness of the Kimberley region of Western Australia. In Broome, stroll the streets of Chinatown, discover famous Cable Beach by camel or visit the haunting Japanese pearl divers' cemetery. During very low tide at Gantheaume Point, you can even see dinosaur footprints left behind 120 million years ago. For a true adventure, strike out into the spectacular Kimberley, a world of ancient gorges, unusual rock formations and epic waterways.
At Sea, International Waters
Day 18: Sunday, 7 January 2024
At Sea, International Waters
Day 19: Monday, 8 January 2024
Geraldton, Australia
Day 20: Tuesday, 9 January 2024
The hub of Australia's Coral Coast, Geraldton features stunning beaches, a burgeoning culinary scene and a rich history. Step back in time with the city's array of historical monuments and museums, including Point Moore Lighthouse, Birdwood Military Museum and St. Francis Xavier Cathedral. Visit Ellendale Pool, a natural pool surrounded by giant gum trees and a stunning rocky cliff. Perhaps spend a leisurely afternoon on one of the many sun-drenched beaches and watch the abundant kitesurfers in action – Geraldton is one of the top three kitesurfing locations in the world. Immerse yourself in the local cuisine at an eclectic café or serene seaside restaurant as you sample lobster fresh from the sea and typical regional dishes.
Perth (Fremantle), Australia
Day 21 -22: Wednesday, 10 January 2024-Thursday, 11 January 2024
A stunning setting along Swan River and the Indian Ocean welcomes you into the laid-back city of Perth. At Kings Park, one of the few urban parks that dwarf Central Park, take in breathtaking views of downtown Perth and plan your day. Explore the city's range of eclectic neighborhoods, immerse yourself in indigenous art at the Art Gallery of Western Australia, or discover Australia's native wildlife at the Perth Zoo. Travel to nearby Swan Valley, Western Australia's oldest wine region, to visit one of the many historic vineyards for a tasting of excellent local wines. Meanwhile, discover Fremantle's distinct character through its 19th century port streetscape. Dive into its seafaring history at the Western Australia Maritime Museum and Shipwreck Galleries, visit Fremantle Prison or explore the Manjaree Heritage Trail for a glimpse of life before European settlement.
Busselton, Australia
Day 23: Friday, 12 January 2024
Known as Western Australia's premier resort town, Busselton is the perfect getaway to experience the combination of a slow-paced seaside town and a bustling cosmopolitan city. This beautiful city is an interesting locale on its own, but it is also a gateway port to the well-known Margaret River wine region. Busselton is known for its impeccable coastline and the longest wooden jetty in the Southern Hemisphere. Visit the Underwater Observatory, a fantastic aquarium with more than 300 marine species waiting to be enjoyed. If you love natural beauty, enjoy the beautiful beaches and astonishing limestone caves. Culture and history lovers should visit the Busselton Museum or the Old Courthouse Art Complex, both providing an inside look into the ins and outs of the region both now and hundreds of years ago.
Albany, Australia
Day 24: Saturday, 13 January 2024
Western Australia's oldest colonial settlement, Albany holds not only great historical significance but also immense natural beauty. Founded in 1826 as a British military outpost, the town evolved into a provisioning port for ships, a departure point for Australian troops bound for World War I, and eventually a base for the whaling industry. History buffs will be intrigued by sites such as the Anglican church, town hall, restored gaol and a one-of-a-kind whaling station museum, while the dramatic scenery of the rugged coastline will astound anyone fortunate enough to sail into Princess Royal Harbour. Known as Ataturk Entrance, the channel accessing the harbor from King George Sound is quite narrow, with forested peaks rising on either side from the rocky shores and sweeping white beaches. The view from your ship's deck provides the perfect introduction to the natural wonders embracing this historic town.
At Sea, International Waters
Day 25-26: Sunday, 14 January 2024 - Monday, 15 January 2024
Adelaide, Australia
Day 27: Tuesday, 16 January 2024
South Australia's coastal capital, Adelaide combines the charm of a picturesque country town with lively cosmopolitan offerings. Discover the region's history at the South Australian Art Museum or browse local delicacies such as Adelaide Hills cheeses at the impressive Central Market. Visit Adelaide Oval, celebrated as the world's prettiest cricket ground, for a behind-the-scenes look at the iconic stadium's history. For a taste of the local wine culture, venture into the countryside to explore Barossa Valley, Clare Valley or McLaren Vale, three excellent nearby wine regions.
Penneshaw (Kangaroo Island), Australia
Day 28: Wednesday, 17 January 2024
Perhaps one of Australia's most beautiful hidden gems, Kangaroo Island is home to thriving native wildlife, dramatic coastal cliffs, lush eucalyptus forests, rolling green hills and gorgeous beaches. In Penneshaw, discover indigenous fairy penguins, the smallest species of penguin, or visit Island Beach for snorkeling, swimming and birdwatching. Travel to spectacular Flinders National Park to encounter koalas, kangaroos, wallabies, fur seals and massive rock formations, or visit Seal Bay Conservation Park for the unforgettable experience of walking among a colony of friendly sea lions. Or simply relax with a glass of sparkling shiraz and enjoy the views from Sunset Winery, perched on a hill overlooking the Eastern Cove.
Portland, Australia
Day 29: Thursday, 18 January 2024
As Victoria's first European settlement, this vibrant harbor town features a lovely historic waterfront and well-preserved colonial architecture. For insight into Portland's past, stroll Julia Street, lined with heritage buildings, and stop at the History House, a fascinating museum housed in the former town hall. Discover Portland's whaling history at the Portland Maritime Discovery Center and later watch Southern Right Whales, Blue Whales and seals frolic in Portland Bay, Cape Nelson or Cape Bridgewater. Just beyond Bridgewater, explore blowholes, a geological formation made of basalt and scoria rock which creates stunning spouts of sea spray during high tide. Don't miss the remarkable petrified forest, also nearby.
Phillip Island (Cowes), Australia
Day 30: Friday, 19 January 2024
Phillip Island boasts wide sandy beaches, spectacular coastal scenery, excellent surfing and a world-famous Grand Prix circuit. However, its biggest attraction measures about one foot tall and weighs just two or three pounds. The island is home to thousands of little penguins, endearing not only as the smallest penguins on the planet but also for their unique blue coloring. Each day as the sun sets, the tiny birds return from a long day of fishing at sea and waddle up the beaches to the safety of their burrows. Affectionately known as the Penguin Parade, this magical scene has enchanted visitors since 1920. An array of wildlife beyond the penguins also can be observed here, including whales, koalas and Australia's largest fur seal colony. Those not fond of furry friends might visit the National Vietnam Veterans Museum, take a stroll on the seaside boardwalk, or check out a local brewery or winery.
Melbourne, Australia
Day 31: Saturday, 20 January 2024
Head into the scenic Dandenong Mountains and ride the Puffing Billy steam train through the forest. Meet the koalas, wallabies and more at a wildlife park or explore local wineries. Take a walk and discover the city's marvelous architecture, chic galleries and boutiques.
Burnie (Tasmania), Australia
Day 32: Sunday, 21 January 2024
Nestled in the northwest corner of Tasmania, this energetic and creative seaside town offers a unique perspective on the world of industry. Once dependent on paper manufacturing, the inventive community has transformed its industry into a compelling art culture. Visit Makers' Workshop, part museum and part arts center, for an introduction to the inspired spirit of Burnie, along with a tour of the process of papermaking and a glimpse of local artisans at work on their handicrafts. Discover Burnie's natural gems on the many trails at Fern Glade Reserve or the picturesque Emu Valley Rhododendron Garden.
Hobart (Tasmania), Australia
Day 33: Monday, 22 January 2024
Explore quaint, historic towns; see the exquisite countryside of apple orchards and wineries. Enjoy spectacular views from mountaintop aeries. See wombats, emus and the famed Tasmanian devil at a wildlife park or visit the historic penal colony at Port Arthur. Stroll through Hobart and its lovely botanical garden.
Port Arthur (Tasmania), Australia
Day 34: Tuesday, 23 January 2024
In Port Arthur, home to one of the most famous penal colonies of the UNESCO-listed Australian Convict Sites, a dark history unfolds as you learn of the notoriously harsh conditions for those sent here, the ferocious dogs that guarded the only land-based exit, and the sharks that threatened those who might try to escape by sea. In stark contrast, the spectacular coastal landscapes of the Tasman Peninsula step in with inspiring scenery to lift the spirit. Dolerite sea cliffs tower nearly 1,000 feet above white sand beaches and the Tasman Sea, while waterfalls cascade down sheer cliff faces and wedge-tailed eagles soar above it all.
At Sea, International Waters
Day 35: Wednesday, 24 January 2024
Sydney, Australia
Day 36: Thursday, 25 January 2024
Visit the famous Opera House, stroll along the harbor or cruise around it. Climb the Harbor Bridge, take a walk through the Rocks where Sydney began, or enjoy celebratedBondi Beach. Head into the beautiful Blue Mountains for a taste of the country; visit a wildlife park and enjoy Australia's fabulously unique creatures.
---
Gallery
---
Terms
*Terms & Conditions Apply. Offer is limited, subject to availability and change without notice. Promotion is correct and valid at the time of publication. Travelfix and supplier full booking terms and conditions apply. Valid for new bookings only and not combinable with any other offer (unless stated). All prices are in Australian Dollars based on twin share occupancy unless otherwise stated.
Gratuities may be an additional onboard charge depending on particular cruise line selected. Cruise taxes and fees will be advised upon cabin selection.
Travel in style with $1,000 towards your next vacay.
Subscribe to our newsletter for the chance to win $1,000 towards your next cruise, package tour or package holiday.
Be first in line to hear about new and exclusive deals, exciting itineraries and promotions.
*Terms and Conditions apply. The competition shall run from midnight on 22 December 2021 to midnight on 30 June 2022 and will be a game of chance. The winner will be drawn at random at 4pm on 30 June 2022 and advised by telephone and email using the contact information provided at the time of entry. The prize must be claimed by sending a reply email to Travelfix within 14 days of the winner being announced. The $1000 prize will be issued in the form of a travel credit and held on a company account, valid for bookings made within 6-months of the date of issue. Travel credit may be redeemed through Travelfix, operated by The Travel Squad Pty Ltd only, by calling our office, and can be used towards any new cruise, package tour, or package holiday booking for a duration of 5 nights or more.  Travel credit cannot be used towards payment for existing bookings or as a deposit for a new booking. Travel credit cannot be transferred or redeemed for cash.