China & Japan with Azamara
.
from

$8,392.00

pp
Depart Hong Kong | Arrive Tokyo | Azamara Quest
Equal parts futuristic and frozen in time, Japan blends the old and new with ease. But before arriving in Japan, you'll depart from Hong Kong, China, to spend a day at sea before exploring the historical city of Taipei on a late-night stay.
From here, it's off to the Land of the Rising Sun. Your first stop is Ishigaki, home to brilliant blue waters populated by large schools of manta rays. Okinawa's next, where you can stroll the Southeast Botanical Gardens — home to more than 2,000 unique plant species — before visiting the Awase neighbourhood for an evening enjoying Okinawan noodles and the city's popular snack bars.
Then, it's another day aboard your fabulous boutique hotel at sea before arriving in Kagoshima for another late-night stay. Often referred to as Japan's friendliest city, Kagoshima sits in the shadow of Sakurajima, a stunning — and active — volcano. While you're here, be sure to visit one of the city's approximately 50 bathhouses, then enjoy Satsuma-ryōri, Kagoshima's delicious regional cuisine. Next, you'll visit Miyazaki, where you can sample Kurokirishima, the city's famous shochu. Or, enjoy an order of Yagi-nu ice cream, a delicious treat made exclusively at the Yamanokuchi country road station.
Kochi, home of the beautiful Kochi-jo castle, is next on the itinerary, followed by an overnight stay in the spirited city of Osaka. When the sun goes down here, the city is illuminated in a sea of dazzling neon. And with the unofficial slogan of kuidaore (eat until you drop), this is a foodie paradise. Following a final day at sea, your voyage concludes in diverse and distinct Tokyo, where infinite possibilities await those seeking more adventures.
INCLUSIVE AMENITIES FOR ALL GUESTS:
Complimentary AzAmazing Evenings® event (on most voyages)
Select standard spirits, international beers and wines
Gratuities
Bottled water, soft drinks, speciality coffees and teas
Self-service laundry
Shuttle service to and from port communities, where available
Concierge services for personal guidance and reservations
Inclusions
International Flights departing Sydney.
3-night pre-cruise stay in Hong Kong in a 5 Star Hotel with Breakfast & Wifi
12 Night Repositioning Cruise on Board the Azamara Quest
All-day dining and selected beverages onboard
3 Night post-cruise stay in Tokyo at a 4 Star Hotel with Breakfast
Return Airport, Hotel and Port Transfers
---
Itinerary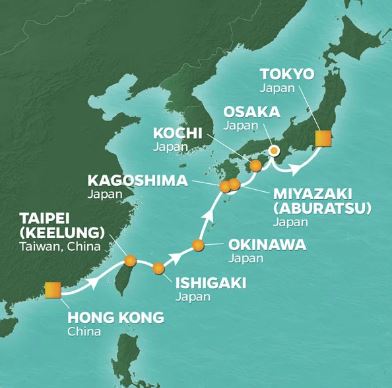 Tuesday, March 7, 2023, Hong Kong, Hong Kong Embark 6:00 PM
With 1,200+ skyscrapers, Hong Kong is a vertical city, so for great skyline views, take a tram to the top of Victoria Peak. Better still, hop on the tram between Kennedy Town and Shau Kei Wan for a cost-effective city tour. Head to Central for the world's longest outdoor escalator system and the incredible nightlife of Lan Kwai Fong. For a much quieter day, take a ferry to Lamma or Lantau Island.
Wednesday, March 8, 2023, At Sea
Spend the day sailing in style aboard your boutique hotel at sea. Indulge in a treatment at Sanctum Spa, stay ship shape with a class at our fitness centre, or lounge the day away on our sunny pool deck.
In the evening, savour inspired Italian cuisine at Aqualina, or relish in a classic steakhouse experience at Prime C. Plus, you'll find plenty of exciting evening entertainment, from thrilling shows at Cabaret Lounge to intimate performances in the Living Room.
Thursday, March 9, 2023, Taipei (Keelung), Taiwan, Province of China 7:30 AM 8:00 PM
There are two facets to today's Taipei: the modern, international east side with its up-scale malls, chic boutiques, and trendy restaurants, and the west—a bastion of traditional life, its narrow lanes lined with vendor stalls. Not to be missed is the National Palace Museum, a treasure trove of breathtaking Chinese art and artifacts. Restaurants are plentiful and offer every type of regional cuisine.
Friday, March 10, 2023, Ishigaki, Japan 8:00 AM 4:00 PM
South of Okinawa lies a Japanese island that is truly a tropical hidden gem. Think white-sand beaches, coral reefs, swaying palms and drooping mangroves. Ishigaki's laid-back vibe contrasts the bustling metropolises Japan is famous for—in the best way possible. Snorkel, swim and savour cuisine inspired by Chinese, American, and Japanese influences.
Saturday, March 11, 2023, Okinawa, Japan 1:00 PM 8:00 PM
Okinawa stands apart from the rest of Japan with its subtropical climate, exotic beaches, and unique blend of ancient, eastern, and western cultures. Explore the ancient Tsuboya pottery district and the Makishi Public Market where you can buy the catch of the day and have it cooked right in front of you. Don't miss the iconic Shurei-no-mon gate, bustling International Boulevard, and the wreck of the USS Emmons—now a popular dive site.
Sunday, March 12, 2023, At Sea
Spend the day sailing in style aboard your boutique hotel at sea. Indulge in a treatment at Sanctum Spa, stay ship shape with a class at our fitness centre, or lounge the day away on our sunny pool deck.
In the evening, savour inspired Italian cuisine at Aqualina, or relish in a classic steakhouse experience at Prime C. Plus, you'll find plenty of exciting evening entertainment, from thrilling shows at Cabaret Lounge to intimate performances in the Living Room.
Monday, March 13, 2023, Kagoshima, Japan 8:00 AM 10:00 PM
The dominant image on Kagoshima's horizon is Sakurajima, the overactive volcano whose frequent dustings of ash bring out the umbrellas as if they were spring showers. The mountain also heats several geothermal springs, providing the unique opportunity to relax in a sand bath. For a rare taste of old Japan, visit Chiran and its street of meticulously preserved Samurai houses and manicured gardens.
Tuesday, March 14, 2023, Miyazaki, Japan 8:00 AM 6:00 PM
Wednesday, March 15, 2023, Kochi, Japan 8:00 AM 6:00 PM
Kōchi is a city with a well-earned reputation for having a good time. Begin your visit with a trip to Kōchi Castle, one of only 12 original castles still standing in Japan. Then, make your way to the Obiyamachi shopping arcade, which is close to the Harimaya-Bashi—a replica of a bridge featured in a well-known Japanese love song.
Thursday, March 16, 2023, Osaka, Japan 8:00 AM 12:00 AM
Two amazing cities, one unforgettable journey; that's what to expect on your travels through Osaka and Kyoto. Take an underwater adventure through the Osaka Aquarium Kaiyukan and stroll through the shōtengai shopping arcades. Then travel to nearby Kyoto to discover 17 UNESCO World Heritage Sites, including the Temple of the Peaceful Dragon, the Kiyomizu-Dera Temple, and the Nijo-Jo samurai castle
Friday, March 17, 2023, Osaka, Japan 12:00 AM 10:00 PM
Saturday, March 18, 2023, At Sea
Sunday, March 19, 2023, Tokyo, Japan 6:00 AM Disembark.
The world's largest metropolitan area, Tokyo is an unforgettable experience for everyone. Tour the best ramen and sushi restaurants, visit Akihabara Electric Town to discover cutting-edge gadgets and games and scale the Tokyo City View—a breathtaking observation deck on the 52nd floor of Mori Tower. For a change of pace, visit the Meiji Shrine to take a serene stroll along the many walking paths.
---
Gallery
---
Terms
**Prices based on Travel dates - 04 Mar 2023
*Terms & Conditions Apply.
Offer is limited, subject to availability and change without notice. The promotion is correct and valid at the time of publication. Full booking and supplier terms and conditions apply.
Valid for new bookings only and not combinable with any other offer (unless stated).
All prices are in Australian Dollars based on twin share occupancy unless otherwise stated.
Hotels may charge resort fees or a security bond not included or mentioned in this package, payable direct upon check-in.
Travel packages advertised under 'The Travel Squad' brand/logo, may include multiple products provided by multiple suppliers to demonstrate possible travel itineraries purely for your convenience, however, each component of the package will be treated independent of each other and the specific terms & conditions of each product supplier will apply.
The Travel Squad will not be responsible if one or more travel products or services are changed or cancelled by a supplier which has resulting impacts on other components of the itinerary. We will however seek to find a suitable alternative or assist you with any travel insurance claim.
Airfares are capacity controlled and are subject to change at any time without notice. All passports, visas, travel permits and vaccinations are the responsibility of the travelling passenger to secure before travel. Airfares are based on economy class flights from Sydney and are subject to the carriers' flight schedules and conditions.
Please call us for prices from other airports.
Travel in style with $1,000 towards your next vacay.
Subscribe to our newsletter for the chance to win $1,000 towards your next cruise, package tour or package holiday.
Be first in line to hear about new and exclusive deals, exciting itineraries and promotions.
*Terms and Conditions apply. The competition shall run from midnight on 22 December 2021 to midnight on 30 June 2022 and will be a game of chance. The winner will be drawn at random at 4pm on 30 June 2022 and advised by telephone and email using the contact information provided at the time of entry. The prize must be claimed by sending a reply email to Travelfix within 14 days of the winner being announced. The $1000 prize will be issued in the form of a travel credit and held on a company account, valid for bookings made within 6-months of the date of issue. Travel credit may be redeemed through Travelfix, operated by The Travel Squad Pty Ltd only, by calling our office, and can be used towards any new cruise, package tour, or package holiday booking for a duration of 5 nights or more.  Travel credit cannot be used towards payment for existing bookings or as a deposit for a new booking. Travel credit cannot be transferred or redeemed for cash.