Circumnavigation Enchantment of Australia
.
from

$3,849.00

pp
Sydney Roundtrip | Enchantment of the Seas
Come aboard Enchantment of the Seas as part of her inaugural season and venture around the coasts of Australia discovering beauty rich & rare. We have combined these 2 cruises into one to make an amazing trip of a lifetime as not only a Circumnavigation of Australia but also including New Zealand for a 34-night Voyage.
ENCHANTMENT OF THE SEAS
Time to shake up your routine. Enchantment of the Seas® has plenty of thrills to keep you entertained, from poolside movie nights to star-studded guest performances. Throw in woah-worthy dining at Chop's Grille℠ or Chef's Table, and classic cocktails at R Bar, and you have the perfect getaway.
---
Inclusions
Activities
All Day Dining
Cruise
Taxes
---
Itinerary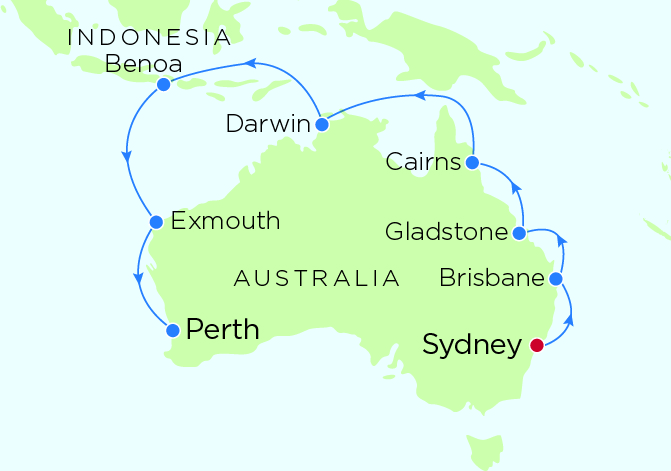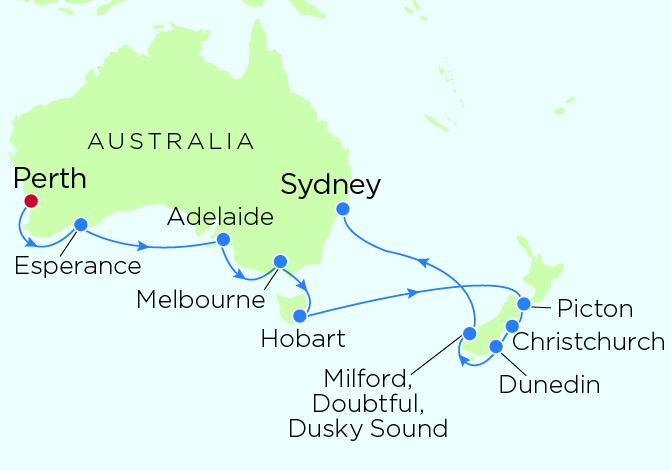 DAY 1 SYDNEY, NSW DEPARTS AT 6:45AM
You won't have any trouble filling up an itinerary in Sydney — there's a wealth of sights, sounds and activities here to delight adventurers of all stripes.
DAY 2 CRUISING AT SEA
DAY 3 BRISBANE, QLD ARRIVES AT 08:00AM DEPARTS AT 07:00PM
Discover the capital of Queensland, Australia's Sunshine State. Laid-back Brisbane feels like a big country town, but it's actually Australia's third-largest city.
DAY 4 CRUISING AT SEA
DAY 5 GLADSTONE, QLD ARRIVES AT 08:00AM DEPARTS AT 05:00PM
Gladstone is known as the gateway to the Southern Great Barrier Reef.
DAY 6 CRUISING AT SEA
DAY 7 CAIRNS (YORKEYS KNOB) QLD ARRIVES AT 08:00AM DEPARTS AT 06:00PM TENDERED
Situated in tropical north Queensland, Cairns is the gateway to the Great Barrier Reef and Daintree Rainforest.
DAY 8-9 CRUISING AT SEA
DAY 10, DARWIN, NT ARRIVES AT 10:00AM DEPARTS AT 05:00PM
The capital city of Australia's Northern Territory, Darwin delivers more than enough rugged natural beauty to earn its namesake: none other than renowned naturalist Charles Darwin. This port city on Australia's Top End — the lushly forested northern tip of the province — is known for its year-round tropical climate.
DAY 11-12 CRUISING AT SEA
DAY 13 BALI (BENOA), INDONESIA ARRIVES AT 07:00AM DEPARTS AT 03:00PM
DAY 14 CRUISING AT SEA
DAY 15 EXMOUTH, WA ARRIVES AT 11:00AM DEPARTS AT 05:00PM TENDERED
Exmouth is situated on the North West Cape of Western Australia. This small resort town boasts many impressive sights and scenery. During your cruise to Exmouth, you will be able to explore the Ningaloo Reef, which is the largest fringing reef in all of Australia.
DAY 16 CRUISING AT SEA
DAY 17 PERTH, WA ARRIVES AT 06:30AM DEPARTS AT 05:00PM
Spend your time exploring Perth, Fremantle or both. In Perth, stick to the city centre and visit its best sights, including Kings Park, Elizabeth Quay and the historic London Court shops. If you choose to make your way to Fremantle, don't miss the historic Fremantle Prison. Cruise to Perth and explore maritime archaeology at the WA Shipwrecks Museum, and peruse the stalls at bustling the Fremantle Markets.
DAY 18 CRUISING AT SEA
DAY 19 ESPERANCE, WA ARRIVES 08:00AM DEPARTS 06:00PM TENDERED
With a population of just 10,000 people, Esperance may be small, but it packs in beach-side adventure on a grand scale. You might think you've docked in the Caribbean when you pull into this port city on Western Australia's southern coastline, greeted by crystal-clear turquoise waters and white-sand shoreline.
DAY 20-21 CRUISING AT SEA
DAY 22 ADELAIDE, SA ARRIVES 08:00AM DEPARTS 06:00PM
In Adelaide, you'll find an up-and-coming Australian metropolis surrounded by opportunities for outdoor adventure.
DAY 23 CRUISING AT SEA
DAY 24 MELBOURNE, VICTORIA ARRIVES 08:00AM DEPARTS 08:00PM
In Adelaide, you'll find an up-and-coming Australian metropolis surrounded by opportunities for outdoor adventure
DAY 25 CRUISING AT SEA
DAY 26 HOBART, TASMANIA ARRIVES 07:00AM DEPARTS 04:00PM
As the capital of Tasmania, Hobart's Colónial history is on display in the harbor town's architecture.
DAY 27-28 CRUISING AT SEA
DAY 29 PICTON, NZ ARRIVES 01:00PM DEPARTS 08:30PM
Picton, on the northeast corner of New Zealand's South Island, provides access to the beautiful Marlborough Sounds and to New Zealand's most famous wine region, Marlborough, home to the world's best Sauvignon Blanc. Known as the sunniest place in the country, this small town of about 3,000 is named for Sir Thomas Picton, who fought at the Battle of Waterloo.
DAY 30 LYTTELTON (CHRISTCHURCH), NZ ARRIVES 09:00AM DEPARTS 06:30PM
Lyttelton lives up to the quaintness implied by its name, with a population of just under 3,000 people – but the welcoming town is home to big travel attractions and major beauty. Head into downtown Lyttelton to explore independent boutiques and a lively arts scene: Pop in for an afternoon theatre performance at the popular Lyttelton Arts Factory. Christchurch is just a 20-minute drive from the Lyttelton cruise port. Visit Christchurch and stroll through beautifully manicured Hagley Park or see Maori artefacts at the Canterbury Museum.
DAY 31 - DUNEDIN, NZ ARRIVES 07:00AM DEPARTS 05:00PM
On the southeast coast of New Zealand's South Island, on the Otago Peninsula, you'll find Dunedin.
DAY 32 DUSKY SOUND, NZ SIGHTSEEING 08:00AM TO 09:00AM
Dusky Sound lies among the grand fjords of Fiordland National Park in the southwest part of New Zealand's South Island.
DOUBTFUL SOUND, NZ SIGHTSEEING 11:00AM TO 12:00PM
SIGHTSEEING 08:00AM TO 09:00AM
MILFORD SOUND, NZ SIGHTSEEING 05:00PM TO 06:00PM
Mountains and waterfalls abound in South Island's Milford Sound, one of New Zealand's top attractions and a site of otherworldly beauty.
DAY 33-34 CRUISING AT SEA
DAY 35 SYDNEY, AUSTRALIA ARRIVES 06:30AM
---
Gallery
---
Terms
*Terms & Conditions Apply. Offer is limited, subject to availability and change without notice. Promotion is correct and valid at the time of publication. Travelfix and supplier full booking terms and conditions apply. Valid for new bookings only and not combinable with any other offer (unless stated). All prices are in Australian Dollars based on twin share occupancy unless otherwise stated.
Gratuities may be an additional onboard charge depending on particular cruise line selected. Cruise taxes and fees will be advised upon cabin selection.
Travel in style with $1,000 towards your next vacay.
Subscribe to our newsletter for the chance to win $1,000 towards your next cruise, package tour or package holiday.
Be first in line to hear about new and exclusive deals, exciting itineraries and promotions.
*Terms and Conditions apply. The competition shall run from midnight on 22 December 2021 to midnight on 30 June 2022 and will be a game of chance. The winner will be drawn at random at 4pm on 30 June 2022 and advised by telephone and email using the contact information provided at the time of entry. The prize must be claimed by sending a reply email to Travelfix within 14 days of the winner being announced. The $1000 prize will be issued in the form of a travel credit and held on a company account, valid for bookings made within 6-months of the date of issue. Travel credit may be redeemed through Travelfix, operated by The Travel Squad Pty Ltd only, by calling our office, and can be used towards any new cruise, package tour, or package holiday booking for a duration of 5 nights or more.  Travel credit cannot be used towards payment for existing bookings or as a deposit for a new booking. Travel credit cannot be transferred or redeemed for cash.