Classical Greece
.
from

$2,849.00

pp
Various Dates| Depart Athens
Discover the magnificent ruins of ancient Greece in their tranquil Mediterranean settings.
This comprehensive journey explores Greece's most important ancient monuments, like the famed Temple of Zeus, the archaeological site of Olympia, and ancient artefacts of Delphi.
Explore Athens on a comprehensive tour of the incredible Acropolis. Visit a local farm in the countryside to see how olive oil and wine are produced.
Learn how to cook traditional Mediterranean cuisine during a cooking demonstration. Learn the history of this fascinating country from local experts on guided tours of Athens, Metéora, Delphi, and Olympia.
This well-paced journey balances expeditions to Greece's important historic sites with ample time to explore on your own.
---
Inclusions
Accomodation
Sightseeing
Some Breakfasts
Some Dinners
Some Lunches
---
Itinerary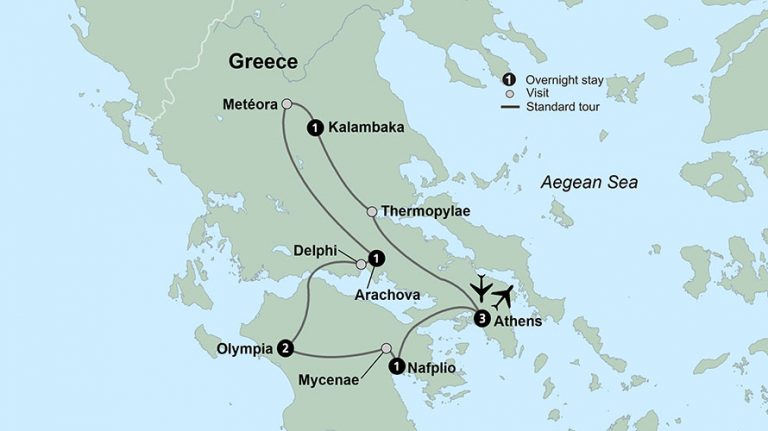 Day 1: Athens, Greece ­ Tour Begins
Arrive in Athens, cradle of Democracy and capital city of Greece. This evening, celebrate the beginning of your Greek experience with a delightful welcome dinner.
Meals Included: Dinner
Day 2: Athens
Enjoy a panoramic tour of the highlights in Athens showcasing the city's ancient and glorious monuments, such as the Temple of Zeus, the Parliament, and the Olympic Stadium. Next, ascend the steep hill of the Acropolis. Greek for "highest city," the Acropolis was the religious centre of ancient Athens and is crowned by the Parthenon, considered the pinnacle of classical Greek architecture. This evening, perhaps you'll choose to join an optional local food tour of
Athens.
Meals Included: Breakfast
Day 3: Athens ­ Thermopylae ­ Kalambaka
Travel north through central Greece to Thermopylae. Stop to see a monument dedicated to Leonidas who died defending Greece against the Persians. This afternoon, visit a local studio to see painters at work creating beautiful Byzantine icons. End your day at a family­owned taverna and savour a delicious meal with recipes passed down from generations.
Meals Included: Breakfast | Dinner
Day 4: Kalambaka ­ Metéora ­ Arachova
This morning, visit Metéora and enjoy guided tours of two remote monasteries situated in a unique landscape of limestone rock "towers" that extend nearly 900 feet into the air. Over 600 years ago, Byzantine monks chose to build their monastic community perched atop these virtually inaccessible rocks. Continue to charming Arachova, a popular ski resort town with breathtaking views of the surrounding mountains and valleys.
Meals Included: Breakfast | Dinner
Day 5: Arachova ­ Delphi ­ Olympia
This morning tour the ancient city of Delphi, one of Greece's most important religious centres during Classical times.  A local expert guides you on a visit to the Sanctuary of Apollo, the Doric Temple, the ancient theatre, and the Delphi Museum with its priceless collection of ancient artefacts. It was here that the famous Oracle was consulted to foretell the destiny of mankind. Then travel along the Gulf of Corinth, crossing into the Peloponnese to the historic city of
Olympia, a testament to the grandeur of ancient Greek civilization. Visit a local farm in the countryside and meet with the owners to learn about everyday life. Following the tour, enjoy a tasting of local wines, olive oil, homemade jams, marmalades and sweets.
Meals Included: Breakfast | Dinner
Day 6: Olympia
Your guided visit to ancient Olympia includes a tour of the sanctuary of Zeus, the Olympic Stadium – where the first Olympic Games were held in 776 B.C. – and the museum. Next, learn how to cook some of the region's best dishes as you partake in a Mediterranean cooking experience followed by a traditional Greek lunch. This evening, broaden your knowledge of traditional Greek musical instruments and folkloric dances at a delightful Greek dance class.
Meals Included: Breakfast | Lunch 
Day 7: Olympia ­ Mycenae ­ Nafplio ­ Tolo
Enjoy spectacular scenery as you cross the Arkadian Mountains en route to the ancient city of Mycenae for a guided visit to the excavations featuring the Beehive Tombs and the Lion Gate. Later stop in Nafplio, Greece's first capital city and a favourite among locals for its elegant neoclassical architecture. Your day ends in the picturesque seaside village of Tolo.
Meals Included: Breakfast
Day 8: Tolo ­ Athens
This morning, cross the Corinth Canal on your way back to Athens. Celebrate the end of a memorable trip to Greece by gathering with the rest of your fellow travellers for a farewell dinner at a local restaurant.
Meals Included: Breakfast | Dinner
Day 9: Athens ­ Tour Ends
Your tour ends today
---
Gallery
---
Terms
**Prices based on Travel dates - 08 Aug 2022
*Terms & Conditions Apply.
Offer is limited, subject to availability and change without notice. Promotion is correct and valid at the time of publication. Full booking and supplier terms and conditions apply.
Valid for new bookings only and not combinable with any other offer (unless stated).
All prices are in Australian Dollars based on twin share occupancy unless otherwise stated.
Hotels may charge resort fees or a security bond not included or mentioned in this package, payable direct upon check in.
Travel in style with $1,000 towards your next vacay.
Subscribe to our newsletter for the chance to win $1,000 towards your next cruise, package tour or package holiday.
Be first in line to hear about new and exclusive deals, exciting itineraries and promotions.
*Terms and Conditions apply. The competition shall run from midnight on 22 December 2021 to midnight on 30 June 2022 and will be a game of chance. The winner will be drawn at random at 4pm on 30 June 2022 and advised by telephone and email using the contact information provided at the time of entry. The prize must be claimed by sending a reply email to Travelfix within 14 days of the winner being announced. The $1000 prize will be issued in the form of a travel credit and held on a company account, valid for bookings made within 6-months of the date of issue. Travel credit may be redeemed through Travelfix, operated by The Travel Squad Pty Ltd only, by calling our office, and can be used towards any new cruise, package tour, or package holiday booking for a duration of 5 nights or more.  Travel credit cannot be used towards payment for existing bookings or as a deposit for a new booking. Travel credit cannot be transferred or redeemed for cash.