The Kimberley Coast 2021
.
from

$10,350.00

pp
Departs Broome | Arrives Darwin | Coral Adventurer
Join Constellation Journeys on the exclusive charter of the Coral Adventurer to explore the remote Kimberley region in Western Australia and experience some of the most expansive and magnificent landscapes on earth. Turn your eyes upwards to the jagged, deep red ochre cliffs. Ride the remarkable tidal flows.
Discover wildlife belonging to another time. Feel the power of the Kimberley's cascading waterfalls and surround yourself with the silence of secluded gorges.
This Kimberley adventure offers a powerful way to reset your soul and satisfy your urge to explore without leaving Australia. And by embarking on this adventure you'll be travelling with two Australian companies – Constellation Journeys and Coral Expeditions.
All accommodation in luxury hotels
The services of Constellation Journey Leaders
Bottled water whilst sightseeing 
Transfers, tipping and taxes 
A doctor travelling on board the ship
​All meals, plus beer, wine and soft drink with all dinners and with lunch aboard the ship
Comprehensive sightseeing program including numerous 'A LaCarte' options
---
Inclusions
Airport Transfer
All Day Dining
All Inclusive
Post-Cruise Accommodation
Pre-Cruise Accommodation
Sightseeing
Tipping & Taxes
---
Itinerary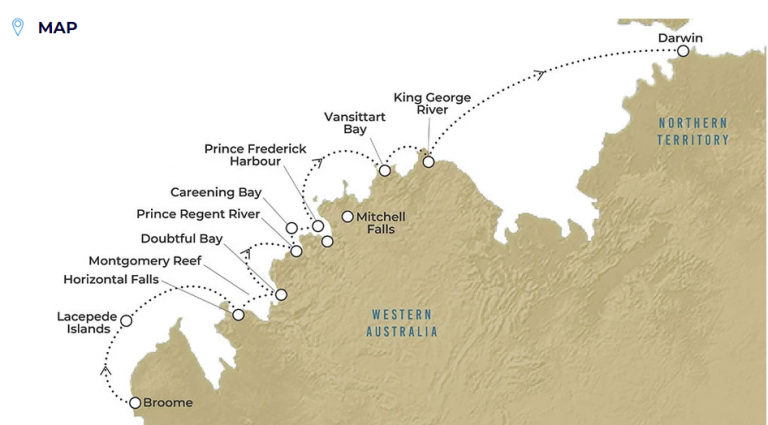 DAY 1: Arrive Broome
Arrive in Broome and transfer to the iconic Cable Beach Club Resort. Tonight, enjoy a welcome dinner with your Constellation Journeys team and fellow travellers. Speak to us if you'd like to arrive earlier and spend some additional time in Broome.​
DAY 2: Board Coral Adventurer
Take a complimentary morning tour to the Willie Creek Pearl Farm before joining the Coral Adventurer.  Come together in the bar for the Captain's Welcome cocktail party for drinks before feasting on freshly prepared cuisine over dinner.​
DAY 3: Lacepede Islands
At this time of year, the waters surrounding The Lacepede island group often feature large pods of whales migrating south in preparation for warmer southern months. Keep your eyes out for these magnificent mammals as you cruise through this Class A nature reserve.
DAY 4: Horizontal Falls & Buccaneer Archipelago
The Horizontal Falls are created as the ocean thunders through a narrow gorge in the McLarty Ranges. As the tide changes water is forcibly pushed through the bottleneck, creating a rushing horizontal waterfall of swiftly flowing seawater.    In the spectacular Buccaneer Archipelago, you'll see evidence of massive geological forces in the ancient rock formations before concluding this remarkable day with sunset drinks at Nares Point.​
DAY 5: Raft Point & Ruby Falls
Raft Point guards the entrance to sheltered Doubtful Bay, which harbours significant sites such as the ancient Wandjina rock art galleries.  Find wonder and history in the ancient stories contained within the rock art. Later, a visit to Red Cone Creek offers the active an opportunity to climb up to a freshwater swimming hole overlooking Ruby Falls.  Other sites we may visit in Doubtful Bay include the mighty Sale River and Steep Island.
DAY 6: Montgomery Reef
Get ready for a thrilling experience at Montgomery Reef as the sea rapidly recedes in a mammoth tide. The reef rises from the ocean in a cascade of rushing water, revealing the flat-topped reef and leaving you breathless with wonder and excitement.  Opportunistic birds take advantage of the marine life left exposed in rock pools, while turtles and larger marine life may also be spotted.
DAY 7: Prince Regent River & Kings Cascade
Running on a fault line the spectacular Prince Regent River is accessible only by sea. The area is a haven for native mammals and birds and is our access point for the magnificent King Cascade, a terraced waterfall. Falling from a considerable height and spanning a wide distance, the water tumbles down a staggered terrace of Kimberley sandstone, surrounded by grasses, mosses and ferns. It is an iconic Kimberley sight.
DAY 8: Bigge Island & Careening Bay
Picture a harbour, dotted with islands lined with mangroves and monsoon rainforests, set against a backdrop of ochre hued escarpments. This is a truly spectacular location. White-bellied sea eagles and other birds of prey are often seen here and, at low tide, expansive mudflats reveal large populations of mud-skippers, mangrove crabs and even a crocodile or two.​
DAY 9: Hathways's Hideaway & Mitchell Falls
Carved through layers of sandstone Mitchell Falls descends over four tiers, creating pools of emerald green on each level.  Stand and savour the serenity of this ancient landscape. Visiting Mitchell Falls is only possible by taking the optional helicopter flight (at additional cost).  Alternatively, explore the sandstone caves of Hathway's Hideaway, a maze of weathered tunnels, arches and columns that was once an Aboriginal midden.
DAY 10: Vansittart Bay & Jar Island
Vansittart Bay is home to many cultural and historically significant sites like the remarkable Jar Island Gwion Gwion (Bradshaw) rock art galleries, estimated to be around 15,000 years old. Nearby, on the Anjo Peninsula, we explore the well-preserved wreckage of a US Air Force C-53 Skytrooper aircraft.​
DAY 11:  King George River & Falls
Aboard a Zodiac, you'll cruise over the emerald coloured waters towards the site of King George Falls. Cast your eyes up to the vertically sided sandstone canyons cutting into the plateau where the King George River ends.  The ochre red cliffs are an iconic site of the Kimberley.
DAY 12: Arrive Darwin
Enjoy breakfast on board before bidding farewell to the extraordinary crew who have become almost like family. Constellation Journeys will provide your transfer to your Darwin hotel (or the airport) or talk to us about staying longer in the Top End.
---
Gallery
---
Terms
*Terms & Conditions Apply.
Offer is limited, subject to availability and change without notice. Promotion is correct and valid at the time of publication. Full booking and supplier terms and conditions apply.
Valid for new bookings only and not combinable with any other offer (unless stated). All prices are in Australian Dollars based on twin share unless otherwise stated.
Expedition Note: This itinerary is expeditionary in nature. You are travelling to a remote area and alterations to this itinerary may be necessary. Your Captain and Expedition Team will make changes to the daily schedule when necessary to maximise guest experience. Variations may occur due to weather conditions, safety, local community requirements or other operational requirements.
Travel in style with $1,000 towards your next vacay.
Subscribe to our newsletter for the chance to win $1,000 towards your next cruise, package tour or package holiday.
Be first in line to hear about new and exclusive deals, exciting itineraries and promotions.
*Terms and Conditions apply. The competition shall run from midnight on 22 December 2021 to midnight on 30 June 2022 and will be a game of chance. The winner will be drawn at random at 4pm on 30 June 2022 and advised by telephone and email using the contact information provided at the time of entry. The prize must be claimed by sending a reply email to Travelfix within 14 days of the winner being announced. The $1000 prize will be issued in the form of a travel credit and held on a company account, valid for bookings made within 6-months of the date of issue. Travel credit may be redeemed through Travelfix, operated by The Travel Squad Pty Ltd only, by calling our office, and can be used towards any new cruise, package tour, or package holiday booking for a duration of 5 nights or more.  Travel credit cannot be used towards payment for existing bookings or as a deposit for a new booking. Travel credit cannot be transferred or redeemed for cash.