East to West on the Indian Pacific
.
from

$3,999.00

pp
Various Dates | 1 Night Sydney | 3 Nights Indian Pacific | 2 Nights Perth | Lunch on Sydney Harbour
This famous transcontinental crossing will take you through the country's arid deserts and goldfields, rocky valleys and lush mountains and, ultimately, to three capital cities.
Set the scene for your holiday by joining Journey Beyond Cruise Sydney for lunch while cruising the magnificent Sydney Harbour. Afterward, make your way to your accommodation for some rest and relaxation.  Your four-day three-night transcontinental rail adventure begins the following day as we depart Sydney and wind through the truly breathtaking Blue Mountains on the way to Broken Hill where a choice of off-train excursions await.  Arrive in the boutique city of Adelaide and choose to visit one of the celebrated food and wine regions within reach of Adelaide or spend some time in the capital city itself.  Cross the Nullarbor Plain on the way to Perth, stopping to have dinner off the train and under the stars on Australia's largest sheep station, Rawlinna.
With its bold wedge-tailed eagle emblem symbolising the scope, range and significance of each epic journey, the Indian Pacific traverses mountain ranges, passes through arid deserts and goldfields, rocky valleys and subtropical savannahs on its transcontinental crossings.
Named for the two oceans the train encounters on its journey, the Indian Pacific travels between Perth, Adelaide and Sydney on a spectacular 4352km crossing.
There's no better way to experience the spectacular interior landscape of Australia than by the romance of rail. Choose from one of the following Indian Pacific journeys for the foundation of your adventure.
Inclusions
Sydney Harbour Lunch Cruise
1 night in 5-star hotel in Sydney including Breakfast
4 days/3 nights aboard the Indian Pacific
All-inclusive meals, fine wines, and beverages
A regionally-inspired menu paired with a selection of local wines
Off train experiences in Broken Hill, Adelaide and surrounds, Cook, Rawlinna and Perth
2 nights in 5-star hotel in Perth including Breakfast
One way Private Airport Transfer Perth hotel to Airport
Flight back to Sydney from Perth
GOLD TWIN CABIN: Gold Service twin cabins are the most popular level of service.  You'll enjoy all-inclusive dining, beverages and a range of fascinating Off Train Excursions at key stops.  While in your cabin there's a three-seater lounge by day that converts to a comfortable sleeper by night, with upper and lower berths and a private en suite.
---
Itinerary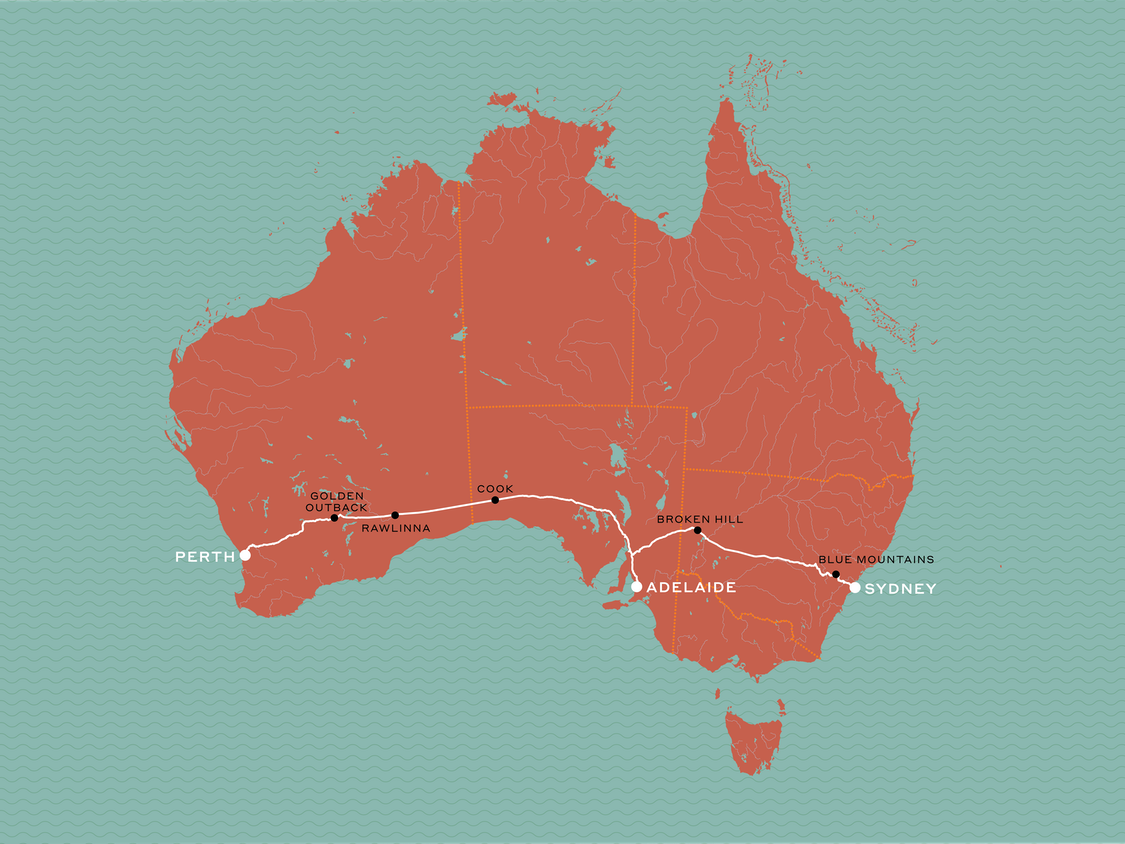 DAY 1
SYDNEY
Set the scene for your holiday by joining Journey Beyond Cruise Sydney for lunch while cruising the magnificent Sydney Harbour. Afterward, make your way to your accommodation for some rest and relaxation. Your four-day three-night transcontinental rail adventure begins the following day as we depart Sydney.
DAY 2
SYDNEY
Your transcontinental adventure begins in Sydney where you board the Indian Pacific. Prepare for a journey of contrasts, from lush vineyards to vast goldmines, majestic mountains to the barren expanse of the Nullarbor, from cities of four million to ghost towns of four.  As the train winds through the breathtaking Blue Mountains, explore the comforts of life onboard, get acquainted with your cabin and fellow travellers. After settling in, savour your first meal – a regionally-inspired dinner paired with all-inclusive fine wines and beverages.  After dinner, join fellow guests for a late-night drink or head back to your cabin for your first night onboard.
DAY 3
BROKEN HILL, BAROSSA VALLEY AND ADELAIDE SURROUNDS
You arrive in the 'Silver City' of Broken Hill as the day begins, where you embark on a morning of Off Train Excursions to discover the mining history and artistic culture of this unique town where the streets are wide and there's a pub on every corner.  Lunch is served onboard as the Indian Pacific enters the southern tip of the spectacular and ancient Flinders Ranges. Arriving in the city of Adelaide in the afternoon, you have the choice of a tour of the city, a visit to the world-famous Barossa Valley or McLaren Vale wine regions (seasonal), or a trip to the beautiful Adelaide Hills featuring the culinary delights of Hahndorf.
DAY 4
NULLARBOR PLAIN
You'll awake to the seemingly endless expanse of the Nullarbor Plain. Breakfast is served as you travel along the longest stretch of straight railway track in the world. This evening, your sense of wonder will be ignited as you enjoy the tranquillity of dinner under the brilliant desert stars in the remote and beautiful Rawlinna (seasonal).
DAY 5
PERTH
Breakfast is served as you glide through the mild skies and cool green vales of the Avon Valley on your way to Perth, arriving after an onboard lunch.
Make your own way to your Hotel.
5-star Hotel Stay
DAY 6
PERTH - 5 star Hotel Stay - Day at Leisure
DAY 7
Private transfer from Airport to Hotel.
Fly back to Sydney
---
Gallery
---
Terms
*Terms & Conditions Apply. Offer is limited, subject to availability and change without notice. Promotion is correct and valid at the time of publication. Travelfix and supplier full booking terms and conditions apply. Valid for new bookings only and not combinable with any other offer (unless stated). All prices are in Australian Dollars based on twin share occupancy unless otherwise stated.
Travel packages advertised under 'The Travel Squad' brand/logo, may include multiple products provided by multiple suppliers to demonstrate possible travel itineraries purely for your convenience, however each component of the package will be treated independent of each other and the specific terms & conditions of each product supplier will apply. The Travel Squad will not be responsible if one or more travel products or services are changed or cancelled by a supplier which has resulting impacts on other components of the itinerary. We will however seek to find a suitable alternative or assist you with any travel insurance claim.
Hotels may charge resort fees or a security bond not included or mentioned in this package, payable direct upon check in. Price is based on a twin-share room type for 2 adults.
Airfares are capacity controlled and are subject to change at any time without notice. All passports, visas, travel permits and vaccinations are the responsibility of the travelling passenger to secure prior to travel. Airfares are based on economy class flights from Perth to Sydney and are subject to the carriers' flight schedules and conditions. Please call us for prices from other airports.
Travel in style with $1,000 towards your next vacay.
Subscribe to our newsletter for the chance to win $1,000 towards your next cruise, package tour or package holiday.
Be first in line to hear about new and exclusive deals, exciting itineraries and promotions.
*Terms and Conditions apply. The competition shall run from midnight on 22 December 2021 to midnight on 30 June 2022 and will be a game of chance. The winner will be drawn at random at 4pm on 30 June 2022 and advised by telephone and email using the contact information provided at the time of entry. The prize must be claimed by sending a reply email to Travelfix within 14 days of the winner being announced. The $1000 prize will be issued in the form of a travel credit and held on a company account, valid for bookings made within 6-months of the date of issue. Travel credit may be redeemed through Travelfix, operated by The Travel Squad Pty Ltd only, by calling our office, and can be used towards any new cruise, package tour, or package holiday booking for a duration of 5 nights or more.  Travel credit cannot be used towards payment for existing bookings or as a deposit for a new booking. Travel credit cannot be transferred or redeemed for cash.