Grand Australian Circumnavigation
.
from

$6,849.00

pp
This circumnavigation of Australia from Sydney reveals a kaleidoscope of natural wonders. From the unblemished white sands of Airlie Beach and Port Douglas, to the wild coast of Kangaroo Island.
Embark Queen Elizabeth and immerse yourself in her evocative art deco elegance. The newest Queen exudes style and has an especially refined feel.
CRUISE INCLUSIONS:
Main dining.
Your table is reserved for breakfast, lunch and dinner in one of the sophisticated main restaurants aboard. Each is the home of deliciously imaginative menus, exceptional wines and impeccable service. This evening you may start with such delicacies as Salmon Gravlax with Poached Quail's Egg or a Croquette of Suckling Pig. For your entrée, you might be in the mood for Dover Sole Meunière or a Chateaubriand, perhaps rounded off with a rich Bitter Chocolate Soufflé or a lighter Mango Panna Cotta.
Evening performances.
Every evening during your cruise promises a stellar array of entertainment choices. So, whether you're in the mood for music, dance performances or even magic shows, prepare to settle into your seat. Watch the resident Royal Cunard Singers & Dancers stage dazzling West End style productions or abridged Shakespeare performances. We've also hand-picked a talented line-up of vocalists and instrumentalists, aerial performers and illusionists, stand-up comedians and variety entertainers.
Live music.
Live music will be an unmistakable signature of every moment on your ship. Our accomplished resident musicians will create an enticing ambience, during relaxing moments and on grand social occasions. The string trio provides a warm welcome on board and melodic accompaniment to Afternoon Tea. The resident pianist sets an elegant tone to evening dinner drinks in the Commodore Club, and you'll also find harpists and contemporary bands in public rooms and lounges throughout the ship.
Children's facilities.
Children of all ages are welcome on our ships, and our dedicated clubs offer activities and entertainment. These include arts and crafts, sporting activities, play areas, computer games and much more. They can make friends with other children at The Play Zone, for two- to seven-year-olds, and The Zone which is ideal for eight- to 17-year-olds. Our youth staff will supervise your children, organise events, activities and competitions, and even 'excursions' to the theatre or cinema on board.
Traditional Afternoon Tea.
If anything perfectly encapsulates Cunard's service and sense of occasion, it is our prized daily ritual: Afternoon Tea, served by white-gloved waiters from 3.30 to 4.30pm every day in the Queens Room. Indulgent finger sandwiches, scones and pastries accompany Twinings fine leaf teas, as the orchestra provides a melodic backdrop. Our Grills guests may also retreat to the more intimate Princess Grill restaurant, while a more casual interpretation awaits in the Lido or King's Court.
Gala Evenings.
The true romance of ocean travel is never more alive than on our Gala Evenings. You'll feel a palpable sense of occasion in the air as guests emerge from their staterooms in their finest eveningwear, beautifully attired in tuxedos and ball gowns, like a scene from a Hollywood movie.
Sporting activities.
There are many ways to keep yourself active on our ships. A few laps of the Promenade Deck and the games of shuffleboard and deck quoits have been pastimes for almost as long as we have been sailing. You'll find pursuits like table tennis, paddle tennis, golf putting and swimming too. For armchair sports fans, Sport24 offers coverage of major events including the Premier League, Wimbledon, Formula 1, the Ryder Cup and more, shown in certain bars and lounges, and all staterooms and suites.
Book Now to Save up to 20% with the Annual Savings Event Sale!
---
Itinerary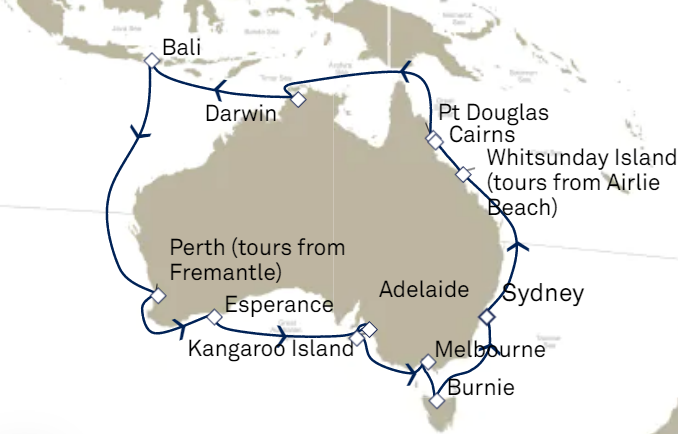 Day 1: Sydney, Australia
15NOV22 - Embark - Check in Starts at 1200pm
The stunning harbour city, Sydney, is Australia's oldest and largest urban centre. Gold mining and sheep breeding propelled Sydney's development, and today it's the largest port in the entire South Pacific. Mark Twain called it "the wonder of the world".
Day 2 – 3: At Sea
16NOV22-17NOV22
Day 4: Airlie Beach, Australia
18NOV22 - Arrive early morning - Tender required - Depart early evening
With waters that radiate turquoise intensity, sands as white as snow and forests the colour of emeralds, the 74 islands that make up the Whitsundays are the definition of paradise - so beautiful you'll hesitate to leave
Day 5: At Sea
19NOV22
Day 6: Cairns, Australia
20NOV22 - Arrive early morning - Depart early evening
Laid-back Cairns is your gateway to the World Heritage-listed Great Barrier Reef; a spectacular location for snorkelling and diving amongst kaleidoscopic marine life and coral. A mecca for all divers.
Follow Foreshore Promenade around the lagoon filled with pleasure craft, or take a scenic railway ride to the tranquil mountain village of Kuranda.
Day 7: Port Douglas, Australia
21NOV22 - Arrive early morning - Tender required - Depart early evening
Adjacent to two UNESCO World Heritage sites, the Great Barrier Reef and the Daintree Rainforest, Port Douglas is a gateway to some of Australia's most breathtaking natural wonders.
Day 8 – 10: At Sea
22NOV22-24NOV22
Day 11: Darwin, Australia
25NOV22 - Arrive early morning - Depart early evening
Situated on the remote northern shores of Australia's 'Top End,' balmy Darwin has matured from its early days as a true frontier settlement to become a welcoming, lively and multicultural modern city.
Day 12 – 13: At Sea
26NOV-27NOV22
Day 14: Bali, Indonesia
28NOV22 - Arrive early morning - Tender required - Depart early evening
Bali is a vision of ethereal beauty, where ribbons of pale sand unravel along an azure sea, emerald rice terraces and stone-carved temples pierce the landscape and Hindu gods inspire human creativity.
Day 15 -17: At Sea
29NOV22-01DEC22
Day 18: Fremantle, Australia
02DEC22 - Arrive early morning - Depart evening
Perth's spectacular growth in recent times makes the old historic port of Fremantle seem tiny in comparison. Eighty per cent of Western Australia's population lives in or around this sunny metropolis.
Day 19: At Sea
03DEC22
Day 20: Esperance, Australia
04DEC22 - Arrive early morning - Tender required - Depart early evening
On Australia's south west coast, Esperance is a perfect place to be outdoors. Beautiful white sand beaches meet turquoise waters whose dusting of islands and islets are home to seals and sea lions.
Day 21 – 22: At Sea
05DEC22-06DEC22
Day 23: Adelaide, Australia
07DEC22 - Arrive early morning - Depart early evening
With around 200 wineries a stone's throw from the city, Adelaide is one of Australia's best kept secrets. A charming city fringed by scenic countryside and sandy beaches, with a fantastic food market, captivating art scene, and plenty of options for sighting native Australian wildlife.
Day 24: Kangaroo Island, Australia
08DEC22 - Arrive early morning - Tender required - Depart early evening
The third-largest Australian island boasts incredible natural beauty, with unspoiled pristine beaches and a truly unique opportunity to see an amazing range of animals up-close in their local habitat.
Day 25: At Sea
09DEC22
Day 26: Melbourne, Australia
10DEC22 - Arrive early morning - Depart early evening
Originally part of New South Wales, Victoria became a colony in its own right in 1851. The discovery of gold and the development of agriculture launched Melbourne's rise to prominence and prosperity.
Day 27: Burnie, Australia
11DEC22 - Arrive early morning -  Depart early evening
Sitting on a beautiful stretch of Tasmania's North West Coast, port city Burnie may have industrial roots, but it has since reinvented itself as a creative enclave and the state's fourth largest city.
Day 28: At Sea
12DEC22
Day 29: Sydney, Australia
13DEC22
Disembark from Queen Elizabeth.
---
Gallery
---
Terms
*Terms & Conditions Apply. Offer is limited, subject to availability and change without notice. Promotion is correct and valid at the time of publication. Travelfix and supplier full booking terms and conditions apply. Valid for new bookings only and not combinable with any other offer (unless stated). All prices are in Australian Dollars based on twin share occupancy unless otherwise stated.
Gratuities may be an additional onboard charge depending on particular cruise line selected. Cruise taxes and fees will be advised upon cabin selection.
Travel in style with $1,000 towards your next vacay.
Subscribe to our newsletter for the chance to win $1,000 towards your next cruise, package tour or package holiday.
Be first in line to hear about new and exclusive deals, exciting itineraries and promotions.
*Terms and Conditions apply. The competition shall run from midnight on 22 December 2021 to midnight on 30 June 2022 and will be a game of chance. The winner will be drawn at random at 4pm on 30 June 2022 and advised by telephone and email using the contact information provided at the time of entry. The prize must be claimed by sending a reply email to Travelfix within 14 days of the winner being announced. The $1000 prize will be issued in the form of a travel credit and held on a company account, valid for bookings made within 6-months of the date of issue. Travel credit may be redeemed through Travelfix, operated by The Travel Squad Pty Ltd only, by calling our office, and can be used towards any new cruise, package tour, or package holiday booking for a duration of 5 nights or more.  Travel credit cannot be used towards payment for existing bookings or as a deposit for a new booking. Travel credit cannot be transferred or redeemed for cash.