Luxury Sailing Cairns to Sydney
.
from

$4,900.00

pp
Departs Cairns | Arrives Sydney | Silver Muse
Sail from Cairns to the Willis Islets. These little known, and even littler visited islands are packed full of avian and marine life, and are one of the best examples of ecological utopia we've ever seen! But your cruise doesn't end there – sail on to Airlie Beach before resting up for a day at sea. Brisbane's urban charms and Mooloolaba's beachside ones complete your adventure.
Why Silversea?
Silversea's small luxury ships are designed for those who delight in the thrill of discovery while indulging mind and body in the most lavish surroundings imaginable. All accommodations are spacious, ocean-view suites that include butler service, and most include private verandas. Silversea voyages and cruise expeditions sail to over 900 destinations on all seven continents, more than any other cruise line.
Inclusions
Spacious suites – over 80% with private verandas
Butler service in every suite
Unlimited Free Wifi
Personalised service – nearly one crew member for every guest
Multiple restaurants, diverse cuisine, open-seating dining
Beverages in-suite and throughout the ship, including champagne, select wines and spirits
24-hour dining service
Onboard entertainment
Complimentary transportation into town in most ports
Onboard gratuities
---
Itinerary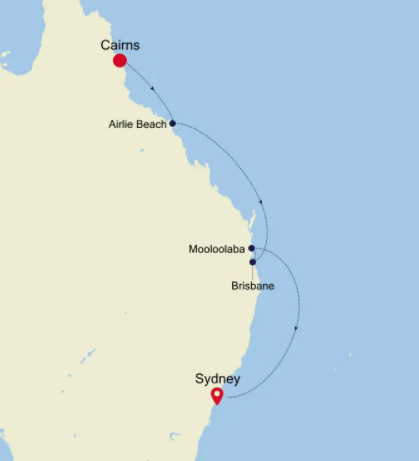 DAY 1 - Cairns
SAT, FEBRUARY 19
DEPARTURE 18:00
Warmly welcoming you to the natural wonders of the Great Barrier Reef, Cairns is a treasure trove of rich tropical beauty and incredible sea life. Swathes of rainforest spread out to the north, where you can soar over the canopy in a cable car, before looking down over narrow channels of water plummeting down gorges and crocodile-filled waterways. The diverse lands of the Atherton Tableland lie to the west, but it's the crystal-clear waters - and life-filled reefs - of Cairns' remarkable underwater world that draws universal adulation. Priding itself as the Gateway to the Great Barrier Reef, explore Cairns' constellation of colour, as you dive into the world's largest and most spectacular underwater universe. Cairns is huddled in amongst abundant swathes of rainforests, which give way to glorious crescents of golden beach. Kuranda - with its scenic railway and heritage market stalls - waits to be discovered, cloaked within the depths of the rainforest. Learn of the indigenous people of North Queensland during cultural performances, and hear the throaty reverberations of digeridoos, as you hear eternal stories handed down through time, from generation to generation. Back in Cairns, there's always time for a coffee or a beer, or a feast on fresh oysters with glasses of Cairns' white wines – boldly flavoured with mango and banana notes.
DAY 2 - Day at sea
INTERNATIONAL WATERS
SUN, FEBRUARY 20
Days at sea are the perfect opportunity to relax, unwind and catch up with what you've been meaning to do. So whether that is going to the gym, visiting the spa, whale watching, catching up on your reading or simply topping up your tan, these blue sea days are the perfect balance to busy days spent exploring shore side.
DAY 3 - Airlie Beach
MON, FEBRUARY 21
09:00 - 19:00
With the finest powder sand, knots of deep green rainforest and ankle-deep shelves of turquoise sea water - Airlie Beach is your gateway to some of the world's most spectacular beaches. This lively town welcomes wide-eyed young adventurers and the yachting crowd alike to the Whitsunday Islands' serenity, and the hiss of espresso machines, and excited chatter of adventure, spills out from its many cafes and bars. Relax at Airlie Beach Lagoon – the social hub of this town - where sun-heated saltwater invites you to wade, before flaming fresh coral trout over a barbecue as the sun sets. Or, take a seat at one of the glorious restaurants offering uninterrupted views out over the waters of Pioneer Bay, towards the 74 islands that make up the Whitsundays. These heavenly waters don't just attract humans. Humpback and pilot whales also migrate here to indulge in the warm waters and sheltered location. Spot the majestic creatures breaching and gulping in huge gasps of oxygen as you explore. Feeling adventurous? Rainforest walks to secluded pebble beaches await at Conway National Park, where difficulty-graded walking trails are available. Dive among swirls of jewel-coloured marine life, or experience the thrill of skimming into the sky on a seaplane. Take off to admire the scattered island paradises below from a stunning new aerial perspective, before landing and enjoying a picnic amid Whitehaven Beach's bliss.
DAY 4 - Day at sea
INTERNATIONAL WATERS
TUE, FEBRUARY 22
Days at sea are the perfect opportunity to relax, unwind and catch up with what you've been meaning to do. So whether that is going to the gym, visiting the spa, whale watching, catching up on your reading or simply topping up your tan, these blue sea days are the perfect balance to busy days spent exploring shore side.
DAY 5 - Brisbane
WED, FEBRUARY 23
08:00 - 23:00
They don't call it the Sunshine State for nothing, and Brisbane's modern metropolis fully exploits its sun-blessed location, basking in Queensland's generous year-round glow. The envied climate makes Brisbane a city of outdoor adventure, activity and relaxation, where days drift by surfing rollers, or relaxing in the shade of swaying palms. While Brisbane may play second fiddle to Sydney and Melbourne at times, it radiates a creative and contemporary energy, offering visitors a refreshing combination of laidback waterfront luxury and urban sophistication. Sandy islands nearby provide scenic diving and oceanside relaxation opportunities, while the city's animal santuaries offer opportunities to meet unbearably cute koalas and kangaroos. Brisbane's impressive skyline of metallic cylinders rises high above the broad Brisbane River below, which curves lazily through downtown. The rolling waves of the Pacific are close by, but there's something special about relaxing on soft sand in the very heart of the city, on the beautifully executed South Bank Parklands man-made beach. With golden sand and shallow lagoon waters to cool off in, it's a dreamy spot to lie back with a book, amid the landscaped gardens. Nestled in a river meander of its own, Brisbane Botanic Park glows with colour, tropical plants and wading ibis birds, and is easily walkable from the Parklands. The South Bank is the cultural hub of city, and houses the celebrated Queensland Gallery of Modern Art - a surreal and vibrant jaunt through contemporary Australian art. The city's award-winning restaurants also serve up elite food, matched with generous splashes of wine, direct from the nearby Granite Belt's wine regions.
DAY 6 - Mooloolaba
THU, FEBRUARY 24
08:00 - 18:00
Once a humble fishing village, tourism has boomed in recent years and transformed Mooloolaba into one of the most coveted of Queensland's popular holiday resorts. Located 97 km from Brisbane and set right in the heart of the Sunshine Coast, Mooloolaba is much more than an oceanfront playground. Certainly, surfers will find their nirvana here, with ideal spots for both the initiated and the beginner dotted along the coast, along with the famous surfing festival in March. But it's not all about waxing your board and point breaks – Mooloolaba Beach has featured as one of the world's top ten beaches for two years running and it looks set to stay that way. An early morning stroll will see you mingling with the locals, and with no beach goers around, be sure to take your cameras for some of the most instagrammable views you're ever likely to see. Step away from the beach and guests will find some good shopping with everything from antiques and jewellery to beach towels and sarongs for sale. Local artists set up stalls on the pretty esplanade so art lovers will be sure to take home a souvenir that is really special. Epicureans meanwhile will already no doubt looking forward to tasting some of the famous Mooloolaba prawns, caught straight off a trawler. How's that for freshness! Try the delicious local speciality either in one of the buzzing restaurants in town or straight from the Seafood Precinct and grab a spot in the shade for a picnic! If fun in the sun isn't your cup of tea, then the Mooloolaba coastline is certainly worth seeing. Hire a motorboat, or relax on a mini-cruise and enjoy the opportunity of searching, and perhaps swimming, with whales, dolphins and turtles. Seaplanes offer another interesting way of seeing the coast with the more adventurous opting for the "doors off" experience.
DAY 7 - Day at sea
INTERNATIONAL WATERS
FRI, FEBRUARY 25
Days at sea are the perfect opportunity to relax, unwind and catch up with what you've been meaning to do. So whether that is going to the gym, visiting the spa, whale watching, catching up on your reading or simply topping up your tan, these blue sea days are the perfect balance to busy days spent exploring shore side.
DAY 8 - Sydney
SAT, FEBRUARY 26
ARRIVAL 08:00
With its glorious harbour, lavish golden beaches and iconic landmarks, Sydney is Australia's showpiece city. Creative and curious, discover the world-class cuisine, indigenous culture, and irresistible beach life that make Sydney one of the world's most dynamic, exciting destinations. Sydney's sparkling harbour is the heart of a richly cultural city. Overlooked by the metallic curves of the masterpiece of an Opera House, and that grand arched harbour bridge. Take it all in from the water, and admire the iconic landmarks, which are set before the city's gleaming skyline backdrop. If you're feeling adventurous, take the legendary climb up the smooth curve of the bridge – nicknamed the Coathanger - to soak in the shining city's spread from a unique perspective. Spread out to tan on one of the world's most famous stretches of sand - Bondi Beach. Restaurants and bars burble away in the background, while the sun beams down, and surfers curl and leap over pure rollers. Swim in spectacular salty ocean pools, or wander the beautiful Bondi to Coogee coastal walk for more of this sun-gorged stretch of prime coastline. Leaving the thrills of Australia's largest city behind is surprisingly simple – take to the skies to be flown above skyscrapers and rippling ribbons of waves, out to majestic peaks, sheer cliffs and iconic rock formations - like the Three Sisters of the Blue Mountains. Or, drop in on wildlife sanctuaries caring for the country's animals – from hopping kangaroos to adorably cute, cuddly koalas.
---
Gallery
---
Terms
*Terms & Conditions Apply. Offer is limited, subject to availability and change without notice. Promotion is correct and valid at the time of publication. Travelfix and supplier full booking terms and conditions apply. Valid for new bookings only and not combinable with any other offer (unless stated). All prices are in Australian Dollars based on twin share occupancy unless otherwise stated.
Fares and itineraries vary by sail date. All fares shown are in AUD, per person, twin share, in lowest available suite category and include Early Booking Bonus. Offers are valid for new individual bookings made during the promotional period and may be withdrawn at any time without notice. Valid for select gateways to guests from Australia and New Zealand only.
Silversea reserves the right to correct any errors and omissions and to cancel any offered product or service in the event of such error or omission. Additional restrictions may apply.
Travel in style with $1,000 towards your next vacay.
Subscribe to our newsletter for the chance to win $1,000 towards your next cruise, package tour or package holiday.
Be first in line to hear about new and exclusive deals, exciting itineraries and promotions.
*Terms and Conditions apply. The competition shall run from midnight on 22 December 2021 to midnight on 30 June 2022 and will be a game of chance. The winner will be drawn at random at 4pm on 30 June 2022 and advised by telephone and email using the contact information provided at the time of entry. The prize must be claimed by sending a reply email to Travelfix within 14 days of the winner being announced. The $1000 prize will be issued in the form of a travel credit and held on a company account, valid for bookings made within 6-months of the date of issue. Travel credit may be redeemed through Travelfix, operated by The Travel Squad Pty Ltd only, by calling our office, and can be used towards any new cruise, package tour, or package holiday booking for a duration of 5 nights or more.  Travel credit cannot be used towards payment for existing bookings or as a deposit for a new booking. Travel credit cannot be transferred or redeemed for cash.