Luxury South Pacific Islands Cruise
.
from

$17,370.00

pp
Expedition Cruising | Silver Explorer | 15 Ports | 5 Countries
Both humongous and humbling, Melanesia has been topping wanderlust wish lists for years.
Join the team of onboard experts aboard Silver Explorer and explore this lesser-known region.
Leaving Cairns, travel to hot springs and birds of paradise of Papua New Guinea, exploring the island's remarkable breadth of culture as you go. Sail on to the untouched Solomon Islands for some world-class snorkeling and startling scenery.
Vanuatu, home of the famous water music and champagne beach is last.
Wild Expeditions – All Inclusive
Enjoy Business class for $1298 roundtrip or included Economy Class air roundtrip + Included Hotel, Transfer's & Shore excursions
---
Inclusions
Accomodation
Airport Transfer
All Inclusive
Flights
Shore Excursions
Taxes
---
Itinerary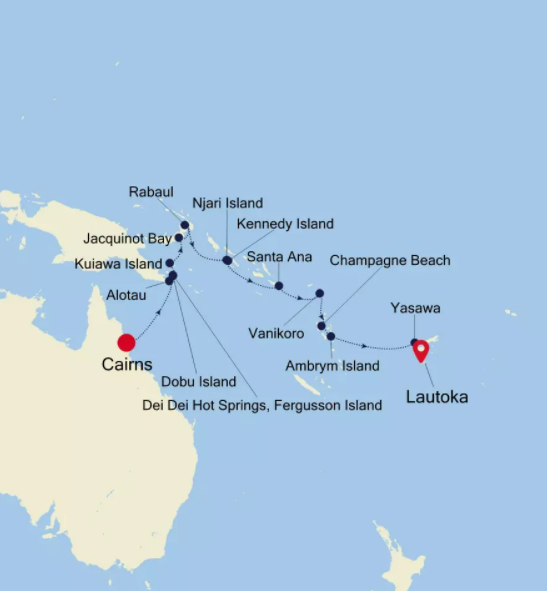 Day 1 Saturday, September 24, 2022, Cairns, Australia Embark 6:00 PM
Whether you're snorkelling or diving on the Great Barrier Reef or exploring the luscious Daintree Rainforest, Cairns is a great base for you to start your tropical north Queensland adventure. The Cairns esplanade is the main hub with a host of lovely cafes and restaurants, waterfront boardwalks, and a swimming lagoon. A perfect meeting spot if you're catching up with family or friends. Head out on a day trip to the Great Barrier Reef which departs from Cairns.
Day 2 Sunday, September 25, 2022, Day At Sea
Day 3 Monday, September 26, 2022, Alotau, Papua New Guinea 1:00 PM 8:00 PM
Day 4 Tuesday, September 27, 2022, Dei Dei Hot Springs
Day 4 Tuesday, September 27, 2022, Dobu Island, Papua New Guinea 1:30 PM 8:30 PM
Dobu Island is part of the D'Entrecasteaux Islands in the Solomon Sea off Papua New Guinea. It lies just south of Ferguson Island, the largest in the island group, and north of Normanby Island. Dobu lies about 60 km north of the very easternmost tip of Papua New Guinea. The island is about 3 km across and rises to a flat-topped peak at 260 m, surrounded by steep thickly forested cliffs.
Day 5 Wednesday, September 28, 2022, Kuiawa Island
Day 6 Thursday, September 29, 2022, New Britain, Papua New Guinea 8:30 AM 6:00 PM
New Britain is the largest island in the Bismarck Archipelago of Papua New Guinea, separated from the island of New Guinea by Dampier Strait. The main towns are Rabaul, Kokopo and Kimbe. Steep cliffs form some sections of the coastline. In others, the mountains are further inland, and the coastal area is flat and bordered by coral reefs.
Day 7 Friday, September 30, 2022, Rabaul, Papua New Guinea 8:30 AM 11:30 PM
Rabaul is a town on the Gazelle Peninsula in East New Britain Province, Papua New Guinea. A busy commercial centre, it is situated on Simpson Harbour, a sheltered inlet of Blanche Bay. Almost the entire old town of Rabaul is buried under volcanic ash, the result of a volcanic eruption in 1994, and one is in awe of the scenery, which resembles an alien prehistoric landscape. Mt Tavurvur is still active and makes for a very interesting trekking tour.
Day 8 Saturday, October 1, 2022, Day At Sea
Day 9 Sunday, October 2, 2022, Njari Island, Solomon Islands 6:30 AM 12:00 PM
Njari Island is in the Solomon Island archipelago, to the east of Papua New Guinea. It is a small uninhabited 400m long teardrop that extends along shallow shoals to adjacent small islands. Three kilometres to the SE is the larger Gizo Island with settlements. Njari is a centre for world-class diving.
Day 9 Sunday, October 2, 2022, Kennedy Island, Solomon Islands 1:30 PM 10:00 PM
Kennedy Island (colloquially known as Plum Pudding Island, though the correct local name is Kasolo Island) is an island in the Solomon Islands. It was named after John F. Kennedy. The island is said to be the area to which Lt.
Day 10 Monday, October 3, 2022, Day At Sea
Day 11 Tuesday, October 4, 2022, Santa Ana Island, Solomon Islands 5:30 AM 12:30 PM
Santa Ana Island is a raised coral atoll in the Makira-Ulawa Province of the Solomon Islands, east of Papua New Guinea. Port Mary, situated on a small bay of the same name on the SW of the island, is the main town. Each cruise ship Zodiac that arrives at the beach landing is greeted by a fierce "welcoming committee", composed of local men, masked and mud-smeared, dressed in warrior costumes and brandishing spears, shields, and machetes. The islanders, both men and women, then perform traditional and inspired dances with their incredible costumes.
Day 12 Wednesday, October 5, 2022, Vanikoro, Solomon Islands 12:30 PM 6:00 PM
Vanikoro (500 Melanesians and 800 Polynesians) is one of the Santa Cruz Islands in the South Pacific Ocean. They lie 400 km to the SE of the main Solomon Islands Chain and are part of that country. They lie just north of Vanuatu and are part of the Vanuatu rain forest ecoregion. Vanikoro is two inhabited islands, Banie and its small neighbour Teanu, plus smaller islands, all surrounded by a single belt of coral reef.
Day 13 Thursday, October 6, 2022, Champagne Bay, Vanuatu 12:00 PM 11:00 PM
Champagne Bay is located to the NE of the island of Espiritu Santo in Vanuatu (New Hebrides until 1980), an island nation located in the South Pacific. The archipelago of Vanuatu lies at the centre of the other island groups Fiji, New Caledonia and the Solomon Islands. Espiritu Santo is the largest island in the nation, and its highest peak is Mt Tabwemasana at 1879m. The bay, a favourite destination for cruise ships, is so named due to a freshwater spring on the eastern side of the beach that creates bubbles underwater.
Day 14 Friday, October 7, 2022, Ambrym Island, Vanuatu 7:30 AM 12:30 PM
Ambrym is an island in the archipelago of Vanuatu (formerly known as the New Hebrides) in the South Pacific. It remains volcanically active, with two volcanic cones Benbow and Marum that still rumble away, and smaller vents and fractures that ooze steam and lava. The centre of the island is dominated by a massive 1900-year-old 12 km diameter desert-like caldera that hosts multiple craters. The rest of the caldera floor is a barren ash plain, caused by the natural acidic rain.
Day 15 Saturday, October 8, 2022, Day At Sea
Day 16 Sunday, October 9, 2022, Yasawa Islands, Fiji 12:00 PM 7:30 PM
Yasawa is the main island of the Yasawa Group, an archipelago located in NW Fiji. The group's 12 major islands lie along an SW-NE line 88 km stretch, directly north of Fiji's main island of Viti Levu and its port Lautoka. These are high, grass-covered islands, populated by 30 or so modest backpacker resorts, and tracks running the length of each island: no shops, plenty of beaches, and much sunshine. The British navigator William Bligh was the first European to sight the Yasawas in 1789.
Day 17 Monday, October 10, 2022 Lautoka, Fiji 7:00 AM Disembark
---
Gallery
---
Terms
*Terms & Conditions Apply.
Offer is limited, subject to availability and change without notice. Promotion is correct and valid at the time of publication. Full booking and supplier terms and conditions apply.
Valid for new bookings only and not combinable with any other offer (unless stated). All prices are in Australian Dollars unless otherwise stated.
Hotels may charge resort fees or a security bond not included or mentioned in this package, payable direct upon check in.
Airfares are capacity controlled and are subject to change at any time without notice. All passports, visas, travel permits and vaccinations are the responsibility of the travelling passenger to secure prior to travel. Airfares are based on economy class flights from Sydney and are subject to the carriers' flight schedules and conditions.
Travel in style with $1,000 towards your next vacay.
Subscribe to our newsletter for the chance to win $1,000 towards your next cruise, package tour or package holiday.
Be first in line to hear about new and exclusive deals, exciting itineraries and promotions.
*Terms and Conditions apply. The competition shall run from midnight on 22 December 2021 to midnight on 30 June 2022 and will be a game of chance. The winner will be drawn at random at 4pm on 30 June 2022 and advised by telephone and email using the contact information provided at the time of entry. The prize must be claimed by sending a reply email to Travelfix within 14 days of the winner being announced. The $1000 prize will be issued in the form of a travel credit and held on a company account, valid for bookings made within 6-months of the date of issue. Travel credit may be redeemed through Travelfix, operated by The Travel Squad Pty Ltd only, by calling our office, and can be used towards any new cruise, package tour, or package holiday booking for a duration of 5 nights or more.  Travel credit cannot be used towards payment for existing bookings or as a deposit for a new booking. Travel credit cannot be transferred or redeemed for cash.