Mexican Fiesta
.
from

$2,129.00

pp
Various Dates | Depart Puerto Vallarta | Arrive Mexico City
Brimming with colour, passion, flavour and heat, Mexico is a haven of beauty and biodiversity.
From Puerto Vallarta to the ruins of Teotihuacan and of course, the bustling metropolis of Mexico City, this fiery fiesta of a trip lets you immerse yourself in this beautiful country with adventure activities, colonial sites, crumbling ruins, water sports, spicy food and sizzling nightlife.
There's no better way to tour this fascinating country.
---
Inclusions
Accomodation
Sightseeing
Some Breakfasts
Some Dinners
---
Itinerary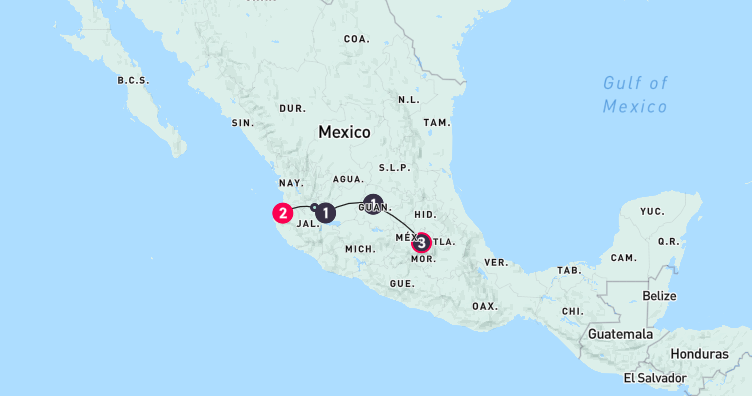 DAY 1 - PUERTO VALLARTA
Welcome to Puerta Vallarta - and what a place to kick off our adventure!  One of the most popular beach towns in Mexico, it's easy to see why this place is known as the 'Mexican Riviera'. Spa, pool, relax, repeat are all high on the agenda today. You'll be thinking "this is the life" - and that's before we top it all off with a  beachfront dinner, with the water and twinkling lights setting an unforgettable scene. We're best friends already, and it's only day one. What will tomorrow have in store?
INCLUDED: Beachfront Dinner in Puerto Vallarta
DAY 2 - PUERTO VALLARTA
Today you're free as a bird and that means exploring as much or as little of Puerto Vallarta as you like. Punta Mita is known for perfect beginner waves if surfing along a secluded bay is your thing; if not, then there are plenty of other activities on offer, including a ride on a pirate ship cruise compete with an acrobatic performance and fireworks. What else? Where to begin? Today you could find yourself speeding through the jungle on a zipline or spending the day away at the quaint coastal town of Sayulita. And for those keen to kick it right in downtown Puerto Vallarta, head to some beachside watering holes for drinks, giant lobster feasting, swims and people watching. It's a hard life. And we're just getting started.
DAY 3 - PUERTO VALLARTA TO GUADALAJARA VIA TEQUILA
Tequila - Looking for even more cultural immersion? There's nothing more Mexican than tequila, so why not head to a genuine distillery where you can learn how this fiery spirit is made and taste some for yourself. And if that's put you in the fiesta mood, you're in the right place.  While you stroll around the streets you'll get a feel for the old and new world architecture that this place is known for - as well as some seriously electric nightlife.
Guadalajara - It's time to learn about the city known as the 'Pearl of the West', Guadalajara, with its four main squares and glorious cathedral. Then you could go and find a spot to watch one of the city's famous live Mariachi bands do its thing.
INCLUDED EXPERIENCES: Experience Ceboruco and the panoramic pictures | Visit a Tequila distillery with tasting in Guadalajara
DAY 4 - GUADALAJARA TO GUANAJUATO
Today Guadalajara reveals itself in a different way when you cruise up to see the city from another vantage point at, Ceboruco – a now inactive volcano. It last erupted from 1870-1875 and is a fabulous place to gain a panoramic perspective.
Guanajuato - Next up you'll hit the old colonial city of Guanajuato where you will learn about the history of the famous silver mining town and how the economy has shaped much of its culture. Heavy on the Spanish influence, this UNESCO World Heritage city will transport you to another time and get lost for hours in its quaint cobblestone alleyways. Uncover the tales of the town, its famous 'Mummies' and its most famous lovers at the 'Alley of Kisses'. Next up, the Hidalgo Market, designed by Gustave Eiffel himself.
INCLUDED EXPERIENCES Visit Hospicio Cabañas | Guided City Tour of Guadalajara
DAY 5 - GUANAJUATO TO MEXICO CITY
Guanajuato - Thanks to the bright facades of Guanajuato, your eyes should be wide open by now. Just in time too, because there is so much to see in Mexico City.
Mexico City - is the largest city in the country and impressively, the oldest capital in Central America. Known for its Aztec temple, its surprising altitude at 2200m, and mountainous landscape, this place is busy, bustling and oh-so-wonderful.
INCLUDED EXPERIENCES  Walking tour of Guanajuato | Visit San Miguel de Allende
DAY 6 - MEXICO CITY
Mexico City - The theme 'getting out there will take on a whole new meaning today. Floating gardens, Frida Kahlo and Diego Rivera are the focus for this leg of your journey in this bustling city. Get stuck into the local flavours by tasting some Mexican delicacies at a local market. Then, tonight, re-fuel with city eats, like enchiladas, tamales and tacos. Even head out and get a little loco, if the mood takes you...
INCLUDED EXPERIENCES Food tasting at a local market in Mexico City | Visit Coyoacan birthplace of Frida Kahlo
DAY 7 - MEXICO CITY
It's a busy one today, travellers. Archaeological city Teotihuacan, pyramids and Aztec temples are the focus for this leg of your journey. As you go, local guides will kindly impart their extensive knowledge on many interesting topics so you're in the know on anything and everything. We'll even take to the water for a traditional trajinera boat, where you can grab a drink, do some shopping and watch the world float on past. And if you happen to be here at the right time, you might even get to experience Lucha Libre, Mexican wrestling!
INCLUDED EXPERIENCES Visit the ancient ruins of Teotihuacan |  Guided tour of Teotihuacan
DAY 8 - DEPART MEXICO CITY
Our fiesta comes to a close today as we say our sad farewells in Mexico City. Swap deets - another Contiki adventure is on the horizon.
---
Terms
**Prices Based on Travel date - 15 Aug 2022
*Terms & Conditions Apply.
Offer is limited, subject to availability and change without notice. Promotion is correct and valid at the time of publication. Full booking and supplier terms and conditions apply.
Valid for new bookings only and not combinable with any other offer (unless stated).
All prices are in Australian Dollars based on twin share occupancy unless otherwise stated.
Hotels may charge resort fees or a security bond not included or mentioned in this package, payable direct upon check in.
Travel in style with $1,000 towards your next vacay.
Subscribe to our newsletter for the chance to win $1,000 towards your next cruise, package tour or package holiday.
Be first in line to hear about new and exclusive deals, exciting itineraries and promotions.
*Terms and Conditions apply. The competition shall run from midnight on 22 December 2021 to midnight on 30 June 2022 and will be a game of chance. The winner will be drawn at random at 4pm on 30 June 2022 and advised by telephone and email using the contact information provided at the time of entry. The prize must be claimed by sending a reply email to Travelfix within 14 days of the winner being announced. The $1000 prize will be issued in the form of a travel credit and held on a company account, valid for bookings made within 6-months of the date of issue. Travel credit may be redeemed through Travelfix, operated by The Travel Squad Pty Ltd only, by calling our office, and can be used towards any new cruise, package tour, or package holiday booking for a duration of 5 nights or more.  Travel credit cannot be used towards payment for existing bookings or as a deposit for a new booking. Travel credit cannot be transferred or redeemed for cash.