Mykonos & Santorini Island Escape
.
from

$2,535.00

pp
Various Dates | Depart Athens | Group Travel Exclusively for 18-35 year olds 
Right now there are no two hotter destinations in Greece than Mykonos and Santorini, and on the Island Escape you'll soon understand why.
Endless blue and white buildings, ancient sights, azure waters, buzzing party nights and lazy sun-soaked days – if this isn't your picture of paradise, we don't know what is.
Sandwiched between the historical vibes and city life of Athens, we'll hit these idyllic islands for what might just be the best week of your life.
Travel guilt free with an environmentally friendly travel company:
Contiki Sustainability Strategy
Contiki has put together their 2025 sustainability strategy, to reduce food waste, source electricity from renewable sources, eliminate single use plastics and ultimately achieve carbon neutrality.
At the heart of this strategy are 11 goals, developed to address both the environmental footprint and the community impact of our business and operations. These 11 goals are anchored to the United Nations Global Goals for Sustainable Development, which we've prioritized based on our impact potential.
---
Inclusions
Accomodation
Breakfast
Sightseeing
Some Dinners
---
Itinerary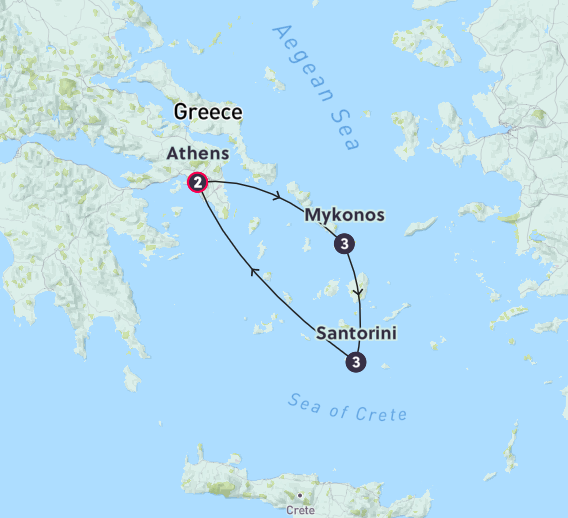 DAY 1 - START ATHENS
Calling all Greek gods & goddesses - welcome to the heart of ancient Greece! This evening you'll meet your fellow travellers at our hotel and we'll enjoy an included dinner together tonight before our real adventures begin tomorrow.
Stay - Poseidon Hotel (or similar)
DAY 2 - ATHENS TO MYKONOS
After breakfast, we have a free morning to enjoy Athens as you like, as well as an included walking tour of the top sights. Our time in Athens was amazing and well worth delaying our island time for. But delay it further? We shall not..
Mykonos
Let's do this! 3 nights on the island of Mykonos, how did we get so lucky? Even the boat ride across the Aegean will have you awestruck and in love.
Stay - Paradise Beach (Superior Rooms)
INCLUDED EXPERIENCES
Locally guided tour of the awe-inspiring Ancient Greek monuments including entry to the Acropolis and Parthenon
Ferry from Athens to Mykonos including reserved seating
DAY 3 - MYKONOS
Here we are on a day when it feels completely fabulous to be alive. You're in Mykonos baby! And the day is yours to soak up the sunshine and play in the sea. Choose to do things at your own pace or join us for an optional boat trip on the Aegean and soak up the gorgeous Greek sun while swimming in crystal clear waters. Tonight we head out for some free time to enjoy the local cuisine before enjoying some of Mykonos's famed nightlife.
Stay - Paradise Beach (Superior Rooms)
DAY 4 - MYKONOS
Set your watch to island time and enjoy a glorious day soaking up the laid-back vibe of Mykonos. Or opt-in for a tour out to Delos, one of the most important mythological, historical, and archaeological sites in Greece.
Stay - Paradise Beach (Superior Rooms)
DAY 5 - MYKONOS TO SANTORINI
This morning, let's spare a thought for all those travellers who only have the time to visit just one Greek Island. Those poor unfortunate souls...
Santorini
Saddle up! We're taking to the seas again, this time in search of the island of Santorini. It's finally your turn to be the one lulling about the white-washed blue dome churches looking like a sultry summer babe. Home to the famous Oia sunset, this is the stuff dreams are made of. Ah, life.
Stay- Okeanis Hotel (or similar)
INCLUDED EXPERIENCES
Ferry from Mykonos to Santorini including reserved seating
DAY 6 - SANTORINI
Rise and shine, Greek Island travellers! The island of Santorini will not explore itself. Take a swim at Perissa Beach, eat the local specialty of fried tomato balls known as tomato keftedes, and roam the streets of Fira.
Stay - Okeanis Hotel (or similar)
DAY 7 - SANTORINI
The beautiful thing about having two full days on one island is you have time to both relax and explore. Whatever you didn't do yesterday is still up for grabs today. If you feel like you've crammed it all in already, just head to the black or red sand beaches and spend another glorious day ocean-side. Just remember to plan your day around the excursion to the iconic sunset of Oia - this is not an option you're going to want to miss out on.
Stay- Okeanis Hotel (or similar)
DAY 8 - SANTORINI TO ATHENS
It's our last full day on the trip - best hit up a big city we know and love and cause a little harmless havoc. Goodbye Santorini you sun soaked beauty, we're off to Athens.
Athens
On arrival in Athens, tick off any last sightseeing you missed in this time capsule of a city tonight.
Stay - Poseidon Hotel (or similar)
INCLUDED EXPERIENCES
Ferry from Santorini to Athens including reserved seating
DAY 9 - DEPART ATHENS
And just like that, it's time for the goodbyes. As sad as they are, at least you have the memories. And another 300 Contiki trips to jump aboard! Make the most of your last free breakfast before you kick on to your next port of call.
---
Gallery
---
Terms
**Prices Based on Travel date - 02 Sep 2022
*Terms & Conditions Apply.
Offer is limited, subject to availability and change without notice. The promotion is correct and valid at the time of publication. Full booking and supplier terms and conditions apply.
Valid for new bookings only and not combinable with any other offer (unless stated).
All prices are in Australian Dollars based on twin share occupancy unless otherwise stated.
Hotels may charge resort fees or a security bond not included or mentioned in this package, payable direct upon check-in.
Travel in style with $1,000 towards your next vacay.
Subscribe to our newsletter for the chance to win $1,000 towards your next cruise, package tour or package holiday.
Be first in line to hear about new and exclusive deals, exciting itineraries and promotions.
*Terms and Conditions apply. The competition shall run from midnight on 22 December 2021 to midnight on 30 June 2022 and will be a game of chance. The winner will be drawn at random at 4pm on 30 June 2022 and advised by telephone and email using the contact information provided at the time of entry. The prize must be claimed by sending a reply email to Travelfix within 14 days of the winner being announced. The $1000 prize will be issued in the form of a travel credit and held on a company account, valid for bookings made within 6-months of the date of issue. Travel credit may be redeemed through Travelfix, operated by The Travel Squad Pty Ltd only, by calling our office, and can be used towards any new cruise, package tour, or package holiday booking for a duration of 5 nights or more.  Travel credit cannot be used towards payment for existing bookings or as a deposit for a new booking. Travel credit cannot be transferred or redeemed for cash.