North QLD Adventure (with sailing)
.
from

$2,269.00

pp
Various Dates | Depart Airlie Beach| Arrive Cairns
Who needs Greece when the crystal clear waters and spotless sands of Queensland are calling our names?
This sun-soaked adventure kicks things off in the paradise of Airlie Beach before an unforgettable expedition sailing along the Whitsundays on a converted racing yacht.
And the paradise isles don't stop coming.
Heading onto Magnetic Island, you'll get to meet some of the local koalas, before ending on a high in Cairns to get even closer to that wonder of the natural world: the Great Barrier Reef.
Travel guilt free with an environmentally friendly travel company:
Contiki Sustainability Strategy
Contiki has put together their 2025 sustainability strategy, to reduce food waste, source electricity from renewable sources, eliminate single use plastics and ultimately achieve carbon neutrality.
At the heart of this strategy are 11 goals, developed to address both the environmental footprint and the community impact of our business and operations. These 11 goals are anchored to the United Nations Global Goals for Sustainable Development, which we've prioritized based on our impact potential.
---
Inclusions
Accomodation
Breakfast
Sightseeing
Some Dinners
Some Lunches
---
Itinerary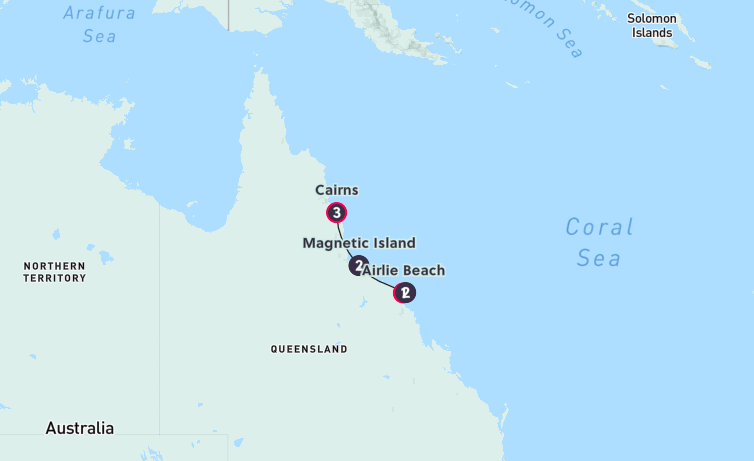 DAY 1 - ARRIVE AIRLIE BEACH
Hello Airlie Beach! This tropical paradise is the perfect place to kick off our adventure. Our trip starts at 4 pm at Base Backpackers where we'll meet our fellow Aussie adventurers before transferring to the marina. That's right - we're wasting no time getting out on the crystal-clear waters to board a converted racing yacht - our home for the next 2 nights. A delicious dinner is included tonight as we bond and swap stories under the starlit skies.
Stay - Converted racing yacht - Prosail
INCLUDED EXPERIENCES Included Dinner - Spend 2-nights on a converted racing yacht in the Whitsundays
DAY 2 - THE WHITSUNDAYS
Is there anywhere in the world more beautiful than the Whitsundays? We think not. With 74 perfect islands at your fingertips, an open sea calling your name, today you'll get to explore one of the worlds most lusted-after holiday destinations with a day trip to the spotless Whitehaven Beach, including snorkelling. This is as close to heaven as you can find on planet earth.
Stay- Converted racing yacht - Prosail
INCLUDED EXPERIENCES - Sail across the breathtaking Whitsundays on a day trip, including a visit to idyllic Whitehaven Beach, snorkelling and lunch. Snorkel some of the best coral reefs in Australia
DAY 3 - THE WHITSUNDAYS
We'll have more wonders to enjoy today as we cruise through the Whitsundays until the mid-afternoon, with opportunities to snorkel, swim and soak up those rays. Then, we'll get to enjoy a free night on Airlie Beach, admiring the lush rainforests of the Whitsundays Coast. It's not hard to get into holiday mode in this place, with its boutiques, markets and seafood cafes - and of course that beautiful blue lagoon.
DAY 4 - THE WHITSUNDAYS TO MAGNETIC ISLAND VIA TOWNSVILLE
Is there anything better than the Whitsundays? We think our next destination comes close. We'll board a train this morning heading for Townsville.
Townsville
After soaking up some East Coast scenery on our train journey, we'll hop on a ferry headed towards the spellbinding Magnetic Island.
Magnetic Island
Magnetic Island is an apt name for this captivating isle, with its coastal walking trails and gum trees teeming with lazy koala bears. We'll have plenty of time to explore, try some water sports in the bright turquoise waters or meet some of the local marsupials. But first things first, we'll enjoy some champagne (our treat) and watch the sunset over the bay. Blissful or what?
Stay - Base Backpackers Magnetic Island
INCLUDED EXPERIENCES - Watch the vibrant sunset on Magnetic Island at Hawking's Point
DAY 5 - MAGNETIC ISLAND
We have a whole day on this paradise island - lucky us! We'll waste no time meeting the locals, with a chance to eat an unlimited chef-cooked breakfast with some Koalas at the Bungalow Bay Koala Village. Then we can check out some of the walking trails - such as the Forts Walk which offers up stunning views of the Palm Island Group as well as WWI fortifications, and the chance to see more koalas in the wild- or enjoy some free time at Horseshoe bay, taking a dip on the azure waters and relaxing on the beach. See Magnetic Island's resident Rock Wallabies at dusk before a free evening, where we can watch the sunset and check out some of the local bars.
Stay - Base Backpackers Magnetic Island
INCLUDED EXPERIENCES
Enjoy an unlimited chef-cooked breakfast while meeting and learning about Koalas at Bungalow Bay Koala Village
Spot native koalas alongside WWII fortifications on a Magnetic Island Fort Walk
See Magnetic Island's resident Rock Wallabies at dusk
DAY 6 - MAGNETIC ISLAND TO CAIRNS VIA TOWNSVILLE
After breakfast this morning we'll say farewell to our koala friends and depart Magnetic Island on a ferry. But we'll never forget its singular beauty.
Townsville
Back in Townsville, we won't hang around too long, as we're hopping on a train headed to Cairns, where we'll arrive late afternoon after a gloriously scenic journey along Australia's East Coast.
Cairns
Welcome to the city where rainforests meet reefs, lagoons meet luxury hotels and boardshorts and business suits live side by side. We'll enjoy an included interactive Bush Tucker tutorial and dinner at Ochre restaurant. An experienced chef will guide us through the history of Bush Tucker as you sample a variety of native spices and fruits, explaining their tastes, origins, and traditional uses before we enjoy our dinner, which features native games. It's an incredible cultural feast, and the perfect way to start our adventure in Cairns.
Stay - Gilligan's Backpackers
INCLUDED EXPERIENCES
Chef Guided Bush Food Tutorial & Dinner at Ochre Restaurant
A scenic train ride along the East Coast of Australia from Townsville to Cairns
DAY 7 - CAIRNS
Rise and shine, today is a day packed with history, heritage and natural beauty, as we take a day trip to the oldest tropical rainforest in the world: Daintree. With its ancient ferns and vibrant canopies, this place will take our breath away. There's a reason David Attenborough called it 'the most extraordinary place on earth.' As well as admiring the lush rainforest, we'll also meet the local Kuku Yalanji people and learn about their rich Aboriginal culture and history. We'll get the chance to view a smoking ceremony and take an art class with an Aboriginal artist. We'll also learn about ancient Dreamtime stories, local history and how these are shared through art. Then, we'll get to create our own unique souvenir to take home in the form of a canvas that tells our own stories. What a day; and we're not done yet.
Stay- Gilligan's Backpackers
INCLUDED EXPERIENCES
Day Trip to the Daintree Rainforest
Experience the Daintree Rainforest with an experienced Aboriginal guide for an interpretive rainforest walk through this ancient environment
Learn ancient Dreamtime stories, local history and see how these are shared through art with an Aboriginal artist
Create your own unique piece of art at the Janbal Gallery
DAY 8 - CAIRNS
Today you'll have the option to board a catamaran out to the reef to snorkel or dive in the crystal waters and gaze at the colourful coral and even more vibrant marine life. Back on board, the expert marine crew will tell us all there is to know about this stunning, but vulnerable, natural miracle.
Stay - Gilligan's Backpackers
DAY 9 - DEPART CAIRNS
Our adventure ends this afternoon, but not before we have a chance to escape our comfort zones and try some of the adventurous activities that Cairns is famous for. Anyone for bungy jumping?
---
Gallery
---
Terms
**Prices Based on Travel date - 22 Jan 2022
*Terms & Conditions Apply.
Offer is limited, subject to availability and change without notice. The promotion is correct and valid at the time of publication. Full booking and supplier terms and conditions apply.
Valid for new bookings only and not combinable with any other offer (unless stated).
All prices are in Australian Dollars based on twin share occupancy unless otherwise stated.
Hotels may charge resort fees or a security bond not included or mentioned in this package, payable direct upon check in.
Travel in style with $1,000 towards your next vacay.
Subscribe to our newsletter for the chance to win $1,000 towards your next cruise, package tour or package holiday.
Be first in line to hear about new and exclusive deals, exciting itineraries and promotions.
*Terms and Conditions apply. The competition shall run from midnight on 22 December 2021 to midnight on 30 June 2022 and will be a game of chance. The winner will be drawn at random at 4pm on 30 June 2022 and advised by telephone and email using the contact information provided at the time of entry. The prize must be claimed by sending a reply email to Travelfix within 14 days of the winner being announced. The $1000 prize will be issued in the form of a travel credit and held on a company account, valid for bookings made within 6-months of the date of issue. Travel credit may be redeemed through Travelfix, operated by The Travel Squad Pty Ltd only, by calling our office, and can be used towards any new cruise, package tour, or package holiday booking for a duration of 5 nights or more.  Travel credit cannot be used towards payment for existing bookings or as a deposit for a new booking. Travel credit cannot be transferred or redeemed for cash.