Party Nights & Ancient Sites
.
from

$1,529.00

pp
Various Dates | Departs Jerusalem | Arrive Tel Aviv
Explore the winding alleyways of Jerusalem's Old City, see Petra's stunning tombs and monasteries carved into rock walls, learn about Bedouin culture during an overnight stay in the desert, and hit the beach in Tel Aviv.
On the brink of settling on the tourist track, now's the perfect time to experience these countries with your budget and an exploratory spirit in mind.
Fast, fresh, and fun adventures that never slow down, made for young, budget-minded travellers.
---
Inclusions
Accomodation
Breakfast
Sightseeing
Some Dinners
Some Lunches
---
Itinerary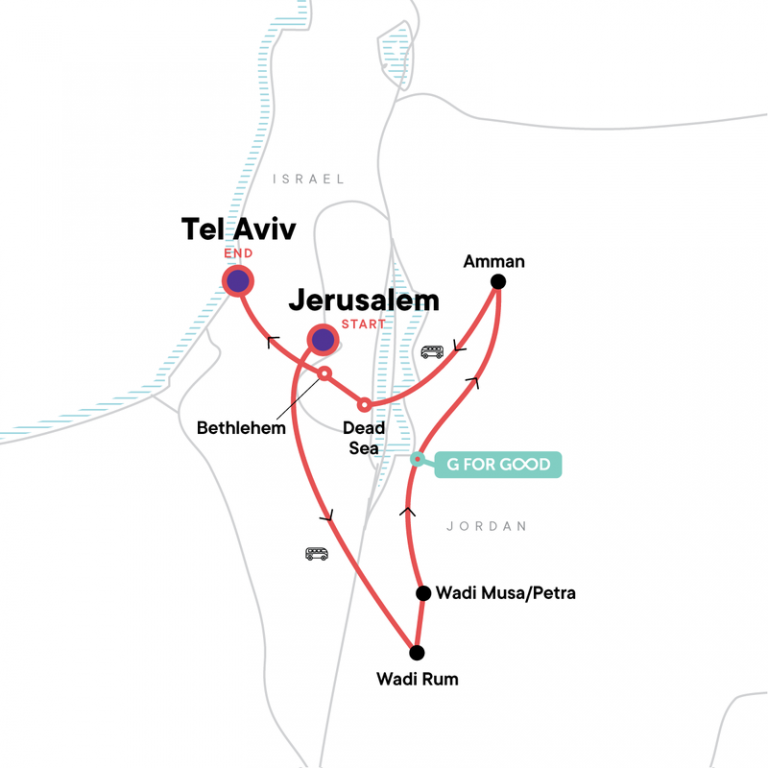 Day 1 Jerusalem Arrive at any time.
Shake off that jet lag and prepare for an evening buzzing with excitement. Head out with your group and CEO for drinks at a favourite local spot. After, feel free to do some exploring in the area on your own or with some fellow travellers. Kick off your adventure in Jerusalem with lively music, and a healthy dose of fun.
Day 2 Jerusalem
Take a guided walk through the Old City along the Via Dolorosa to the Church of the Holy Sepulchre and the western wall. Later, get a taste of modern life in Jerusalem with a visit to the bustling Yehuda Market, and stop at a local craft beer cafe.
Day 3 Jerusalem/Wadi Rum
Cross the border into Jordan. Stop at a G Adventures-supported community cafe for lunch then continue into Wadi Rum. Head out for a 4x4 desert excursion before a traditional dinner and overnight at a Bedouin desert camp.
You will have one CEO in Israel and one in Jordan. In this case, you will be transferred to the border and cross over unescorted to Jordan with any other travellers who are in your group. You will be met on the Jordanian side of the border by another CEO. See the "Detailed Trip Notes" section of the Tour Details page for helpful instructions on crossing the Israeli-Jordanian border.
Numeira Environmental Association is a nonprofit organization working in the South Ghour region, south of the Dead Sea, to create a sustainable future for the community. They engage children in environmental education, promote sustainable farming practices while creating jobs and training opportunities through their work. Their tourism program is key to the expansion of their environmental and social mission.
Drive to Wadi Rum, a vast, silent landscape of ancient riverbeds and the largest and most magnificent of Jordan's desert landscapes. Head deep into the desert by 4x4 stopping at famous landmarks along the way. Depending on the season/weather conditions, the 4x4 excursion may be done on the morning of day 4.
Arrive in the tented camp in time for a traditional meal and learn more about this ancient culture. There is a large, central tent that is traditionally decorated and perfect for relaxing or escaping the cold nights in winter. Our dinner is prepared traditionally, with the meat and vegetables cooked in an underground oven. Soft drinks and water are available for purchase (alcohol is not available). Lanterns light the way but we do suggest you bring a flashlight.
Day 4 Wadi Musa/Petra
Start early to visit iconic Petra for a tour and free time to hike and wander on your own. This evening, opt to visit Petra by Night.
The site is large so please be prepared for a lot of walking over sand and rocks for the entire day. Pace yourself, stay hydrated and be sure to have proper walking/hiking shoes.
In Jordan, alcohol is not often available in accommodations or restaurants. In the town of Wadi Musa (Petra), there are bars to enjoy a drink.
Day 5 Wadi Musa/Amman
Drive to Amman, and take a tour of key sites, including the famous Citadel and the Roman Amphitheatre. Later join your CEO for a night out at the famous Rainbow Street.
Thursday and Friday are party nights in the Middle East. Join your Jordanian CEO for a night out at the famous Rainbow Street, or in a new local favourite spot the Abdali Boulevard area.
Day 6 Amman/Tel Aviv
Travel back across the border into Israel with a stop to float in the Dead Sea and orientation visit to Bethlehem including a stop at Banksy's 'Walled Off Hotel'. Continue to the vibrant city of Tel Aviv.
Today we stop to float in the Dead Sea – don't worry if you can't swim, the water is so dense it's not possible to sink. After, we will stop in Bethlehem for a quick photo stop to see the Palestinian town where Jesus Christ was born (while there won't be time to go inside, you'll be able to see the Church of the Nativity from the outside) and to see Banksy's 'Walled Off Hotel'.
Opt to head out tonight and experience the famed Tel Aviv nightlife – day 6 is a Friday, the best night of the week for clubbing with locals.
Day 7 Tel Aviv
Full free day to explore, chill on the beach, check out the street art or opt to take an excursion to Caesarea and Haifa. Later catch the sunset at a beach bar.
Some attractions are not open on Shabbat. If you have a particular museum in mind to visit while you are in Tel Aviv, we strongly recommend staying another day or two.
---
Gallery
---
Terms
*Terms & Conditions Apply.
Offer is limited, subject to availability and change without notice. Promotion is correct and valid at the time of publication. Full booking and supplier terms and conditions apply.
Valid for new bookings only and not combinable with any other offer (unless stated).
All prices are in Australian Dollars based on twin share occupancy unless otherwise stated.
Hotels may charge resort fees or a security bond not included or mentioned in this package, payable direct upon check in.
Travel in style with $1,000 towards your next vacay.
Subscribe to our newsletter for the chance to win $1,000 towards your next cruise, package tour or package holiday.
Be first in line to hear about new and exclusive deals, exciting itineraries and promotions.
*Terms and Conditions apply. The competition shall run from midnight on 22 December 2021 to midnight on 30 June 2022 and will be a game of chance. The winner will be drawn at random at 4pm on 30 June 2022 and advised by telephone and email using the contact information provided at the time of entry. The prize must be claimed by sending a reply email to Travelfix within 14 days of the winner being announced. The $1000 prize will be issued in the form of a travel credit and held on a company account, valid for bookings made within 6-months of the date of issue. Travel credit may be redeemed through Travelfix, operated by The Travel Squad Pty Ltd only, by calling our office, and can be used towards any new cruise, package tour, or package holiday booking for a duration of 5 nights or more.  Travel credit cannot be used towards payment for existing bookings or as a deposit for a new booking. Travel credit cannot be transferred or redeemed for cash.