Queensland Coast & Orchid Isles
.
from

$10,899.00

pp
Departs Sydney | Arrives Benoa| Seabourn Odyssey
Suspended on the blue expanse of the South Pacific Ocean are worlds as different from each other as they are from anywhere else.
Rekindle the joy of authentic discovery.
Seabourn welcomes you to all-inclusive, luxury cruising refined to its purest form.  Intimate ships with a private club atmosphere where hand-selected itineraries take you to places beyond the reach of larger ships.
Curated voyages delivering award-winning experiences.
Complimentary Welcome Champagne
•  Welcome Champagne and complimentary in-suite bar stocked with your preferences
•  Personalized bar set up creating a home away from home
•  Guests can entertain from a fully stocked bar
Complimentary Premium Spirits
•  Complimentary premium spirits and fine wines available onboard at all times
•  No one ever has to pick up the tab
•  Partnered with Master mixologist Brian Van Flandern to create exclusive fine craft cocktails
Spa & Wellness With Dr Weil
• Features an exclusive mindful living program*
• Spa & Wellness with Dr Andrew Weil enrichment program is the first of its kind at sea*
• Features holistic medicine, meditation, and yoga – integrating physical, social, environmental and spiritual well-being*
• Spa includes a thermal area with a sauna, ocean view Motion Studio and treatment rooms*
• Salon for men and women*
• Specially designated Mindful Living shore excursions available in select ports*
---
Inclusions
5 Star Accommodation
All Inclusive
Tipping & Taxes
---
Itinerary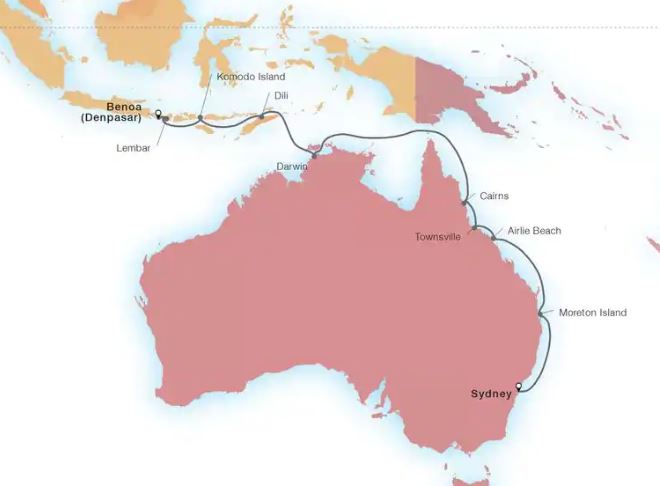 Sydney, Australia MAR 9, 2023
Sydney is a cosmopolitan, multicultural city surrounded by golden sand beaches, World Heritage areas, lush national parks and acclaimed wine regions. Sydney owes much of its splendour to its magnificent harbour. Arriving by ship provides an unequalled impression, showing off the city's famous landmarks: the dramatic white sails of the iconic Opera House and the celebrated Harbor Bridge, looming over the skyline.
Day 1 Days At Sea MAR 10, 2023
Day 2 Moreton Island, Queensland, Australia MAR 11, 2023
At 23 miles long and 72 square miles in area, Moreton is the third-largest sand island in the world. It is part of a sand barrier system that includes the larger Fraser Island and separates Moreton Bay from the Coral Sea about 27 miles north of Brisbane. Moreton Island National Park encompasses 98 per cent of the island, where visitors flock to experience activities such as "sand-tobogganing" down the slopes of 920-foot Mount Tempest, the highest stable coastal sandhill on earth. They also enjoy fishing, kayaking, surfing and snorkelling over the Tangalooma Wrecks offshore. Tangalooma is the largest of four small towns on the island's west coast. It was an active whaling station from 1952 until 1962. There are no roads on Moreton Island, so visitors get around by 4WD vehicles or ATVs. A popular site to visit is the picturesque red-and-white Cape Moreton lighthouse, built-in in 1857 and Australia's oldest.
Day 3 Days At Sea MAR 12, 2023
Day 4 Airlie Beach, Queensland, Australia MAR 13, 2023
The 74 Whitsunday Islands are Australia's tropical marine playground, scattered along the Queensland coast inshore from the Great Barrier Reef. Airlie Beach is the resort hub for exploration of the islands, the reef and the tropical forests of the region. Activities abound, from snorkelling on the reef, spectacular flight tours, fishing excursions to treks along the coastal cliffs with breathtaking views. Whitehaven Beach, a picturesque five-mile strand of pure white silica sand, is among the world's most beautiful and famous beaches, its swirling offshore sandbars shining through the clear, aquamarine waters. Airlie Beach is a town dedicated to leisure and relaxation, with abundant boutiques, restaurants and cafes offering alfresco dining. It is a place in which to enjoy Australia's tropical pleasures in the same casual, fun-loving style the Aussies employ.
Day 5 Townsville, Australia MAR 14, 2023
The unofficial capital of North Queensland, Townsville is tucked inside the Great Barrier Reef in the northern tropics. Its municipal beach, The Strand, is consistently rated among Australia's cleanest. Take a ferry to Magnetic Island, an unspoiled UNESCO World Heritage Site just offshore, or visit the Billabong Sanctuary wildlife reserve.
Day 6 Cairns, Australia MAR 15, 2023
A cosmopolitan city flanked by pristine rainforests and golden beaches, Cairns is the gateway to the Great Barrier Reef, Kuranda, and the Daintree rainforest, a World Heritage protected area. The city was recently renovated to enhance its image and provide a relaxing place for visitors and locals to congregate and have fun. Cairns Esplanade, once a huge grassy park, now features an excellent facility incorporating an outdoor amphitheatre, a sandy swimming lagoon, walking tracks, shops and restaurants, and an environmental interpretation centre.
Day 7 - 9 At Sea 18 Mar 23
Day 10 - Darwin, Australia MAR 19, 2023
Despite its small size, Darwin is a modern, multi-cultural city, and its proximity to Asia makes it ideal for travel. Named after the famous scientist, Charles Darwin, the area was originally settled by the Larrakia Aboriginals. The Dutch arrived and mapped the land in the 1600s, followed by the British in 1939, when the town was given its English name. Darwin has a beautiful coastline, as well as numerous parks and gardens, making the city a top spot for outdoor activities.
Day 11 - Days At Sea MAR 20, 2023
Day 12 - Dili, East Timor MAR 21, 2023
Timor is a large, curved island tucked among the Lesser Sunda Islands in the Sunda Sea. The island is divided, as it has been for centuries, with the western half a province of Indonesia and the eastern side an independent nation of Timor-Leste. In the past, these segments were colonies of the Dutch (West) and Portuguese (East). After gaining its independence from Portugal, East Timor was invaded by Indonesia and descended into 25 years of resistance and war to gain its present state. There are 11 distinct local languages spoken by various ethnic groups on the island. The official languages of East Timor are Tetum and Portuguese. The city's old colonial section is located near the waterfront and contains some impressive Portuguese-style buildings including the old Market Hall, now used as a Congressional Centre. Points of interest for visitors include a very good Resistance Museum tracing the struggles of the Falintil insurgents, as well as some examples of indigenous crafts such as textiles, woven mats and pottery. Outside of town, on the Cape Fatucama headland, is a large statue of Cristo Rei, with wonderful views over the sea and the surroundings. One of the island's best beaches, Jesus Backside Beach, is located just under the statue. Another display, known as Chega! (Stop!) is housed in the Timor-Leste Commission for Reception, Truth and Reconciliation, an old prison. Timor is renowned for the indigenous textiles and baskets of its various ethnic groups, which you will likely find for sale in the city's markets and galleries.
Day 13 -Days At Sea MAR 22, 2023
Day 14 -Komodo Island, Indonesia MAR 23, 2023
This island national park isn't the only place the large (up to 10-foot) monitor lizards are known as "Komodo Dragons" live. But they are protected here and flourish as they have in the region for millions of years. Follow your guide and listen carefully to his instructions, because despite their torpid appearance, these giants can move when they want to, and they aren't picky about what sort of prey they pursue.
Optional Seabourn shore excursion or Ventures by Seabourn access only; wheelchair access limited. If not participating in one of these options, no port access will be available.
Day 15 Lembar, Lombok, Indonesia MAR 24, 2023
Lembar is noticeably different from its close neighbour, Bali. The northern part of the island is mountainous and lush with tall trees and shrubs, and the south is arid and covered by savannas. Large Asian mammals are absent and replaced instead by marsupials, lizards, cockatoos and parrots. Lembar experienced strong Balinese influences but has retained a unique identity. The indigenous people of Lembar, the Sasaks, are predominantly Muslim and have a strong, distinguished tradition. Famous for its ikat hand-woven textiles, the island has exceptional charm and is relatively undiscovered.
Day 16 - Benoa (Denpasar), Bali, Indonesia MAR 25, 2023
Located on the southeastern coast of Bali is the small village of Tanjung Benoa. Still considered a fishing village, Benoa has developed over the past 20 years into a major player in the tourism sector. The calm waters and the beautiful white sand beaches have made Benoa the prime water sports area of Bali. Being a peninsula that is only accessible from one direction, Tanjung Benoa is still relatively quiet with a more relaxed feeling.
---
Gallery
---
Terms
*Terms & Conditions Apply.
Offer is limited, subject to availability and change without notice. Promotion is correct and valid at the time of publication. Full booking and supplier terms and conditions apply.
Valid for new bookings only and not combinable with any other offer (unless stated). All prices are in Australian Dollars based on twin share unless otherwise stated.
Travel in style with $1,000 towards your next vacay.
Subscribe to our newsletter for the chance to win $1,000 towards your next cruise, package tour or package holiday.
Be first in line to hear about new and exclusive deals, exciting itineraries and promotions.
*Terms and Conditions apply. The competition shall run from midnight on 22 December 2021 to midnight on 30 June 2022 and will be a game of chance. The winner will be drawn at random at 4pm on 30 June 2022 and advised by telephone and email using the contact information provided at the time of entry. The prize must be claimed by sending a reply email to Travelfix within 14 days of the winner being announced. The $1000 prize will be issued in the form of a travel credit and held on a company account, valid for bookings made within 6-months of the date of issue. Travel credit may be redeemed through Travelfix, operated by The Travel Squad Pty Ltd only, by calling our office, and can be used towards any new cruise, package tour, or package holiday booking for a duration of 5 nights or more.  Travel credit cannot be used towards payment for existing bookings or as a deposit for a new booking. Travel credit cannot be transferred or redeemed for cash.