Resplendent Baltics & Norway
.
from

$9,590.00

pp
Embark Stockholm | Disembark Southampton | 19 Ports | 9 Countries | Oceania Marina
The Pinnacle of Contemporary Comfort
Timelessly sophisticated, Marina was designed for the ultimate epicurean. She embraces the elegant ambiance of our renowned 684-guest ships while also offering an array of amenities and choices. In addition to multiple open-seating gourmet restaurants, Marina features memorable food and wine experiences at La Reserve by Wine Spectator as well as the opportunity for private dining at exclusive Privée. From the sparkling Lalique Grand Staircase to the Owner's Suites furnished in Ralph Lauren Home, designer touches are everywhere, highlighting the finest residential design and furnishings. More than anything, Marina personifies the Oceania Cruises experience.
Special Offer -
Take advantage of even more value with the newest European collection with:
FREE Internet as well as a generous OLife Choice package
Enjoy Free Pre-Paid Gratuities* plus select one from a choice of generous amenities as follows;
FREE - 12 Shore Excursions
FREE - Free Select House Beverage Package
FREE - US$1200 Shipboard Credit
Amenities are per stateroom
---
Inclusions
All-day gourmet dining
Beverage Package
Shore Excursions
Wifi
---
Itinerary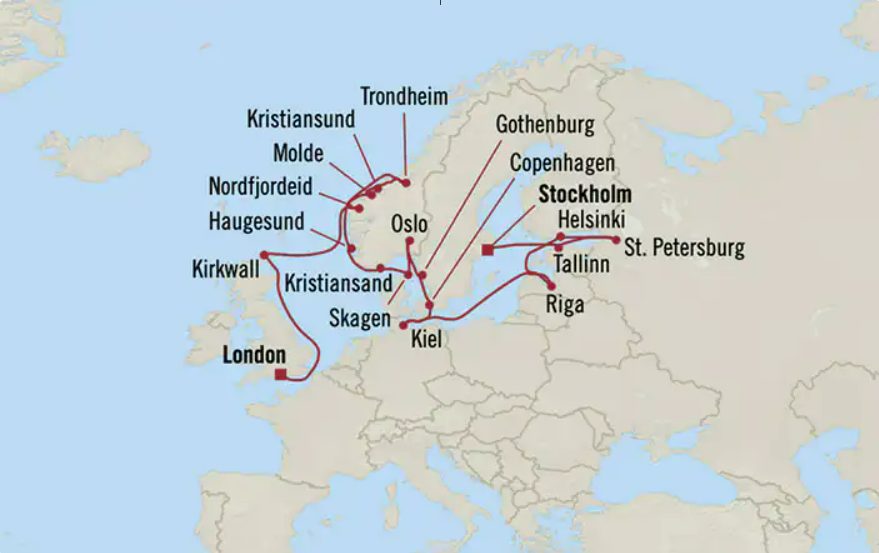 Stockholm, Sweden
Day 1: Wednesday, 21 June 2023
Spend a marvelous day discovering this lovely city and its beautiful buildings. Visit the charming Old Town, medieval Gamla Stan, the elegant royal palace, the wonderful parks and the impressive Vasa, the magnificently restored 17th century warship that sank in the harbor on her maiden voyage.
Tallinn, Estonia
Day 2: Thursday, 22 June 2023
Step back in time as you walk through this beautifully preserved medieval town and discover its upper and lower levels, the guild houses, the churches and squares, the famous apothecary shop and the exquisite town hall. See delightful parks, Baroque palaces and a ruined 15th century convent. Or visit a lovely recreated rural Estonian village by the sea.
To Be Determined 
Day 3: Friday, 23 June 2023 - Day 4: Saturday, 24 June 2023
Helsinki, Finland
Day 5: Sunday, 25 June 2023
Admire the city's stunning modern architecture, visit its lovely parks and bustling open-air market. Take a harbor cruise past forests, beaches, villas and a ruined Suomenlinna fortress that spans five islands. Or visit historic, colorful Porvoo, Finland's second oldest town.
Riga, Latvia
Day 6: Monday, 26 June 2023
Once called the "Paris of the Baltics," Riga has regained its status as a cosmopolitan capital with dozens of museums and arguably Europe's most exceptional Art Nouveau architecture. Founded in 1201, Riga boasts a magnificent Old Town called "Vecriga." Riga Castle, the residence of Latvia's president, was built on the site of the original settlement next to the Daugava River. St. Mary's Dome Cathedral is renowned for its stained glass windows and massive 19th century organ comprised of more than 6,500 pipes. Outside the city limits, traditional Latvian life is on display in outdoor exhibits at the Open Air Ethnographic Museum.
At Sea, International Waters
Day 7: Tuesday, 27 June 2023
Kiel, Germany
Day 8: Wednesday, 28 June 2023
The grand harbor and seaside promenade take center stage in this historical maritime city that's the gateway to the famed Kiel Canal. Everywhere you go – the Kiel Fjord, the museums and memorials in the city center, the bustling waterfront known as Kiellinie – you'll feel the seafaring and naval influences. Top choices include the maritime-focused Schifffahrtsmuseum, Aquarium GEOMAR, Botanical Gardens Kiel and of course, stopping at a café along the promenade to enjoy the ever-changing vista of the harbor. Just outside of Kiel in Laboe, you can explore a restored German submarine U-995 on Ostsee beach, a somber reminder of the city's role as the main German submarine base during World War II.
Copenhagen, Denmark
Day 9: Thursday, 29 June 2023
See another side of this lovely city with a cruise along its charming canals. Visit the quaint old harbor at Nyhavn and beautiful Rosenborg Castle and, of course, the famed statue of the Little Mermaid. Or venture into the countryside and enjoy its panoramic vistas, fairy tale castles and the village of Fredensborg.
Gothenburg, Sweden
Day 10: Friday, 30 June 2023
One look at the abundance of canals and gabled houses in Gothenburg, and it's clear that the Dutch founded this robust city on the Göta River. That was in 1621, close to the time that mighty Elfsborg Fortress was built at the harbor's mouth. Touring the citadel is fascinating, as are the 17th century Crown House, Maritiman ship museum, and Gothenburg Art Museum with masterpieces from Edvard Munch to Picasso. Gothenburg is one of Sweden's greenest cities, compliments of parks such as Slottsskogen. For a vibrant atmosphere, walk along Kungsportavenyn, Gothenburg's main street, which is a hive of cafés, boutiques and plazas.
Oslo, Norway
Day 11: Saturday, 1 July 2023
Overlooking a gorgeous fjord, Norway's capital and largest city simply radiates with natural beauty and sophistication. Oslo's rich seafaring history is on display at the Viking Ships Museum, rivaled only by the Kon-Tiki Museum, which holds the balsawood raft that Norwegian adventurer Thor Heyerdahl used to sail from Peru to Polynesia. History aside, Oslo exudes a love of the outdoors in city parks like Vigeland, which is adorned with over 200 life-size sculptures by artist Gustav Vigeland. Much of Oslo is heavily forested with pines, making it one of Europe's greenest cities.
Skagen, Denmark
Day 12: Sunday, 2 July 2023
A centuries-old fishing village, Skagen is perched along the windswept sand dunes at the northernmost point of Denmark, where the North Sea and the Baltic merge in a frenzy of crashing currents. The town has long been depicted by painters because of its spectacular scenery, charming communities and the remarkable quality of its light, inspiring a group of artists known as the Skagen Painters. See their work at the Skagen Museum, and then learn the science behind the region's natural wonders at the nature center, housed in a striking building designed by architect Jørn Utzon of Sydney Opera House fame.
Kristiansand, Norway
Day 13: Monday, 3 July 2023
Founded in 1641 near the southern tip of Norway, Kristiansand once claimed the world's largest fleet of sailing ships. Today the proud city exudes an energy that peaks in summer, when your ship calls. The Posebyen old quarter boasts a collection of historic wooden houses surrounded by shops and restaurants. Museums abound and include the Agder Museum of Natural History and Botanical Garden, which opened in 1828. Kristiansand Zoo, said to be Norway's most visited attraction, covers 150 acres of Nordic terrain where animals like red pandas, moose and Bactrian camels roam in wide-open spaces.
Molde, Norway
Day 15: Wednesday, 5 July 2023
Celebrate the wonders of a land steeped in myth and beauty by exploring enchanting Molde or venturing forth to some of Norway's most iconic landmarks. From the Varna lookout, absorb the awe-inspiring Molde Panorama, a sweeping view of 222 snow-capped peaks, and meander along the pathways of pristine Hjertøya Island, learning about age-old traditions at the compelling Fisheries Museum. Drive to the Norwegian Sea coast to experience the Atlantic Road, an amazing motorway that curves and swoops above a series of tiny islands, or ascend Norway's chiseled mountains over waterfalls and lush valleys along the glorious Trollstigen Road.
Kristiansund, Norway
Day 16: Thursday, 6 July 2023
Beautifully situated on four main islands, Kristiansund is an inviting city surrounded by astonishing natural beauty. Its most famous attraction is the Atlantic Road, reputed to offer the world's best road trip. The route winds its way across islands and over bridges with magnificent views of the ocean and coastline. Kristiansund also houses the oldest opera in Norway, and the city boasts a diverse and colorful array of architectural styles both classic and modern.
Trondheim, Norway
Day 17: Friday, 7 July 2023
Over a thousand years old, Trondheim is one of the oldest of Norway's major cities. Visit the magnificent Nidaros Cathedral, the largest medieval building in Scandinavia, and Stiftsgarden Palace, the royal residence and one of the largest wooden buildings in Northern Europe. Enjoy stunning views of Trondheim Fjord from the Ringve Museum, home to a collection of more than 2,000 musical instruments.
Nordfjordeid, Norway
Day 18: Saturday, 8 July 2023
Situated between one of the largest glaciers in Europe and the rugged Stad Peninsula, Nordfjordeid is your jumping off point to explore one of the most beautiful places in the world. The UNESCO-listed Geirangerfjord awaits you to the northeast, while icy glaciers flow into spectacular valleys to the southeast – you won't have a moment to put down your camera. Something as simple as visiting a deer farm takes on a whole new meaning when you are surrounded by towering mountain ranges, and taking a leisurely hike will be the most memorable experience of your life when you are embraced by sheer rocky cliffs over which roaring waterfalls cascade.
Kirkwall (Orkney Islands), United Kingdom
Day 19: Sunday, 9 July 2023
This starkly beautiful island holds many ancient treasures like the enigmatic Standing Stones of Stenness and the 5,000-year-old village of Skara Brae, amazingly discovered with furniture and indoor drains preserved. Visit the imposing trio of St. Magnus Cathedral, the nearby ruins of the Earl's Palace, and the earlier Bishop's Palace.
At Sea, International Waters
Day 20: Monday, 10 July 2023
London (Southampton), United Kingdom
Day 21: Tuesday, 11 July 2023
Take a trip up to London and get a bird's eye view of the city from the London Eye. See sights like Parliament, Westminster Abbey and Piccadilly. Stroll along Lower Regent Street or visit the British Museum.
---
Gallery
---
Terms
*Terms & Conditions Apply. Offer is limited, subject to availability and change without notice. Promotion is correct and valid at the time of publication. Travelfix and supplier full booking terms and conditions apply. Valid for new bookings only and not combinable with any other offer (unless stated). All prices are in Australian Dollars based on twin share occupancy unless otherwise stated.
Gratuities may be an additional onboard charge depending on particular cruise line selected. Cruise taxes and fees will be advised upon cabin selection.
Travel in style with $1,000 towards your next vacay.
Subscribe to our newsletter for the chance to win $1,000 towards your next cruise, package tour or package holiday.
Be first in line to hear about new and exclusive deals, exciting itineraries and promotions.
*Terms and Conditions apply. The competition shall run from midnight on 22 December 2021 to midnight on 30 June 2022 and will be a game of chance. The winner will be drawn at random at 4pm on 30 June 2022 and advised by telephone and email using the contact information provided at the time of entry. The prize must be claimed by sending a reply email to Travelfix within 14 days of the winner being announced. The $1000 prize will be issued in the form of a travel credit and held on a company account, valid for bookings made within 6-months of the date of issue. Travel credit may be redeemed through Travelfix, operated by The Travel Squad Pty Ltd only, by calling our office, and can be used towards any new cruise, package tour, or package holiday booking for a duration of 5 nights or more.  Travel credit cannot be used towards payment for existing bookings or as a deposit for a new booking. Travel credit cannot be transferred or redeemed for cash.