South Pacific Cruise
.
from

$1,659.00

pp
Departs Sydney | Radiance of the Seas
Find an island oasis that's wild, beautiful, and brimming with life in the South Pacific.
The South Pacific islands are the definition of paradise, and the abundance of wildlife is sure to capture your lust for adventure.
Beaches of warm, powdery white sand and aqua waters are surrounded by tropical rainforests and soaring mountains.
The world's second-largest double barrier reef surrounds the islands of New Caledonia, where a lagoon teems with a kaleidoscope of fish and sea life.
Majestic humpback whales glide between the islands of Tonga, the only South Pacific area to escape colonisation.
The Loyalty Islands have a wild beauty that will spark your imagination, while the friendly locals will make you feel right at home. Cruise to the South Pacific to settle into island time and relax into the simple life.
Enjoy these great benefits when you book by 28 February 2022:
Up to 30% off
Up to US$600 Onboard Credit per stateroom
Terms & Conditions Apply - Call us for more details
---
Inclusions
Accomodation
All-day gourmet dining
Select Beverages
Tipping & Taxes
---
Itinerary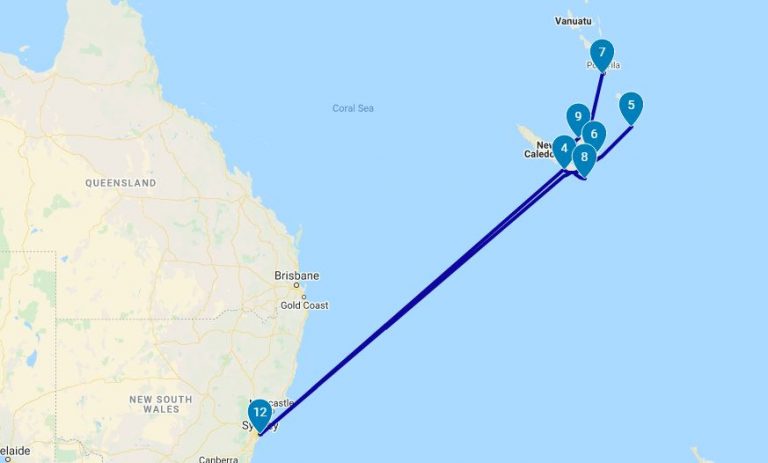 Day 1 Friday, November 11, 2022, Sydney, Australia Embark 6:45 PM
Getting around Sydney is easy and accessible. You can jump on a train from Sydney airport to Circular Quay in approx.18 minutes, ride the hop on hop off bus around the city that offers multiple stops including Sydney Tower, Botanic Gardens, Australian Powerhouse and Maritime Museums, Sydney Opera House and Harbour Bridge or the Bondi bus. If travelling on the water is more your style, catch a ferry to visit Sydney's amusement park, Luna Park, visit the buzzing Manly Beach wharf which is linked to the Corso mall or cruise west of the city to join a Haunted History, Crooked Character or Convict Precinct tour at UNESCO's World Heritage Site, Cockatoo Island. The best times to visit Sydney are September through November and from March to May as they offer the most comfortable temperatures, around mid 20°C.
Day 2 Saturday, November 12, 2022 Cruising
Day 3 Sunday, November 13, 2022 Cruising
Day 4 Monday, November 14, 2022, Noumea, New Caledonia 8:00 AM 5:00 PM
Noumea is a culturally diverse city and it is reflected throughout its streets. Take a look around the art galleries or the beautifully restored Nouméa City Hall, which now houses the city museum. Take the time to visit and learn about the rich local Kanak culture. The largest cultural group of New Caledonia and very warm and welcoming, you can experience it by visiting a tribe, attending one of the Tribal island festivals or tasting the local cuisine.
Day 5 Tuesday, November 15, 2022, Mystery Island, Vanuatu 9:00 AM 6:00 PM
Even though there is a US-built airstrip dating back to WWII, Mystery island is only accessible by cruise ship. Once you step off your tender boat, your breath is taken away by the natural beauty. Whether you are staying close to the island facilities or want to venture off to find your perfect snorkelling spot, you will have a lovely relaxing day soaking up the sun! When you are ready to explore the island, start with the local markets and see what souvenir gifts they have to offer.
Day 6 Wednesday, November 16, 2022, Mare Island, New Caledonia 8:00 AM 5:00 PM
Lined with luscious coconut trees, Maré has some local stalls offering snacks, drinks and souvenirs however if the beach is calling your name, Yelele Beach has been known to be one of the most beautiful. Perfect for snorkelling and crystal clear waters, be sure to not miss out on this wonderful sight! If you happen to be on Maré Island in May, there is a local Avocado Festival to experience that you will love! Meet the locals, partake in the activities and even try some avocado-based delights!
Day 7 Thursday, November 17, 2022, Port Vila, Vanuatu 7:00 AM 4:00 PM
Port Vila has so much to offer when it comes to sightseeing! Strap yourself into a dune buggy and explore the beautiful surroundings on a jungle and beach tour, dive into crystal clear blue waters at the popular Blue Lagoon or just a short 30 min trip to experience the breathtaking Mele Cascades, a stunning cascading waterfall nestled in the semi-tropical rainforest. Port Vila even has the world's first underwater post office! Located on the nearby Hideaway Island, this post office allows you to purchase a waterproof postcard, dive into the ocean and post it!
Day 8 Friday, November 18, 2022, Isle Of Pines, New Caledonia 10:00 AM 6:00 PM
The Isle of Pines sure lives up to its nickname "The closest island to Paradise" due to its amazing swimming areas, snorkelling, diving, hikes and cultural tours. You can lay on the beach and soak up the sun, enjoy a light meal at the nearby restaurant called Restaurant Ku-Bugny, visit the local markets and meet the locals or arrange a cruise tour up to N'ga peak where you can take in the spectacular view of the island from below. Due to New Caledonia's semi-tropical climate, it is mostly warm with comfortable temperatures all year round. The temperatures average around the mid-20s.
Day 9 Saturday, November 19, 2022, Lifou, New Caledonia 8:00 AM 5:00 PM
Lifou offers an incredible landscape, from the beautiful coral reef along the white sandy beaches and bays to the steep cliffs displaying a magnificent view of the neighbouring islands. Be sure to wear comfortable clothing and footwear if you're interested in exploring this beautiful island! Lifou has some fantastic hiking trails which offer a view of the vanilla plantations! These plantations have gained worldwide recognition for the amazing quality of the locally grown vanilla.
Day 10 Sunday, November 20, 2022 Cruising
Day 11 Monday, November 21, 2022 Cruising
Day 12 Tuesday, November 22, 2022, Sydney, Australia 6:30 AM Disembark
---
Gallery
---
Terms
*Terms & Conditions Apply.
Offer is limited, subject to availability and change without notice. Promotion is correct and valid at the time of publication. Full booking and supplier terms and conditions apply.
Valid for new bookings only and not combinable with any other offer (unless stated). All prices are in Australian Dollars based on twin share unless otherwise stated.
Hotels may charge resort fees or a security bond not included or mentioned in this package, payable direct upon check in.
Travel in style with $1,000 towards your next vacay.
Subscribe to our newsletter for the chance to win $1,000 towards your next cruise, package tour or package holiday.
Be first in line to hear about new and exclusive deals, exciting itineraries and promotions.
*Terms and Conditions apply. The competition shall run from midnight on 22 December 2021 to midnight on 30 June 2022 and will be a game of chance. The winner will be drawn at random at 4pm on 30 June 2022 and advised by telephone and email using the contact information provided at the time of entry. The prize must be claimed by sending a reply email to Travelfix within 14 days of the winner being announced. The $1000 prize will be issued in the form of a travel credit and held on a company account, valid for bookings made within 6-months of the date of issue. Travel credit may be redeemed through Travelfix, operated by The Travel Squad Pty Ltd only, by calling our office, and can be used towards any new cruise, package tour, or package holiday booking for a duration of 5 nights or more.  Travel credit cannot be used towards payment for existing bookings or as a deposit for a new booking. Travel credit cannot be transferred or redeemed for cash.