South Pacific & Fiji Holiday
.
from

$1,599.00

pp
Sydney Roundtrip | Enchantment of the Seas
Find an island oasis that's wild, beautiful and brimming with life in the South Pacific.
The South Pacific islands are the definition of paradise, and the abundance of wildlife is sure to capture your lust for adventure. Beaches of warm, powdery white sand and aqua waters are surrounded by tropical rainforests and soaring mountains. The world's second-largest double barrier reef surrounds the islands of New Caledonia, where a lagoon teems with a kaleidoscope of fish and sea-life. The Loyalty Islands have a wild beauty that will spark your imagination, while the friendly locals will make you feel right at home. Cruise to the South Pacific to settle into island time and relax into the simple life.
GET TO KNOW ENCHANTMENT OF THE SEAS
Time to shake up your weekend routine. Enchantment of the Seas® has plenty of thrills to keep you entertained, from poolside movie nights to star-studded guest performances. Throw in woah-worthy dining at Chop's Grille℠ or Chef's Table, and classic cocktails at R Bar, and you have the perfect getaway.
---
Inclusions
All Day Dining
Cruise
Onboard Entertainment
---
Itinerary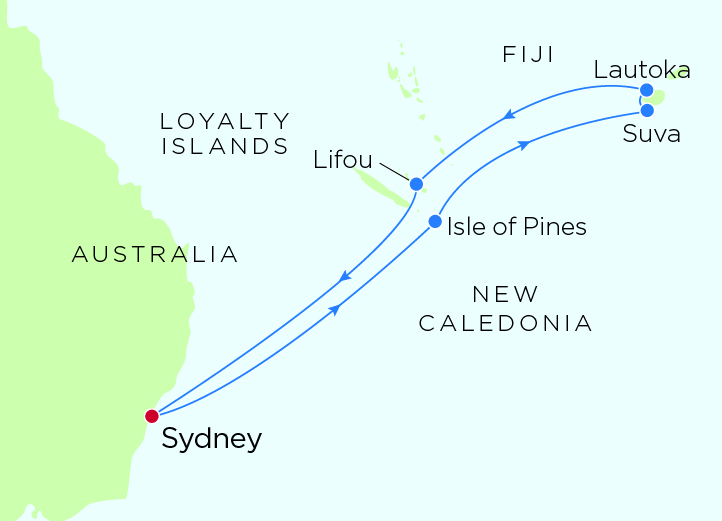 DAY 1 -SYDNEY
Departs at 6:45 PM
You won't have any trouble filling up an itinerary in Sydney — there's a wealth of sights, sounds and activities here to delight adventurers of all stripes. Visit one or all of the city's three iconic landmarks: the Sydney Opera House, the massive arched Harbour Bridge and white-sanded, crescent-shaped Bondi Beach. Get your culture on at the Art Gallery of New South Wales, with works from ancient tribal Australia to medieval Europe to modern times. Cruise to Sydney and check out the North Head Cliffs at Manly Beach, which offer panoramic views of the bay and the skyline, or go snorkeling along the underwater nature trail at secluded Gordon's Bay to spot starfish and sea urchins.
DAY 2-3 - CRUISING AT SEA
DAY 4 - ISLE OF PINES
Tendered from 7:00 AM - 5:00 PM
Time will stop when you first lay eyes on the Isle of Pines' glittering blue water and white, powdery beaches. Nicknamed "The Jewel of the Pacific," this small isle greets you with the spiny trees that line its shores — these pines give the island its name. Formed from nutritious volcanic rock, the isle is surrounded by the New Calendonia Barrier Reef. Cruise to Isle of Pines and head to secluded Upi Bay, where you can go snorkeling and see the reef up-close, as well as clownfish, sea turtles and other exotic sea life. Or take the one-hour hike through lush rainforest to the top of N'Ga Peak. From the summit, you can spot the natural pool at Oro Bay — head there afterward to relax and splash around in the clear waters surrounded by pines.
DAY 5 - CRUISING AT SEA
DAY 6 - SUVA
From 8:00 AM - 8:00 PM
The largest city in Fiji, Suva is a melting pot of hustle and bustle. The diverse population represents a blend of Indian, Fijian, Chinese and even Japanese culture. Visit the Fiji Museum, where you can learn more about the region's history through 3,500 years of archaeological findings, including a full-size war canoe. Wander the Thurston Botanical Gardens under royal palms and alongside gingers and water lilies. Cruise to Suva, Fiji and hike to the summit of Tamavua Heights, where you can see the exotic coastline from above. Or trek through the rainforest at Colo-I-Suva forest park just north of the city, and take a dip in one of the waterfall pools.
DAY 7 - LAUTOKA
From 7:00 AM - 7:00 PM
In Lautoka, the second-larget city in Fiji, you'll find wide-open streets lined with swaying palm trees and colonial-style houses. To start your journey, check out the Lautoka Sugar Mill, the largest of its kind in the southern hemisphere — it's this establishment that's earned Lautoka its name "The Sugar City." Take the ferry to the nearby Mamanuca Islands, and relax in the turquoise waters under coconut palms; don't forget to bring your snorkeling gear. Or stay inland: Find rejuvenating mud baths at the Sabeto Hot Springs, and explore waterfalls and mountain streams at Koroyanitu National Heritage Park. Or take the short drive to nearby Nadi, with its Hindu temples and retail-centric Main Street filled with the tones of Hindi and Fijian music.
DAY 8 - CRUISING AT SEA
DAY 9 - LIFOU
Tendered from 7:00 AM - 4:30 PM
The largest of three islands in the diverse Loyalty Island coral archipelago, Lifou is surrounded by secluded coral reefs, limestone grottoes and powdery white beaches. The locals protect their coral reefs with reverence — head to Jinek Bay to find some of the world's most beautiful and untouched coral gardens. Cruise to Lifou and take a dip in the natural pool at Jinek, surrounded by steep cliffs, or go snorkeling with the vast array of tropical fish. Stroll the village of Easo, and visit the Notre Dame de Lourdes church, dating back to 1898 — its cliff-top perch is the perfect spot for views of the coral sea.
DAY 10-11 CRUISING AT SEA
DAY 12 - SYDNEY
Arrives at 6:30 AM
---
Gallery
---
Terms
*Terms & Conditions Apply. Offer is limited, subject to availability and change without notice. Promotion is correct and valid at the time of publication. Travelfix and supplier full booking terms and conditions apply. Valid for new bookings only and not combinable with any other offer (unless stated). All prices are in Australian Dollars based on twin share occupancy unless otherwise stated.
Gratuities may be an additional onboard charge depending on particular cruise line selected. Cruise taxes and fees will be advised upon cabin selection.
Travel in style with $1,000 towards your next vacay.
Subscribe to our newsletter for the chance to win $1,000 towards your next cruise, package tour or package holiday.
Be first in line to hear about new and exclusive deals, exciting itineraries and promotions.
*Terms and Conditions apply. The competition shall run from midnight on 22 December 2021 to midnight on 30 June 2022 and will be a game of chance. The winner will be drawn at random at 4pm on 30 June 2022 and advised by telephone and email using the contact information provided at the time of entry. The prize must be claimed by sending a reply email to Travelfix within 14 days of the winner being announced. The $1000 prize will be issued in the form of a travel credit and held on a company account, valid for bookings made within 6-months of the date of issue. Travel credit may be redeemed through Travelfix, operated by The Travel Squad Pty Ltd only, by calling our office, and can be used towards any new cruise, package tour, or package holiday booking for a duration of 5 nights or more.  Travel credit cannot be used towards payment for existing bookings or as a deposit for a new booking. Travel credit cannot be transferred or redeemed for cash.