Ultimate Queensland Christmas Expedition
.
from

$11,990.00

pp
Depart Brisbane | Arrive Cairns | Coral Geographer
As the year draws to a close, be one of a special few to experience a unique cruise adventure that combines the essence of the Great Barrier Reef with the spirit of the Queensland Outback.
Sail through the islands of the Queensland coast on Coral Geographer, with a private jet and sailing yacht in attendance. En route, be whisked away by private jet to Longreach for a classic Queensland outback experience. After a pub lunch, bask in an outback sunset over sundowners and stories at historic Rosebank station homestead, before your private jet transfers you back to ship at night. On another day, embark on a sailing yacht through the Whitsunday Islands for a barefoot luxe seafood luncheon.  After an afternoon of indulgence on a white sand beach, enjoy the colours of the approaching sunset while sailing back to your comfortable stateroom on Coral Geographer.
The voyage will begin and end with two gala dinners on the ship. Enjoy modern Australian cuisine paired with 10 extraordinary wines selected from the prized  'Exceptional' category of Langton's Classification, the premier guide to Australian fine wine. This is a rare occasion to sample these wines in a single comparative tasting.
Our voyage will traverse remote islands and reefs of the Great Barrier Reef. Along the way enjoy natural encounters with the diverse marine species such as the dolphins' rays and turtles, nature walks on iconic Lizard and Magnetic Islands, dive and snorkel adventures amongst vibrant coral reefs and connections with indigenous culture at Word Heritage listed K'gari (Fraser Island). You will be accompanied by our expert guides who will share their deep knowledge and love of the land.
We invite you to find freedom on the Queensland coast this summer.
A Day in the Outback
Guests will be transported by private jet to Longreach in the heart of the Queensland outback. Connect with the country life with a classic pub lunch and then bask in an outback sunset over sundowners and stories at historic Rosebank station homestead. Flying back to the comfort of the ship that same night
Sailing Yacht to a Whitsundays Lunch
Embark on a chartered yacht and enjoy a traditional sail to Whitehaven Beach. Linger over champagne and a decadent seafood lunch with their feet on white sand. As the sun sets, guests will embark on the yacht again and enjoy the sound of sails over the Whitsundays as they return to Coral Geographer.
Two Evenings with Australia's Finest Wines
Indulge in a comparative tasting across 10 wines curated for two gala dinners. Picked from the highly prized "Exceptional" category of the Langston's Classification, these legendary wines are paired with cuisine featuring Queensland's finest produce. Two Christmas feasts to remember!
Includes
14 night Expedition Voyage aboard Coral Geographer
Three Signature Events
Expert Expedition Team and Guest Lecturer
Daily guided excursions on the Xplorer and Zodiac tender vessels, and kayaks where conditions allow
Small batch local dining, prepared fresh onboard: breakfasts, lunches and table d'hote dinners
Showcase wines, selected beers and soft drinks with lunch and dinner service
24 hour coffee and selection of teas
Captain's Welcome and Farewell Events, and Open Bridge Access with the Captain
Comprehensive and fully guided sightseeing in each destination
All entrance fees to National Parks and Ports
---
Itinerary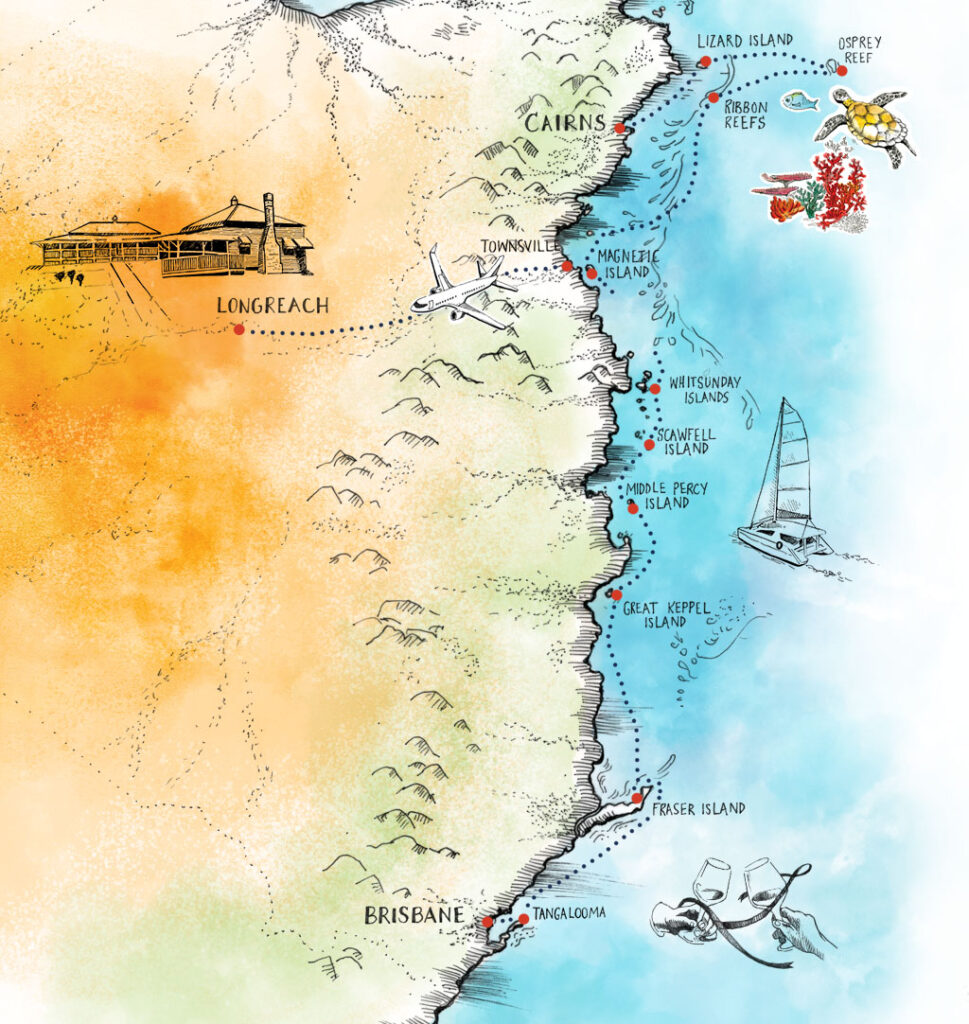 Embark: After a Pre-Cruise SailSAFE Check-in at 2:00 pm, board Coral Geographer at Brisbane at 4:00pm for a 5:00pm departure.
Disembark: Arrive at Cairns Cruise Liner Terminal at 8:00am.
This itinerary is an indication of the destinations we visit and activities on offer. Throughout the expedition we may make changes to the itinerary as necessary to maximise your expeditionary experience. Allowances may be made for seasonal variations, weather, tidal conditions, and any other event that may affect the operation of the vessel. Coral Expeditions suggests that you do not arrive on the day of embarkation or depart on the day of disembarkation due to any changes that may occur in scheduling.
DEPART BRISBANE
After a Pre-Cruise SailSAFE Check-in at 2:00 pm, board Coral Geographer at 4:00pm where there is time to settle into your stateroom before our 5:00pm departure. Take the time to become acquainted with all the facilities onboard before joining your fellow explorers on the Sun Deck for Captains Welcome Drinks as we steam towards Tangalooma.
TANGALOOMA
Moreton Island is 98 percent National Park, and its sandy white beaches and crystal-clear waters present a beautiful aspect this morning. We will anchor nearby the Tangalooma Wrecks and enjoy snorkel, kayak, and beach activity. These wrecks are fifteen vessels that were deliberately sunk to form a break wall for small boats also creating an amazing wreck dive and snorkel site. Snorkelling at this site is an incredible adventure. The crystal-clear waters provide fantastic visibility to view marine life and coral formations such as wobbegongs, trevally, kingfish yellowtail and an array of tropical fish. Whilst on the island, we will enjoy other activities including kayak, beach hikes, island exploration and a chance to feed the famous bottlenose dolphins.
Traditional Custodians: The region and indigenous people of Moreton Bay and its island are referred to as Quandamooka. These include the Ngugi tribe on Moreton Island and the Gorenpul and Nunukil clans on North Stradbroke Island. The Aboriginal name for Moreton Island is Moorgumpin (also known as Moolgumpin or Mulgumpin) meaning "place of sandhills".
K'GARI (FRASER ISLAND)
Our next stop is Fraser Island, which is over 123km in length and is the largest sand island in the world. Fraser Island's World Heritage listing ranks it with Uluru, Kakadu, and the Great Barrier Reef as a precious part of Australia's natural and cultural heritage. Our visit will involve us anchoring up at the southern end of the island at Inskip Point, where we will be joined by local indigenous guides and will deploy the Xplorer tenders for a natural culture expedition along the western side of the Island and through the marine reserve of the Great Sandy Strait.
Voyage through the great Sandy Straits from Hervey Bay towards an anchorage at Kingfisher Bay. Visit the historic Central Station in the heart of the island where you will walk along the banks of Wanggoolba Creek and immerse yourself in the peacefulness as it flows through the rainforest. Stroll along the foreshore or swim in the clear blue waters of Lake McKenzie, famous for its pure white silica sand.
Traditional Custodians: The Butchulla people are the Traditional Owners of K'gari (Fraser Island).
GREAT KEPPEL ISLAND
Lying 15 kilometres off the coast of Yeppoon, Great Keppel Island – Woppaburra – is known for sweeping beaches, glistening and inviting waters, and abundant wildlife. There are 17 beaches here to explore, and we will visit some of the most remarkable and secluded, such as Long Beach, ranked in Australia's top 20 beaches. We may have time to discover the ancient shell middens left by the Woppaburra people, the traditional owners of the Keppel Island Group.
Snorkelling and glass bottom boat excursions will reward you with potential encounters with turtles and dolphins. Vibrant fringing reefs are sprinkled around the island, and some can be reached from the beach. Our Expedition Team will also lead guided walks along the walking trails to spot wildlife such as goannas and native birds.
MIDDLE PERCY
Middle Percy Island has a colourful history – it has seen famous visitors, including Errol Flynn, and for many years was a leasehold duty-bound to providing fresh water and supplies to passing sailors. The island still has its famous 'A-frame', where visitors could take shelter and find supplies. Go ashore at West Bay beach and visit the A-Frame where Robin and Annie, the island's caretakers, will share some of the history and stories of the island. Enjoy guided walks, snorkelling, and if the tide permits a zodiac cruise through the lagoon.
WHITSUNDAY ISLANDS & AIRLIE BEACH
Arrive in the tropical paradise at the gateway to the Whitsunday Islands this morning, and board the catamaran SY Camira. Sail to the magnificent Whitehaven Beach to step ashore for Champagne and a decadent seafood lunch with your feet on white sand. With the afternoon sea breeze settling in SY Camira crew will take you on a true sailing experience of the Whitsunday Islands, look on at the tropical rainforest islands rising above the glittering aquamarine sea.
SCAWFELL ISLAND
Spend the day enjoying in water activities at the South Cumberland Islands Group. From our protected anchorage at Refuge Bay on Scawfell Island, snorkel the fringing reef from Xplorer.
Scawfell Island is officially regarded as the beginning of the Whitsunday Group and was originally identified by Captain James Cook in 1770, and later named 'L Island' by Matthew Flinders in September 1802.
TOWNSVILLE & LONGREACH
Cruise into Townsville this morning to board your private charter flight into the outback. Arriving in Longreach, explore Machinery Mile before a traditional pub lunch at historic Wellshot Hotel. Alan Smith "Smithy" welcomes you to Rosebank Station homestead for a tour of the station and homestead. Ending the outback experience on the lush green lawns as the sunsets (one sunset you do not want to miss) while enjoying a selection of canapes inspired by local cuisine and evening drinks.
Historic Rosebank Station was built some some 100 years ago, as a sheep and cattle station. Among the Mitchell and Flinders grassy downs country and bordere by the Wellshot creek, the legacy of the homestead is one of events, hospitality and custodianship that is integral to the local area. The homestead itself is of early 1900s origin, with sweeping verandas and lawns that provide an outback serenity – the perfect setting for an evening in the bush.
This evening, fly back to return to the Coral Geographer, where you will enjoy a late supper on arrival back to the ship.
MAGNETIC ISLAND
Guests will have free time to enjoy the many scenic walks, including the Forts Walk, where one is almost certain to see a koala resting in the trees over ahead. Those wishing for a more relaxed pace can spend the afternoon at Horseshoe Bay, with time to soak up the sun on the beach and visit the charming local galleries.
Traditional Custodians: Traditional owners and custodians, the Bindal and Wulgurukaba People are the first people to have lived in the Townsville region.
RIBBON REEF #5
The Ribbon Reefs are a narrow line of outer coral reefs on the edge of the continental shelf and are renowned for their prolific marine life and extensive coral species. Enjoy the rare opportunity to snorkel and dive on the Ribbon Reefs which sit on the edge of the continental shelf.
Due to their location far offshore from the Australian coast, the Ribbon Reefs offer excellent diving and snorkelling opportunities, with Ribbon Reef #5 a favourite for its wide variety of marine life and pinnacles cloaked in coral. Join a guided snorkel tour led by our Master Reef Guide Katie Tuesley and witness this extraordinary ecosystem up close. These northern reefs are renowned for spotting iconic marine species such as potato cod, wrasse, sharks, and turtles.
OSPREY REEF
Osprey Reef Diving Coral Expeditions Northern Australia
One of the world's best dive sites, Osprey Reef is a submerged atoll in the Coral Sea. The top of a mountain which rises from the seafloor, surrounded by a vast ocean, draws many beautiful and rare marine creatures to its plummeting walls. Osprey Reef is a highly prized tropical dive location amongst scuba divers, called an 'oasis for living creatures of all kinds' by Sir David Attenborough. The vibrant corals and crystal-clear waters make it an unforgettable place to discover. Here we will spend time in the water exploring the 30m deep lagoon and drift diving the walls, where you may see large pelagic fish, rays, and sharks drawn in from the surrounding deep blue to enjoy the richness of this ocean oasis.
Osprey Reef is a true expedition-style destination, and our visit is subject to appropriate weather conditions.
LIZARD ISLAND
Cooks-look-Lizard-Island-Coral Expeditions-Northern Australia
We spend a whole day at Lizard Island where there is time to hike to the summit of Cook's Look and enjoy the same view Lt. James Cook did when searching for safe passage through the maze of coral reefs. Snorkel over giant clam gardens from the beach at Watson's Bay, relax on the white-sand beach beneath shady she oak trees and learn about the tragic story surrounding Mary Watson.
ARRIVE CAIRNS
Cairns wharf departure port
Arrive in Cairns at 7:00am for an 8:00am disembarkation
---
Gallery
---
Terms
*Terms & Conditions Apply. Offer is limited, subject to availability and change without notice. Promotion is correct and valid at the time of publication. Travelfix and supplier full booking terms and conditions apply. Valid for new bookings only and not combinable with any other offer (unless stated). All prices are in Australian Dollars based on twin share occupancy unless otherwise stated.
Gratuities may be an additional onboard charge depending on particular cruise line selected. Cruise taxes and fees will be advised upon cabin selection.
Travel in style with $1,000 towards your next vacay.
Subscribe to our newsletter for the chance to win $1,000 towards your next cruise, package tour or package holiday.
Be first in line to hear about new and exclusive deals, exciting itineraries and promotions.
*Terms and Conditions apply. The competition shall run from midnight on 22 December 2021 to midnight on 30 June 2022 and will be a game of chance. The winner will be drawn at random at 4pm on 30 June 2022 and advised by telephone and email using the contact information provided at the time of entry. The prize must be claimed by sending a reply email to Travelfix within 14 days of the winner being announced. The $1000 prize will be issued in the form of a travel credit and held on a company account, valid for bookings made within 6-months of the date of issue. Travel credit may be redeemed through Travelfix, operated by The Travel Squad Pty Ltd only, by calling our office, and can be used towards any new cruise, package tour, or package holiday booking for a duration of 5 nights or more.  Travel credit cannot be used towards payment for existing bookings or as a deposit for a new booking. Travel credit cannot be transferred or redeemed for cash.