Japan Express
.
from

$3,779.00

pp
Various Dates | Accommodation | Plus Tours & Rail 
From the Buddhist monks of Kōyasan to the high rollers of Tokyo, see the many faces of Japan on this condensed tour beginning in Osaka. Savour the region's culinary delicacies and the beautiful views at Mt Fuji. You'll stay in a traditional ryokan and really soak up local culture in onsen hot springs. A great combination of the traditional and the contemporary, this adventure provides a taste of the rich culture of Japan.
Take in views of Mt Fuji
Stay in temple lodging and a traditional ryokan
Gaze at the famous floating torii gate in Miyajima
Explore Kyoto's Nijo Castle
Duration: 9 days
Start/Finish City: Osaka to Tokyo
Service Level: Standard
Comfortable tourist-class accommodations with character; mix of public and private transport.
Physical Grading: 3 – Average
Some tours may include light hiking, biking, rafting, or kayaking in addition to walking.
Travel Style: Classic
All of the highlights, culture, access, and I-can't-believe-we-did-that moments, all at a great price.
Trip Type: Small Group
Small group experience; Max 15, avg 12
---
Inclusions
Accomodation
Sightseeing
Some Breakfasts
Some Dinners
Transportation
---
Itinerary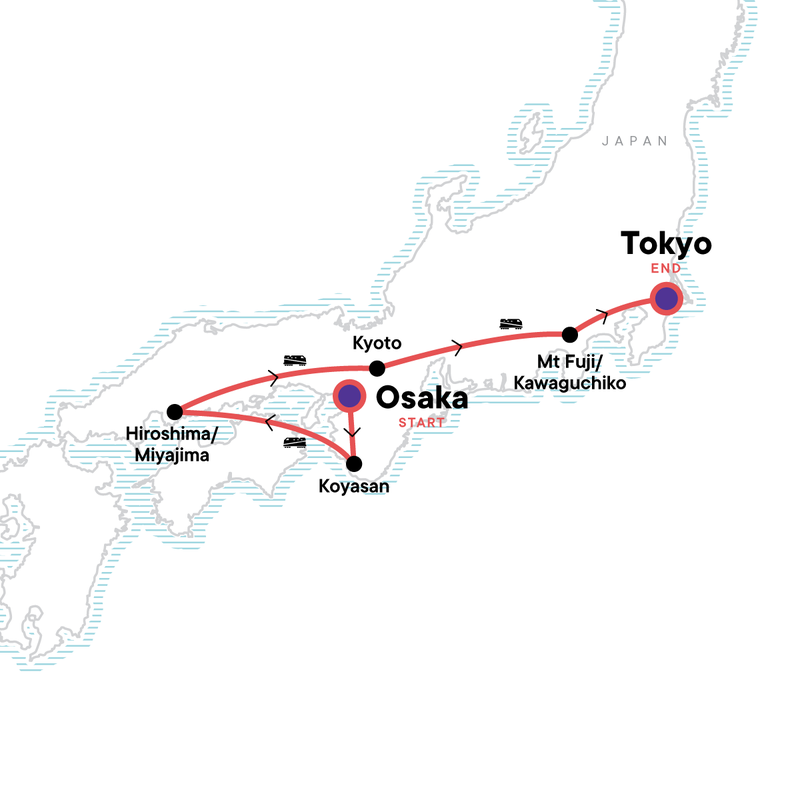 Day 1 Osaka
Arrive at any time.
Your Welcome Moment: Meet Your CEO and Group
Your opportunity to meet your CEO and fellow travellers, and learn more about your tour. Opt to join the group for a local meal afterwards. Don't forget to see the notice in the lobby (or ask reception) for the official time and place to meet up with the group.
Accommodation
Below is an example of the hotel we may use in this city. For the actual hotel your specific departure will be using, please check your voucher.
Hearton Hotel Nishi Umeda (or similar)Hotel
Day 2 Osaka/Kōyasan
Depart early and travel to the centre of Buddhism in Japan and sleep in a temple atop the 800m Mt Koya. Savour a traditional dinner of shojin ryori (Buddhist vegetarian cuisine). Watch the monks pray in the morning.
Journey to Mt Koya, a religious centre founded in 816 by the Buddhist monk Kobo Daishi. The train ride up the mountain is possibly one of the finest rail journeys in Japan. For the final steep ascent, switch to funicular and then hop on a bus to reach the monastery.
In the evening, dine on shojin-ryori, typical vegetarian cuisine, and relax in a yukata, or kimono.
TrainOsaka – Kōyasan3hMorning
Climb aboard, take a seat, and enjoy the ride.
Your Local Living Moment: Overnight in Mount Kōya Temple
During the overnight stay in the mountain temple, witness the routines of the monks and dine on typical fare. Explore the temples and moss covered Oku-no-in cemetery in the afternoon. In the evening, savour the shojin-ryori vegetarian cuisine, and relax in a yukata or kimono. Early morning at the temple offers the chance to observe the monks praying, before a vegetarian breakfast. Breathe the fresh mountain air and soak in the beautiful surroundings.
Oku-no-in Cemetery VisitKōyasanAfternoon
Oku-no-in is the most sacred site in Koyasan and the location of the mausoleum for Kobo Daishi (also known as Kukai), the founder of Shingon Buddhism. The area is surrounded by a massive cemetery, the largest in Japan. With over 200,000 tombstones lining the almost 2km path to Kobo Daishi's mausoleum, there is plenty of area to explore. Be sure to see Torodo Hall (Hall of Lamps), the main place of worship, where more than 10,000 lanterns are kept burning day and night.
Accommodation
Ekoin Monastery (or similar)Monastery
Meals included: Breakfast | Dinner
Day 3 Kōyasan/Hiroshima
Watch the monks pray in the morning and enjoy a traditional breakfast before travelling to Hiroshima. This afternoon, visit the Peace Park and Memorial Museum commemorating the events of 1945.
Early morning offers the chance to observe the monks praying. Breathe in some fresh mountain air before a vegetarian breakfast, then start the journey back down the mountain via bus, train and funicular.
Later, board a train to Hiroshima, a historically significant city, marked by the explosion of the first atomic bomb in 1945.
Bullet TrainKōyasan – Hiroshima5h
Get to your next destination faster than the speed of light (ok maybe not that fast) aboard a high-speed train.
Hiroshima Park and Peace MemorialHiroshima
Walk through the Peace Park in the centre of Hiroshima, a living memorial dedicated to the tens of thousands who died from the atomic bomb blast in 1945. Visit the statue of Sadako Sasaki, a young girl who died of leukemia as a result of the bomb blast, despite folding 1,000 origami paper cranes to appeal to the gods to make her well. See the frame of the Gembaku Dome, the sole building to withstand the explosion. Reflect, remember, and be reminded of the power we all hold to create peace.
Accommodation
Nest Hotel Hiroshima Ekimae (or similar)Hotel
Meals included: Breakfast
Day 4 Hiroshima
Take a ferry ride over to the sacred island of Miyajima to see the famous floating Torii Gate. Opt to hike around Mt Misen.
Please note the floating Torii Gate will be under construction from June 2019 to August 2020.
FerryHiroshima – Miyajima
Hop a ferry to reach the island and journey back in the evening.
Miyajima Island VisitMiyajima – Hiroshima
Take a trip to Miyajima Island, famed as one of Japan's most scenic spots, with a free afternoon to explore. See the famous floating Torii Gate, set out in the bay, which glows extraordinarily at sunset. The island is dotted with shrines and temples, populated by deer and monkeys, and traversed with hiking trails for those who want to get some exercise. There are also lanes full of souvenirs and tasty treats. Visit Miyajima at your own pace, and have the option to hike up to the peak of the island, Mt Misen, to see spectacular views of the surrounding islands.
Free TimeMiyajimaAfternoon
Free time on Miyajima Island to make the most of this beautiful location.
Optional Activities - Day 4
Mt. Misen VisitMiyajima2-6kmFree-1800JPY per person
Set out for the summit of Mt. Misen, Miyajima's highest peak at 500m (1,640 ft) above sea level. Opt to hike one of three trails through the forest and keep an eye out for wild deer or catch a ride on the ropeway and walk the remaining distance to the top. Take in great views of the Seto Inland Sea and on a clear day see as far as the city of Hiroshima.
Accommodation
Nest Hotel Hiroshima Ekimae (or similar)Hotel
Day 5 Hiroshima/Kyoto
Travel to Kyoto and start exploring. Visit the impressive Nijo Castle and gardens, a UNESCO World Heritage Site. In the evening, explore the geisha district of Gion on a CEO-led walking tour.
Please note the Ninomaru Palace at Nijo Castle will be closed from Dec 26-Jan 3. Groups travelling during this time will visit the Kiyomizu-dera Temple.
Bullet TrainHiroshima – Kyoto1h30m-2h
Get to your next destination faster than the speed of light (ok maybe not that fast) aboard a high-speed train.
Nijo Castle and Gardens VisitKyoto
Visit the Nijo Castle, the residence of the first shogun of the Edo Period built in 1603. Now a UNESCO World Heritage Site, the property is divided into three areas: the Honmaru (main circular fortification), Ninomaru (secondary circle of defense), and the gorgeous gardens that surround both.
Gion WalkKyoto
Walk through Gion, Kyoto's most famous geisha district. Visit shops, restaurants and ochaya (teahouses), where geiko (Kyoto dialect for geisha) and maiko (geiko apprentices) entertain.
Accommodation
Hotel Gracery Kyoto Sanjo (or similar)Hotel
Day 6 Kyoto
Enjoy a visit to the beautiful Fushimi Inari Taisha shrine and walk under the bright torii gates. Opt to shop, stroll along the riverbank, or explore another of Kyoto's many temples with free time.
Fushimi Inari Taisha Shrine VisitKyoto
Visit the Fushimi Inari shrine, located just outside of Kyoto. Walk under the thousands of iconic torii gates (as seen in the film Memoirs of a Geisha) and enjoy the peaceful atmosphere. The shrine itself is at the base of the Inari mountain but includes many trails up to smaller shrines in the area.
Free TimeKyotoAfternoon
Continue exploring Japan's historic capital with some free time.
Optional Activities - Day 6
Zen Gardens of Ryōan-jiKyoto500JPY per person
The Ryōan-ji garden is one of the best examples of kare-sansui, or dry landscape, a type of Zen garden. Fifteen large rocks are placed within a sea of white pebbles raked into linear patterns to facilitate meditation. Stand on the platform to get the best view from above. Stroll the grounds around the Ryoan-ji Temple and along the Kyoyo-chi pond.
Accommodation
Hotel Gracery Kyoto Sanjo (or similar)Hotel
Day 7 Kyoto/Hakone
Take a boat ride on Lake Ashino-ko, and hopefully catch a glimpse of majestic Mt Fuji. Enjoy a stay in traditional ryokan accommodation, feast on a Japanese multi-course kaiseki meal, soak in the natural hot springs, and sleep on a futon.
Travel to Hakone, a town in the hills famous for its onsens, or natural hot springs. Stay in a traditional ryokan, with its own private onsen.
In the evening, enjoy the ryokan, savouring a complex meal of traditional Japanese foods, followed by a recommended soak in the onsen.
Bullet TrainKyoto – Odawara3h
Get to your next destination faster than the speed of light (ok maybe not that fast) aboard a high-speed train.
Local BusOdawara – Hakone30m
Climb aboard, grab a seat, and enjoy the ride.
Lake Ashino-ko Boat RideHakone30m
Hop aboard a passenger boat to cruise the waters of Lake Ashinoko. If you are lucky, on a clear day you can capture a view of
Mt Fuji. The lake was formed from the caldera of Mt Hakone following its eruption 3000 years ago. Sit back, relax and enjoy.
Traditional Ryokan Stay with Kaiseki MealHakone
Enjoy the ryokan, savour a complex meal of traditional Japanese foods, then finish the day with a soak in the onsen.
Accommodation
Ashinoko Ichinoyu (or similar)Ryokan
Meals included: Dinner
Day 8 Hakone/Tokyo
Head to Tokyo with time to do some last-minute shopping.
Arrive before noon to Tokyo, with time to explore this energetic metropolis.
Opt to visit Ueno park and the museums, Akihabara for cutting edge electronics, Harajuku for funky fashions, Ginza for the highest of the high end, walk the grounds of the Imperial Palace East Garden, or just stroll the streets, looking for the traditional life that still lies just under the modern surface.
Bullet TrainHakone – Tokyo2h
Get to your next destination faster than the speed of light (ok maybe not that fast) aboard a high-speed train.
Free TimeTokyoAfternoon
With so much to do, start exploring now.
Optional Activities - Day 8
Show
Accommodation
Hotel Sunroute Plaza Shinjuku (or similar)Hotel
Meals included: Breakfast
Day 9 Tokyo
Depart at any time.
We highly recommend booking post-accommodation to fully experience this vibrant city.
---
Gallery
---
Terms
*Terms & Conditions Apply. Offer is limited, subject to availability and change without notice. Promotion is correct and valid at the time of publication. Travelfix and supplier full booking terms and conditions apply. Valid for new bookings only and not combinable with any other offer (unless stated). All prices are in Australian Dollars based on twin share occupancy unless otherwise stated.
Hotels may charge resort fees or a security bond not included or mentioned in this package, payable direct upon check in. Price is based on a twin-share room type for 2 adults.
Travel in style with $1,000 towards your next vacay.
Subscribe to our newsletter for the chance to win $1,000 towards your next cruise, package tour or package holiday.
Be first in line to hear about new and exclusive deals, exciting itineraries and promotions.
*Terms and Conditions apply. The competition shall run from midnight on 22 December 2021 to midnight on 30 June 2022 and will be a game of chance. The winner will be drawn at random at 4pm on 30 June 2022 and advised by telephone and email using the contact information provided at the time of entry. The prize must be claimed by sending a reply email to Travelfix within 14 days of the winner being announced. The $1000 prize will be issued in the form of a travel credit and held on a company account, valid for bookings made within 6-months of the date of issue. Travel credit may be redeemed through Travelfix, operated by The Travel Squad Pty Ltd only, by calling our office, and can be used towards any new cruise, package tour, or package holiday booking for a duration of 5 nights or more.  Travel credit cannot be used towards payment for existing bookings or as a deposit for a new booking. Travel credit cannot be transferred or redeemed for cash.